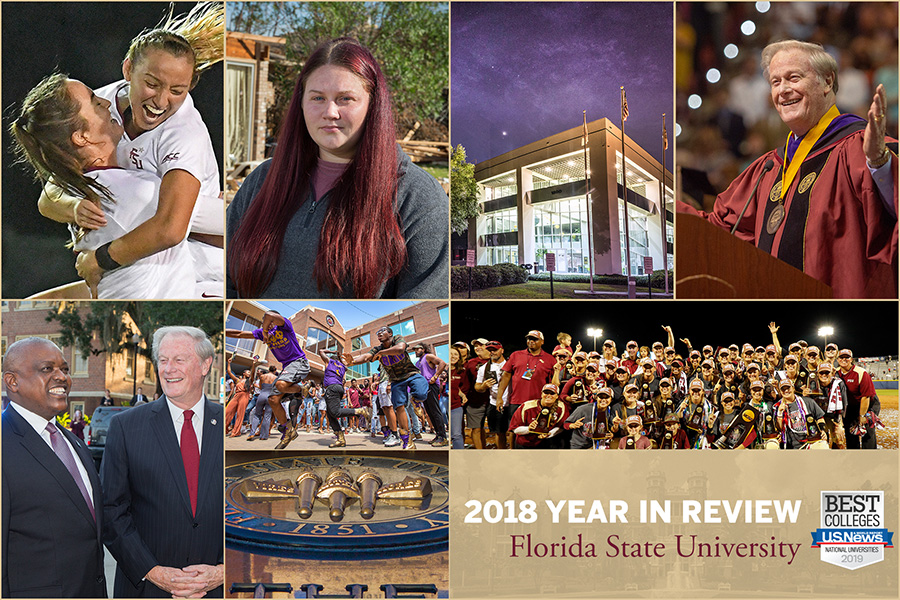 Florida State University experienced a year of remarkable triumph in 2018 as it continued to build upon its rising reputation as a national leader in student success.
The university jumped seven spots in the U.S. News & World Report rankings, saw marked increases in admissions applications, created initiatives to support student resilience and engagement and won two national championships in athletics. While enjoying sweeping success, the Florida State community also faced the challenges of Hurricane Michael and a shooting at a local yoga studio.
On the rise
Florida State vaulted seven spots to No. 26 among national public universities in the latest U.S. News & World Report rankings — the biggest single-year improvement in university history. FSU has soared 17 spots among public universities since placing No. 43 in 2016.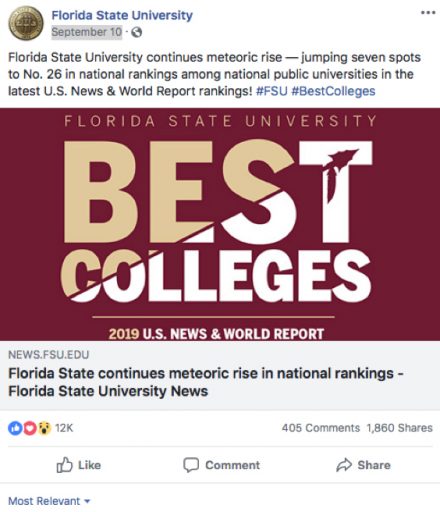 Best 4-year graduation rate in state
FSU has the best four-year graduation rate of any public university in Florida, according to the latest data reported in the State University System's 2018 Accountability Plan. The university's four-year graduation rate is 68.4 percent, nearly three points higher than the previous year's cohort, placing FSU first among all State University System of Florida institutions. More significantly, FSU's four-year graduation rate is the highest in the State University System's history.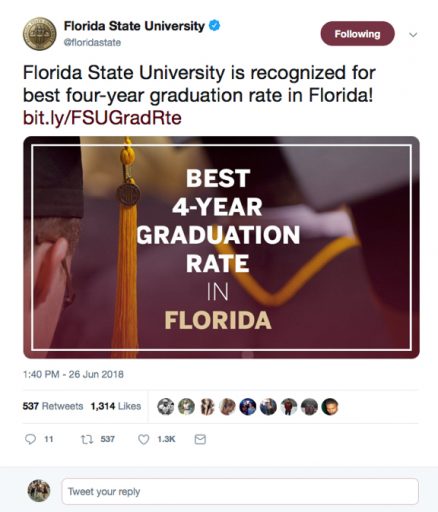 Thanks a billion!
Florida State successfully completed the most ambitious fundraising campaign in university history, exceeding its goal of $1 billion through Raise the Torch: The Campaign for Florida State. FSU raised $1,158,665,865 in gifts and pledges upon the campaign's official closing on June 30, 2018. The funds created or enhanced more than 1,300 student scholarships and generated or supported nearly 100 professorships.
National Champions x 2!
In June, Head Coach Lonni Alameda guided the Seminoles softball team to its first NCAA championship, capping off the Women's College World Series with an 8-3 victory over Washington. Then, in December, Head Coach Mark Krikorian led FSU's soccer program to its second national title as the Seminoles topped North Carolina, 1-0, in the Women's College Cup final.
Hurricane Michael
Florida State demonstrated its strength and resilience after the Florida Panhandle experienced the wrath of Hurricane Michael. While the of Category 4 storm shut down the Tallahassee campus for a week, it was FSU-Panama City that took the brunt of Michael. FSUPC incurred more than $8 million in damages and was closed for nearly three weeks before reopening Oct. 29. The FSU community showed its support for those affected by raising more than $150,000 to help 138 students and 75 employees, both at the main campus in Tallahassee and in Panama City.
Top-notch research
FSU researchers brought in more than $226 million in the 2018 fiscal year from federal, state and private sources to support investigations into areas such as nuclear science, climate change, the effect of deep space travel on human health and much more. This was a $16 million increase over the prior fiscal year and the second highest amount FSU researchers have ever received in a single year.
In April, the National Science Foundation announced the National High Magnetic Field Laboratory will receive $184 million over the next five years, keeping the world's most powerful magnet lab headquartered at Florida State University. This is a nearly 10 percent increase in funding over the previous five-year funding period and brings the agency's total MagLab investment to $867 million.
Diversity and international education earn national recognition
For the third consecutive year, INSIGHT Into Diversity magazine recognized FSU as a "Diversity Champion" in higher education. Florida State is one of 13 colleges and universities nationwide that received the award from the magazine, which is the nation's largest and oldest diversity and inclusion publication in higher education.
Florida State received the 2018 Platinum Level Institutional Award for Global Learning, Research & Engagement from the Association of Public and Land-grant Universities, a prestigious award recognizing its efforts to offer international educational experiences to students and faculty, both on and off campus. The national award is APLU's highest honor celebrating universities that employ inclusive strategies to internationalize their campuses.
Admissions applications at historic levels
The demand for a Florida State University education is on the rise with a record number of first-year applicants seeking admission. FSU received more than 50,000 first-year applications for admission to the 2018 summer and fall semesters.
In addition, graduate application numbers are up 11 percent over the Graduate School's record high of 8,749 applications in 2012. The total number of graduate applications — more than 9,700 — received in Fall 2018 also represents a 26 percent increase over those submitted in Fall 2017.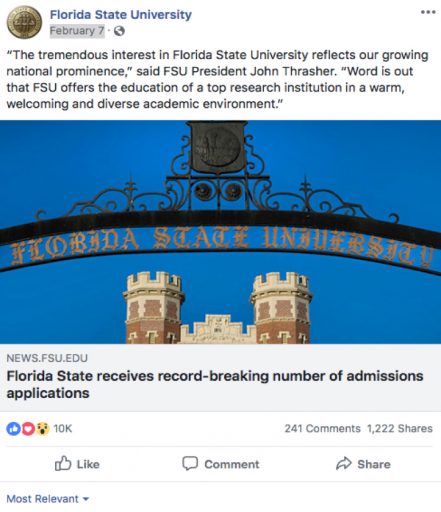 FSU launches Student Resilience Project
In August, FSU launched the "Student Resilience Project," a new online tool to help students adjust to campus, improve mental health, increase resilience and reduce stress. Developed by the Institute for Family Violence Studies at the FSU College of Social Work, the initiative has received national attention and plans are in the works to adapt the tool for other universities and audiences.
Bolstering student engagement
This fall, Florida State introduced Engage 100, a new initiative designed to enhance the student experience by connecting, engaging and challenging students from the moment they arrive on campus. Through Engage 100, FSU is broadening its efforts to get students involved in programs such as Undergraduate Research, Freshman Interest Groups (FIG) and Living Learning Communities (LLCs).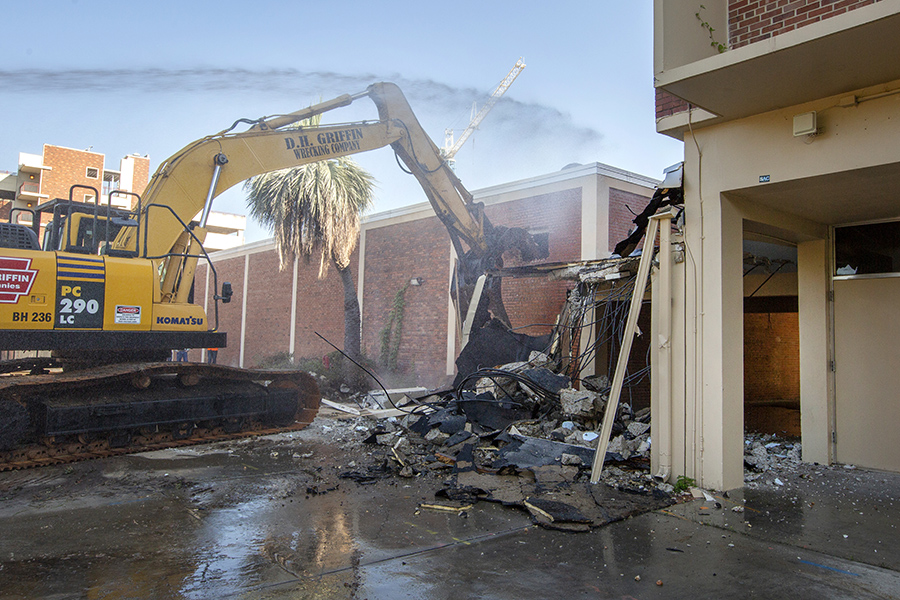 FSU starts renovations on Oglesby Union
This summer, work started on a major overhaul of Oglesby Union, which is scheduled to re-open in fall 2020. The new four-story Union will feature sleek glass walls, comfortable outdoor seating and state-of-the-art technology and introduce a lively new sports-themed restaurant, as well as a half dozen new food operations.
President of Botswana, alumnus visits Florida State
FSU welcomed His Excellency President Mokgweetsi Masisi of the Republic of Botswana for an official visit Sept. 20, where he was greeted by President John Thrasher while the Marching Chiefs played "Seminole Uprising" and Botswana's national anthem on the steps of Ruby Diamond Concert Hall. President Masisi earned a master's degree in social sciences education from Florida State. During the visit, Masisi met with FSU administrators and faculty about potential educational and research partnerships.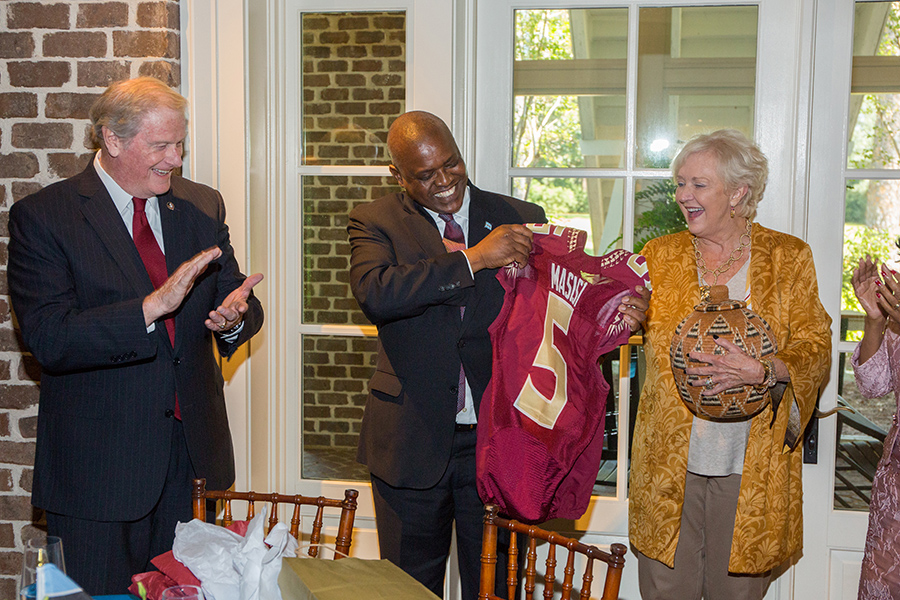 FSU scores high marks in faculty satisfaction
Florida State set itself apart from its peers according to the results of the latest Collaborative on Academic Careers in Higher Education survey, which assesses the faculty's level of satisfaction across multiple domains and compares the results to other universities across the nation as well as a select group of peer institutions. According to the survey, 94 percent of FSU faculty members would recommend their department to faculty at other universities, while 77 percent of participants said FSU is a very good place to work.
Student, faculty remembered at candlelight vigil
Hundreds gathered for a vigil on Langford Green Nov. 4 to mourn the deaths of FSU senior Maura Binkley, 21, and College of Medicine faculty member Dr. Nancy Van Vessem, 61, who died when a gunman opened fire at a Tallahassee yoga studio Friday, Nov. 2. Five others, including FSU students, were injured.