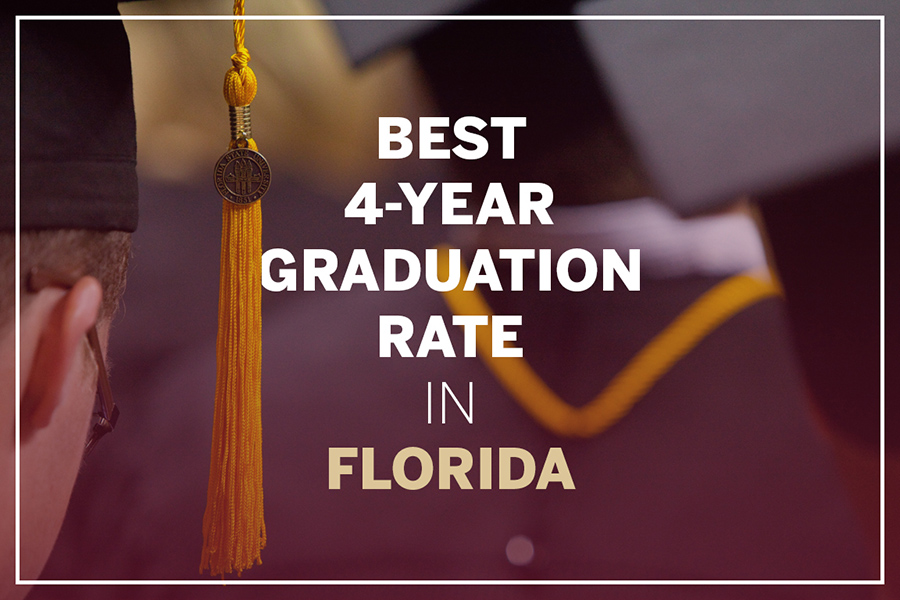 Florida State University now has the best four-year graduation rate of any public university in Florida, according to the latest data reported in the State University System's 2018 Accountability Plan.
The university's four-year graduation rate is 68.4 percent, nearly three points higher than the previous year's cohort, placing FSU first among all State University System of Florida institutions. More significantly, it's the highest four-year graduation rate in the State University System's history.
"That's a very big deal," said Sally McRorie, provost and executive vice president for Academic Affairs. "That's among the Top 15 public universities nationally."
Florida State's upward trajectory in student success hasn't happened overnight. The four-year graduation rate has steadily risen in recent years as a result of careful and strategic investments in areas such as academic advising, tutoring and academic coaching.
"We made the decision that student success was our primary goal and the key fulfillment of our mission," McRorie said. "This success is a return on those investments, which have been major for a university that has the second-lowest state tuition in the country."
Of the freshmen who entered the university in 2013, 68.4 percent graduated in four years. By comparison, only 49.3 percent of freshmen who started at FSU in 2005 graduated in four years.
"That's a very big deal," said Sally McRorie, provost and executive vice president for Academic Affairs. "That's among the Top 15 public universities nationally."
With more limited resources than most public universities, Florida State has used both broad-based and targeted approaches to increase graduation and retention rates.
The broad-based approaches include academic mapping and the Take 15 initiative. Academic mapping gives students a guideline for planning courses along their journey to earn a degree, while Take 15 encourages students to carry at least 15 credit hours per semester, which keeps them on track to graduate in four years.
Florida State also targets unique and at-risk populations through programs developed to address their particular interests and challenges, such as the Center for Academic Retention & Enhancement. CARE is a nationally recognized program that provides first-generation and underrepresented students with the necessary tools, resources and support network they need to flourish in the collegiate environment.
Graduation and retention rates for CARE students are regularly above those of the general population.
"We've shown that regardless of background, students can thrive in higher education," McRorie said. "We've virtually erased graduation rate gaps between all categories of underrepresented and traditional student populations."
Another way FSU continues to increase its graduation rate is through the newly created Graduation Planning and Strategies Office, which provides support for undergraduate students with high credit hours who may not have a plan for graduation. The four-person team seeks these students out and assists them in developing goals for graduation and beyond.
Florida State's high-impact practices for student success are turning heads across the nation. Last summer, McRorie spoke to the Association of Public and Land-grant Universities about Florida State's student success strategies, and in April, she was invited to present on undergraduate success at the TIAA's 100th anniversary celebration.
"People are starting to pay attention nationally," McRorie said. "Our profile in terms of these student success measures — which to me are among the most important for an institution — is rising."
The Accountability Plan is pending confirmation by the full Board of Governors.