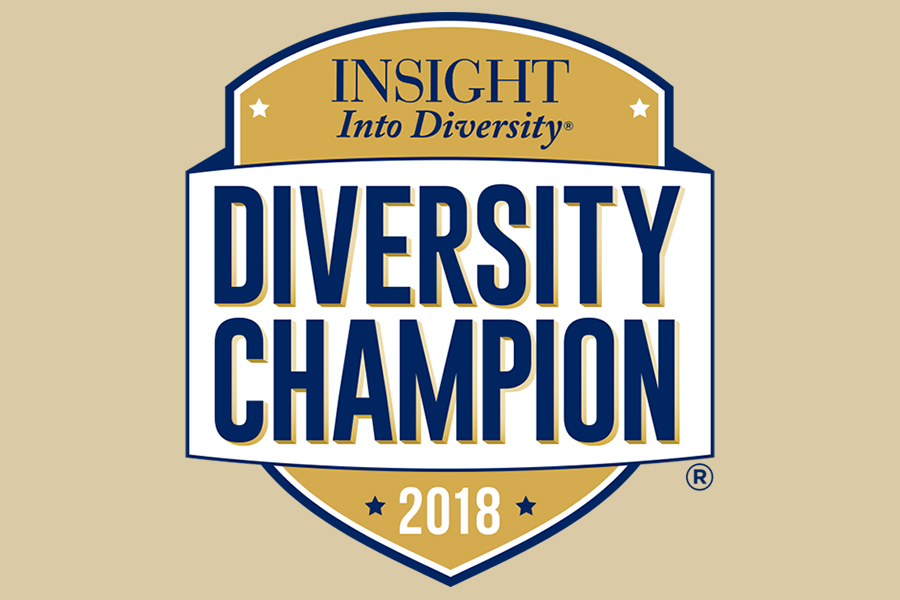 For a third consecutive year, Florida State University has been recognized by INSIGHT Into Diversity magazine as a "Diversity Champion" in higher education.
FSU is one of 13 colleges and universities nationwide that received the award from the magazine, which is the nation's largest and oldest diversity and inclusion publication in higher education.
"At Florida State University, we embrace the richness of our diverse academic community, and we are extremely pleased that our ongoing efforts to nurture a multicultural and inclusive campus have been recognized," said FSU President John Thrasher.
Diversity Champion institutions are honored for their unyielding commitment to diversity and inclusion. The other institutions recognized by the magazine are Columbia University, Clemson University, Rochester Institute of Technology, Texas Tech University, Oklahoma State University, University of Kentucky, Indiana University Bloomington, University of Cincinnati, University of Alabama at Birmingham, University of North Florida, Virginia Tech and Metropolitan State University of Denver.
The publication also recognized FSU with its Higher Education Excellence in Diversity (HEED) award for the fifth consecutive time.
"We are pleased, honored and humbled to be recognized, once again, as both a HEED Award recipient and a Diversity Champion," said Renisha Gibbs, associate vice president for Human Resources. "Diversity and inclusion are central to Florida State's mission. Every day, members of our campus community are working to reach the goal of a cohesive community that values each and every one of us for our differences as well as our similarities."
As a recipient of the annual HEED Award, Florida State will be featured, along with 95 other recipients, in the November 2018 HEED Award issue of INSIGHT Into Diversity magazine.
"It is exciting to receive this recognition but with each award we should be reminded that there is still much diversity and inclusion work to be done to ensure that it is sustainable," Gibbs said. "I look forward to the year ahead and working with our campus partners as we continue to build on our culture of civility and respect for all."
Ten years ago, the university crafted a comprehensive plan to unite efforts for diversity and inclusion across all areas of the campus. Through that effort, the President's Diversity and Inclusion Council was formed, comprising a group of faculty, staff and students committed to championing diversity, inclusion and social justice. Members of the council work on a number of initiatives, including efforts to recruit and retain a diverse faculty, staff and student body.
The university, with the help of the council, has implemented a number of initiatives to improve diversity and inclusion on campus. They include:
#PowerOfWe: The Student Diversity and Inclusion Council, a group of diverse student leaders serving under the Office of the President, launched the #PowerOfWe campaign to inspire a campus culture that engages across different perspectives and identities. Since its inception during the 2016-2017 academic year, the group has held a number of events that generated dialogue among faculty, students and staff about race, sexual orientation and other diversity issues.
Employee Resource Groups: The university currently has four employee resource groups – the Latin@Faculty Advocacy and Resource Group, the Black Faculty and Staff Organization, the LGBTQ+ Faculty Staff network and the Veterans Friends and Family Group. The university also created an Affinity Group Guide to provide general information for employees interested in establishing an affinity group.
President's Diversity and Inclusion Mini-Grant Program: Launched in Fall 2017, this program supports the efforts which align with the university's strategic plan. The Office of the President, through the Diversity & Inclusion Council, solicits proposals for the implementation of diversity and inclusion initiatives and projects that further the diversity goals of the university. Awards may be up to $1,000 each. Faculty, staff and students are eligible for the mini-grants.
Entrepreneurial Bootcamp for Veterans: For the past 10 years, the university has hosted an entrepreneurial bootcamp to give cutting-edge, experiential training in entrepreneurship and small business management for veterans disabled as a result of their service supporting post-9/11 operations.
Seminole Allies and Safe Zone Training: This program provides free workshops offered regularly throughout the academic year to students, faculty and staff. The trainings are presented as an intensive three-hour, in-house session focused on contemporary issues related to the LGBTQ community.
Diversity and Inclusion Certificate Series: Established in 2014, the training certificate creates an opportunity for faculty and staff to explore strategic areas around diversity and to learn more about the ways in which they can assist in creating a welcoming and inclusive campus for all. Thirty-two faculty and staff have received the certificate and more than 246 faculty and staff have taken one or more courses toward completion of the certificate.
For more information on diversity resources and programming, please visit the Office of Human Resources website.