Hundreds gathered at Florida State University Sunday evening to mourn the deaths of two university community members killed in a Tallahassee shooting two days earlier.
FSU senior Maura Binkley, 21, and College of Medicine faculty member Dr. Nancy Van Vessem, 61, died when a gunman opened fire at a Tallahassee yoga studio Friday, Nov. 2. Five others — all with FSU connections — were injured before the gunman took his own life.
The vigil took place on Langford Green where the university community gathered to remember the victims and support each other in love and peace. Law enforcement officials estimated about 4,000 in attendance.
Florida State President John Thrasher addressed the stunned and solemn crowd of grieving family members, students, faculty, staff, alumni, friends and community members.
"Our hearts are broken as we gather to mourn the loss of two members of our Florida State University family and offer prayers for those who were injured and affected by this horrific attack," Thrasher said. "This hateful and despicable act has affected our community profoundly, especially the families of Maura and Dr. Nancy Van Vessem.
"Maura and Nancy were shining lights to all who knew them. They will always shine bright in our hearts and they will forever be a part of the Florida State University family."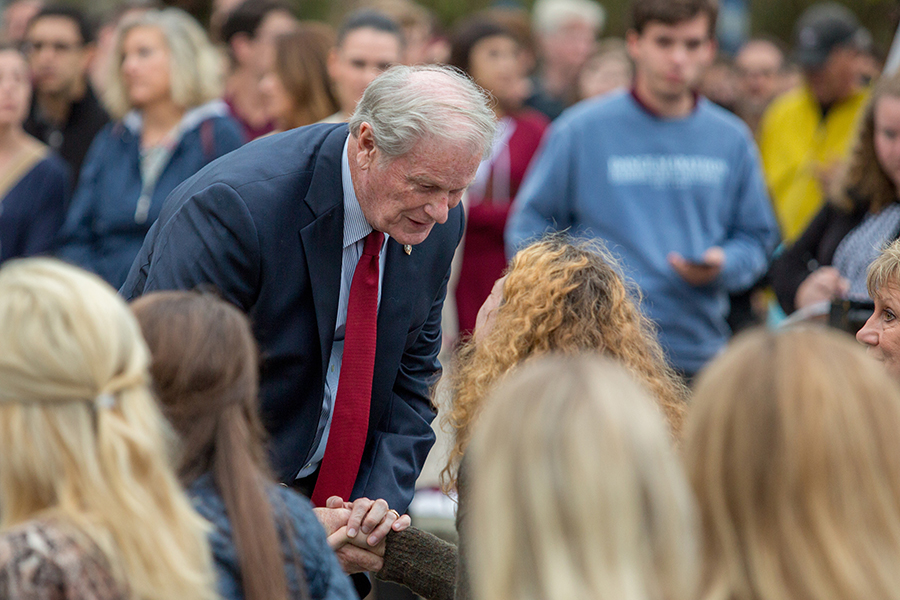 Ed Burr, the chairman of the Florida State University Board of Trustees, also addressed those gathered.
"I know together, this FSU family that's grieving so deeply will find peace in each other and love for each other," Burr said. "And on behalf of the Board of Trustees and the administration, I pledge that Florida State University will do everything we can to help each of you find that path to peace."
FSU Student Body President Stacey Pierre spoke on behalf of the students.
"We are gathered here today to not only remember the fallen members of our FSU family, but to also honor their legacies," Pierre said. "Each individual who has passed away was unique in the sense that they contributed their personal gifts and talents to help better Florida State University."
The director of FSU's Center for Leadership and Social Change Laura Osteen opened the program.
"How do you begin?" Osteen asked. "You don't say good evening. It is not good. You don't say welcome. There are so many other places we would rather be. I believe we begin, and end, with love."
Osteen concluded the vigil by inviting the gathered crowd to light candles in remembrance of  Binkley and Van Vessem.
"I invite you to light your candles and as we witness our own in each other's sorrow and hope," she said. "I ask you to raise your candle, raise it in honor of those we have lost, raise it to fill the night with our love, love that will guide us through our sorrow and into hope."