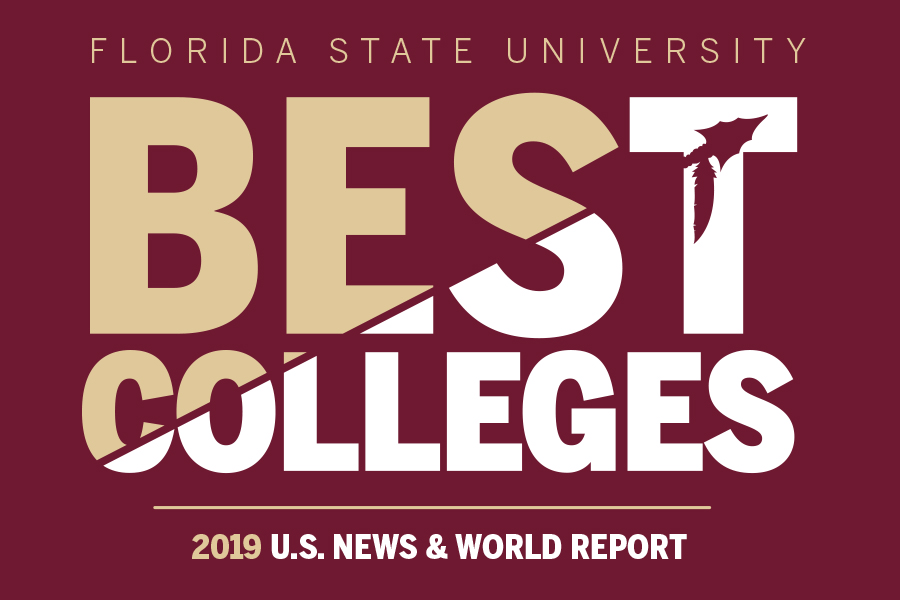 U.S. News & World Report Ranks FSU No. 26 Among Public Universities
Florida State University vaulted seven spots to No. 26 among national public universities in the latest U.S. News & World Report rankings — the biggest single-year improvement in university history.
The rankings appear in U.S. News & World Report's "Best Colleges 2019" guidebook. FSU has soared 17 spots among public universities since placing No. 43 in 2016. FSU moved up to No. 38 on the 2017 list. Last year, FSU ranked No. 33 among public universities.
"Florida State University is one of the best universities in the nation, and we are excited that U.S. News & World Report recognizes our academic excellence," said President John Thrasher. "Student success is at the heart of our mission at Florida State, and these rankings are a reflection of that commitment."
While Florida State improved in several measures this year, the university's commitment to student success continues to be at the core of its rise in the rankings. Increasing graduation rates, improving student-faculty ratio and offering more small classes were all factors in FSU's upward trajectory.
"I couldn't be happier about our big jump," said Sally McRorie, provost and executive vice president for Academic Affairs. "Our 'drive to 25' is almost finished and a little earlier than I think any of us expected. That's a testament to the very hard work of everybody across campus. We're planning for what comes next!"
FSU's average six-year graduation rate increased to 79.5 percent, up 2 percentage points in two years. FSU also continues to outperform its predicted graduation rate by U.S. News, which is based on the university's resources and student profile. The university ranks No. 17 among publics when comparing the actual graduation rate against the predicted rate.

New this year, U.S. News is measuring the graduation rate of Pell Grant students. Florida State's is 77 percent, which checks in at No. 22 among public universities.
"That's the story of FSU," McRorie said. "We are creating an environment where everyone can succeed because we provide the kinds of resources that can help people not only find their path but also provide them lots of support and challenges to be better."
FSU's designation as one of Florida's preeminent universities and the additional funding that comes with it, as well as increasing performance funds from the state, have enabled the university to hire more faculty and raise faculty salaries.
"We could not have come so far in the rankings without the support of the Florida Legislature and Florida Board of Governors," Thrasher said. "We are extremely grateful that they have invested in FSU."
The university's strategic investments have resulted in improved metrics, such as class size, student-faculty ratio and faculty compensation. With its influx of new faculty, FSU has been creating small classes that focus on formative experiences, engaged learning and post-graduation preparation. Class size numbers are expected to continue to improve with the help of 240 new faculty who arrived at FSU this fall.
"We're proud that everybody here works really hard and strategically," McRorie said, "and given more resources, we can do even more remarkable work on behalf of our students, our state and our country."
FSU's student-faculty ratio decreased from 25-to-1 to 22-to-1 over the past two years, and the university rose four places to No. 11 among publics in the faculty compensation measure in the past year.
"The approach we've taken is really paying off," McRorie said. "We have a very data-driven focus and have looked very carefully at how we can best serve our students and best support our faculty and staff. Every dollar has been looked at and every dollar has been a planned investment, and this new ranking of No. 26 is a return on that investment."
Florida State remained in the Top 10 for undergraduate alumni giving at No. 8 and jumped 11 spots to No. 37 among publics in the high school guidance counselor assessment ratings.
Also included in this year's U.S. News report were undergraduate business program rankings. Florida State's undergraduate business program moved up one place to No. 26 among public universities and No. 44 among all national universities. The undergraduate business rankings are based solely on peer assessment.
"We are thrilled to be recognized as one of the best business schools in the nation," said Michael Hartline, dean of the FSU College of Business. "We have made — and will continue to make — strategic investments in our people and programs, and these latest rankings are reflective of those focused investments. With our new building, Legacy Hall, coming online in a few short years, our college is poised to continue its upward trajectory. We are firmly committed to our students' success and to moving farther down the path of preeminence."
U.S. News & World Report determines its national university rankings based on these factors: graduation and retention rates (27 percent); expert opinion, i.e. peer and high school counselor assessment (20 percent); faculty resources (20 percent); student excellence (10 percent); financial resources (10 percent); graduation rate performance (8 percent); and alumni giving (5 percent).
Florida State University shares the No. 26 spot with three other public universities: University of California-Santa Cruz, University of Massachusetts-Amherst and the University of Pittsburgh.
Among all national universities, including private universities, FSU ranked 70th, up from 81st last year. The national universities category comprises 311 institutions (190 public, 114 private and seven for-profit) that offer a wide range of undergraduate majors as well as master's and doctoral degrees.