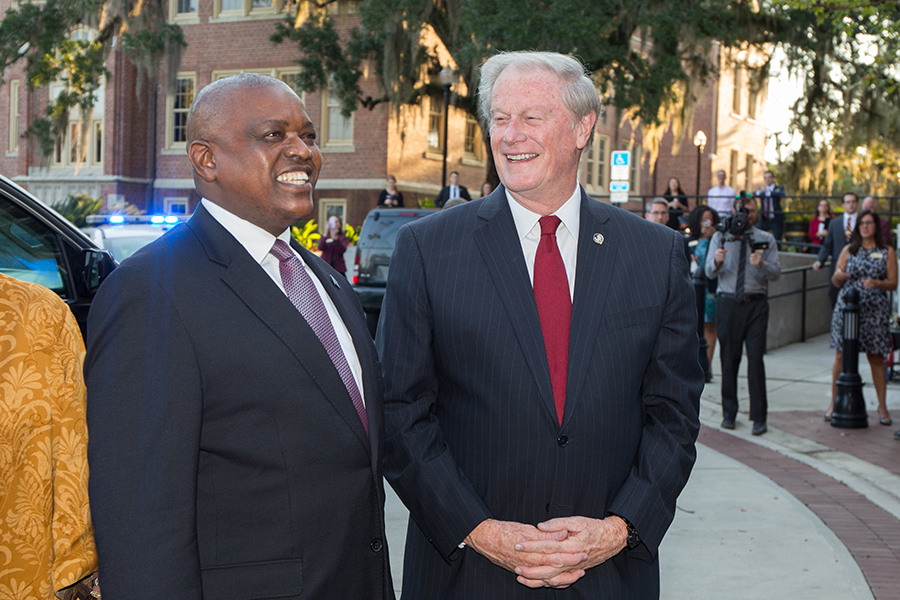 Florida State University welcomed His Excellency President Mokgweetsi Masisi of the Republic of Botswana for an official visit Thursday, where he was greeted by President John Thrasher while the Marching Chiefs played "Seminole Uprising" and Botswana's national anthem on the steps of Ruby Diamond Concert Hall.
President Masisi, who earned a master's degree in social sciences education from Florida State, said he felt a twinge of nostalgia as he toured his alma mater Wednesday for the first time since graduating nearly three decades ago.
"When you look at campus, compared to what it looked like 28 years ago when I was here, it's remarkably different, but it still has that unique sparkle of FSU," Masisi said.

President Masisi, First Lady Mrs. Neo Jane Masisi and their 12-year-old daughter, Atsile, and the Botswana delegation stopped off in Tallahassee on the way to the 73rd Session of the U.N. General Assembly in New York.
Thrasher and Masisi addressed the media before a reception held in Masisi's honor. U.S. Rep. Al Lawson and Florida Sen. Bill Montford attended the reception, along with staff representatives from the offices of U.S. Senators Marco Rubio and Bill Nelson and U.S. Rep. Neal Dunn.
"We are proud to call you an alumnus of Florida State University, and we're so pleased you've kept your alma mater close to your heart since earning a master's degree in education," Thrasher said. "You've devoted your life to improving the lives of others through education and community initiatives … I hope we can continue this relationship, because whether one lives in Botswana or the United States, we know that education is the key to a longer and happier life."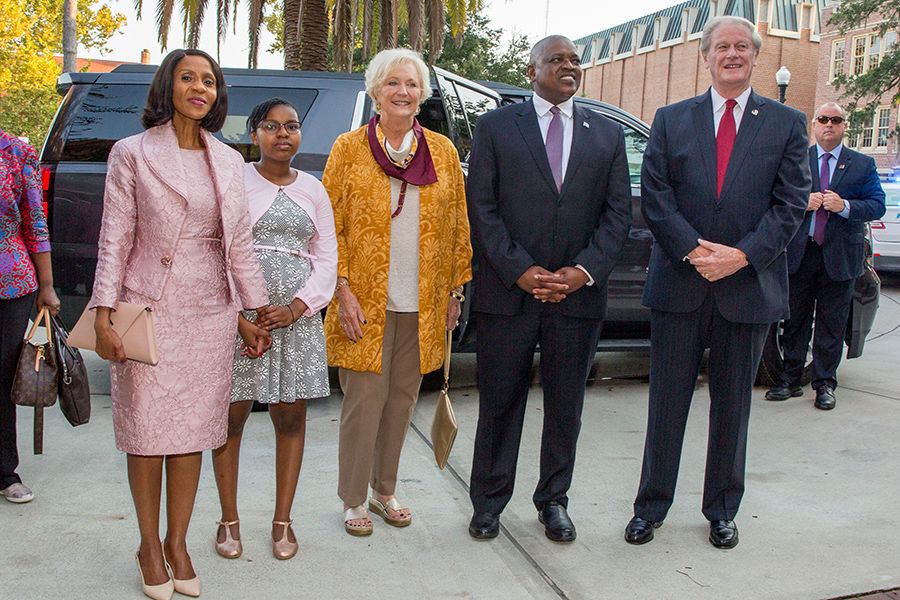 Masisi, who is Botswana's fifth president, came to Florida State as a graduate student after meeting a number of "really sharp, interesting, pleasant" FSU faculty members who were in Botswana working on a joint program through the U.S. government and Botswana's government called the Junior Secondary Education Improvement Project. Masisi was a curricular specialist on the project that was helping hone his country's skills on measurement evaluation, testing and objective development.

Masisi said he hopes his visit will reinvigorate the relations between FSU and Botswana, particularly in the area of education.
"We have a number of universities, both public and private, that would benefit from partnering with you," Masisi said. "I want to beseech you to use me in creating those relationships and rekindling them."
Masisi said his Florida State education definitely helped him prepare to be his country's head of state.
"I feel that a lot of what I picked up at FSU, particularly in the Stone Building and courses I took at the Bellamy Building and the business school — and the work I did at Strozier Library — enabled me to do what I'm doing," Masisi said.
He drew a laugh when he added, "I would recommend to whoever will be the next president (of Botswana) to enroll in FSU soon."
Masisi advised today's students to embrace the opportunities that Florida State provides for them.
"Take advantage of the connections FSU has created for you — exchange more," Masisi said. "Botswana welcomes you to explore that at our universities. You will find at FSU some of the best resources, particularly the teaching staff — they are really hard working and respected. Go out and connect with the world, and you'll be in good shape."
Following the reception, Masisi and his delegation met with Provost Sally McRorie and Assistant Provost Joe O'Shea to discuss FSU's student success achievements. He then participated in a roundtable discussion with Vice President for Research Gary K. Ostrander and scholars of early childhood education, reading difficulties and intervention, psychology, communication disorders and education policy.
Masisi also visited with students for a town hall discussion at the Center for Global Engagement (The Globe), followed by a meeting with Dean Damon Andrew and leaders from the College of Education.