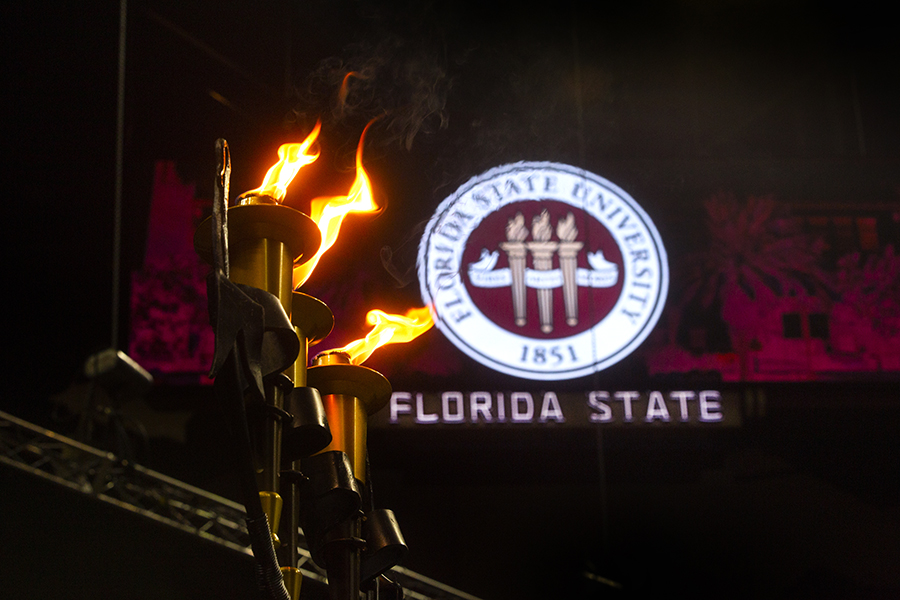 Florida State University achieved at the highest levels in 2019, bolstered by its academic and research excellence, its strong commitment to student success and a robust culture of entrepreneurship and innovation.
The university jumped eight spots in the U.S. News & World Report rankings, posted the best four-year graduation rate in the state, became the only institution with a stand-alone college of entrepreneurship and set records for research funding.
Florida State University joins nation's Top 20
Florida State University soared eight spots to No. 18 among national public universities in the latest U.S. News & World Report rankings, meeting and well exceeding its goal of joining the Top 25. It's the greatest single-year improvement in university history.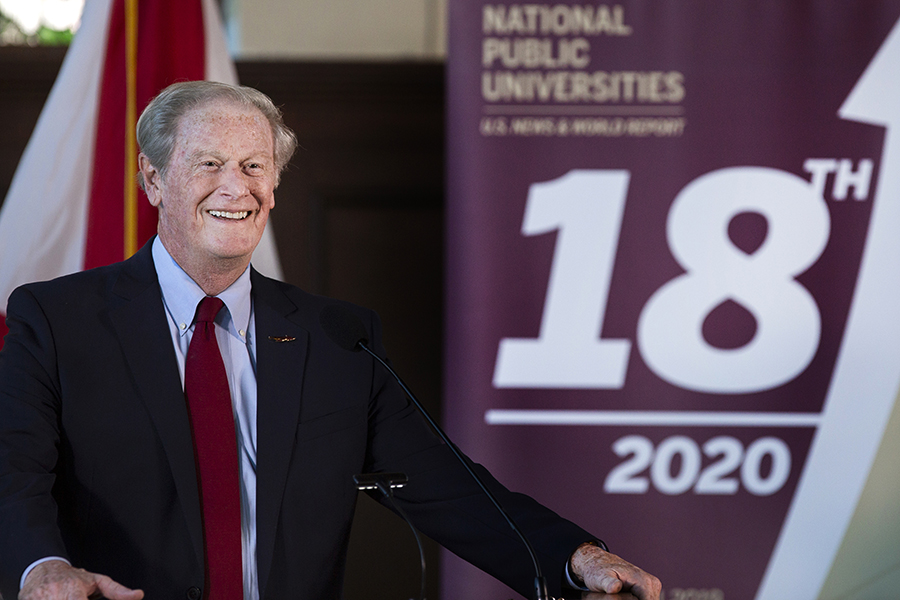 Florida's best graduation rate
More Florida State University students than ever are graduating in four years, but the university's upward trajectory in student success hasn't happened overnight. As a result of careful and strategic investments over the past two decades, Florida State's four-year graduation rate is No. 1 in the state of Florida and among the nation's Top 10.
Jim Moran School of Entrepreneurship becomes FSU's newest college
Florida State University's newest school — the Jim Moran School of Entrepreneurship — became its newest college with Board of Trustees approval in November. The Jim Moran College of Entrepreneurship is the nation's first stand-alone college of entrepreneurship. In addition to elevating the college's prestige and profile, the transition acknowledges that the college grants graduate degrees. The school also celebrated a historic milestone as the first graduate received their degree in May.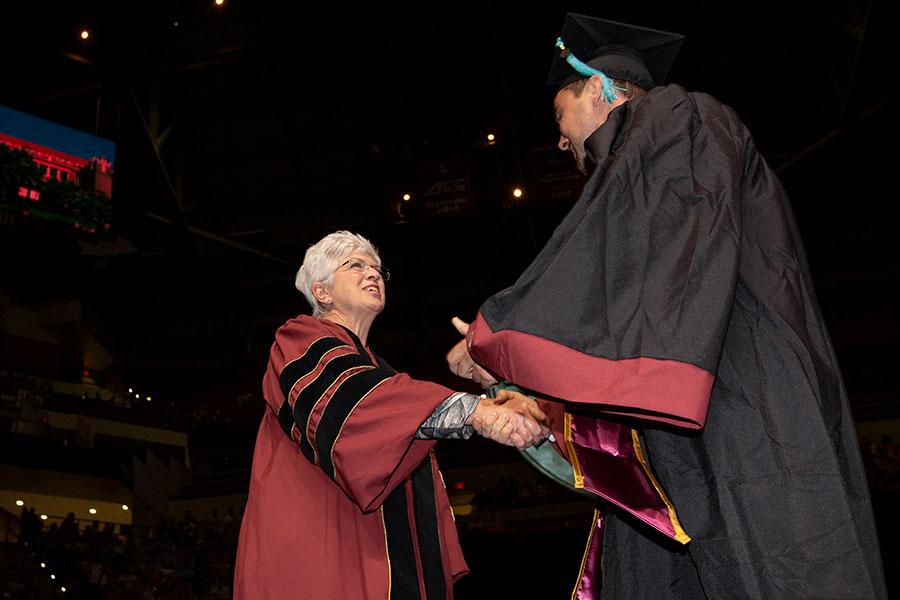 Researchers awarded $233.6 million, breaking FSU's single-year funding record
Florida State University researchers received a record level of funding from federal, state and private sources in the 2019 fiscal year, bringing in $233.6 million to the university to support investigations into areas such as health sciences, high energy physics and marine biology.
FSU receives $8 million to revive Apalachicola Bay
Florida State University has been awarded nearly $8 million from Triumph Gulf Coast as part of a major 10-year initiative to restore Apalachicola Bay and revive the region's imperiled oyster industry. The project — the Apalachicola Bay Systems Initiative — is funded by a grant from Triumph Gulf Coast, a nonprofit corporation organized to administer funds recovered by the state for economic damages that resulted from the 2010 Deepwater Horizon oil spill.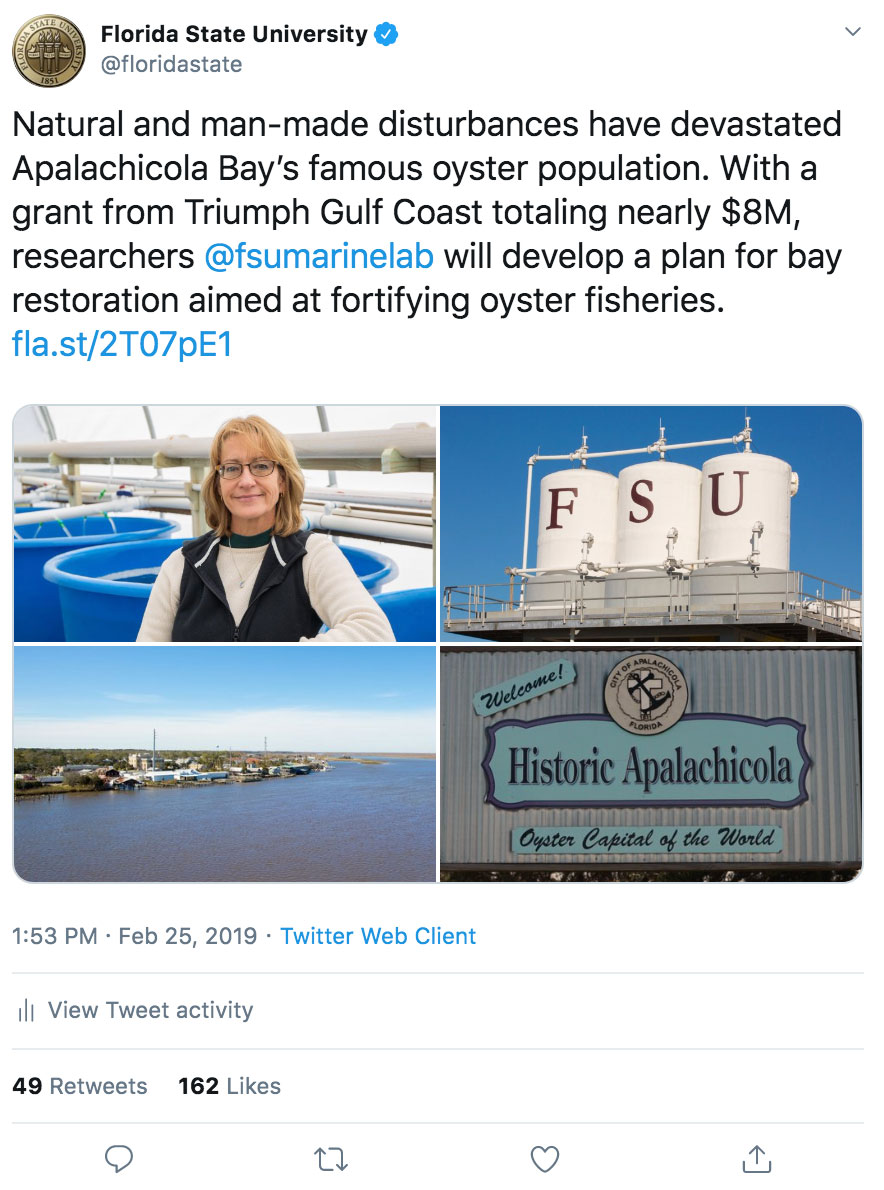 Florida State welcomes largest freshman class
More than 7,100 first-year students enrolled at Florida State University this summer and fall, making it the largest freshman class in university history. That follows a record-breaking 60,555 first-year student applications for admission to the 2019 summer and fall semesters — a 20 percent increase over 2018. Graduate enrollment also is at an all-time high after FSU received more than 10,000 graduate school applications.
College of Medicine opens new primary care facility
FSU PrimaryHealth saw its first patients in May in its brand-new facility in southwest Tallahassee, an area that formerly had limited access to primary care. Patients throughout Leon County as well as surrounding counties are welcome. All care is provided by board-certified faculty members of the College of Medicine.
Arts programs receive national recognition
FSU has long been known for its excellent arts programs, and in 2019 several were ranked among the best of the best. The FSU School of Dance Maggie Allesee Choreography Center was ranked No. 6 on the list of The 10 Best Schools for Dance and No. 4 for The 10 Best Schools for Aspiring Choreographers.  The College of Motion Picture Arts received a No. 13 ranking by Hollywood reporter and The Wrap News. And the Department of Interior Architecture and Design climbed in national rankings by DesignIntelligence, which ranked FSU's program No. 5 nationally and No. 2 among public universities.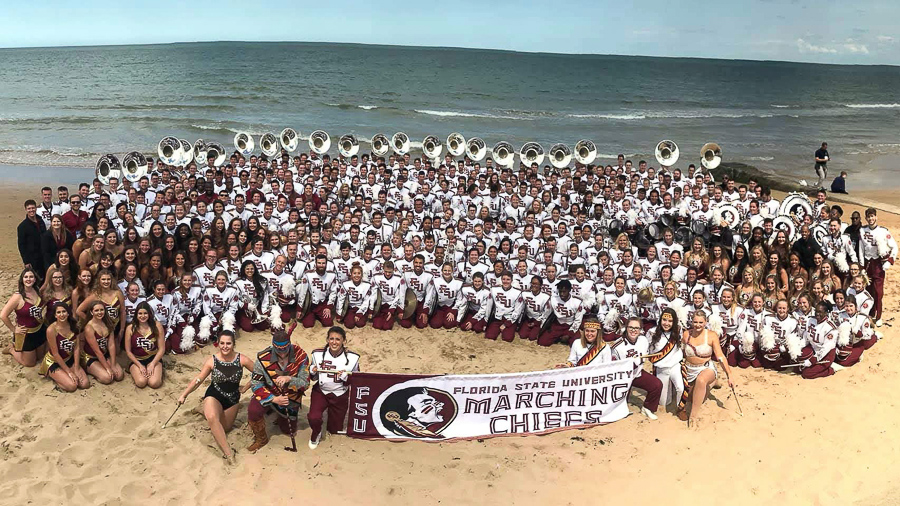 Marching Chiefs perform at special D-Day ceremonies in France
Florida State University's world-renowned Marching Chiefs was the only collegiate band to participate in France's official D-Day Normandy Parade, marking the 75th anniversary of the bold mission and honoring the brave soldiers who helped win World War II.
FSU Master Craftsman Studio celebrates 20 years
The FSU Master Craftsman Studio celebrated 20 years of adding to the campus' natural and architectural splendor with hand-crafted artistic pieces. A champion of campus beautification, the late President Emeritus Talbot "Sandy" D'Alemberte established the Master Craftsman Studio in 1999. It's the only university program of its kind in the United States.
Legendary baseball coach Mike Martin makes one last run
Mike Martin finished off his remarkable 40-year career by taking his 17th team to the College World Series in June. Martin owns the record for the most victories of any college coach in any sport with 2,029 wins.