Florida State University graduates celebrated important milestones and reflected on moments of triumph and tragedy during four spring commencement ceremonies over the weekend.
More than 6,500 students graduated this spring with over 5,500 graduates participating in the ceremonies held Friday, May 3, and Saturday, May 4, at the Donald L. Tucker Civic Center.
FSU President John Thrasher presided over all four ceremonies and introduced each of the commencement keynote speakers, a trio of Florida State alumni.
John Dailey, mayor of Tallahassee, addressed graduates during the Friday afternoon ceremony. Dailey is a two-time FSU alumnus who served as student body president as an undergraduate. He spent 12 years on the Leon County Commission before being elected as mayor in November 2018.
Dailey urged graduates to reflect on their time at FSU before leaving campus — the beauty, the memories, the wisdom. He said one piece of wisdom that has stayed with him from his days at Florida State is enshrined above the entrance at Dodd Hall, "Half of knowledge is to know where to find knowledge."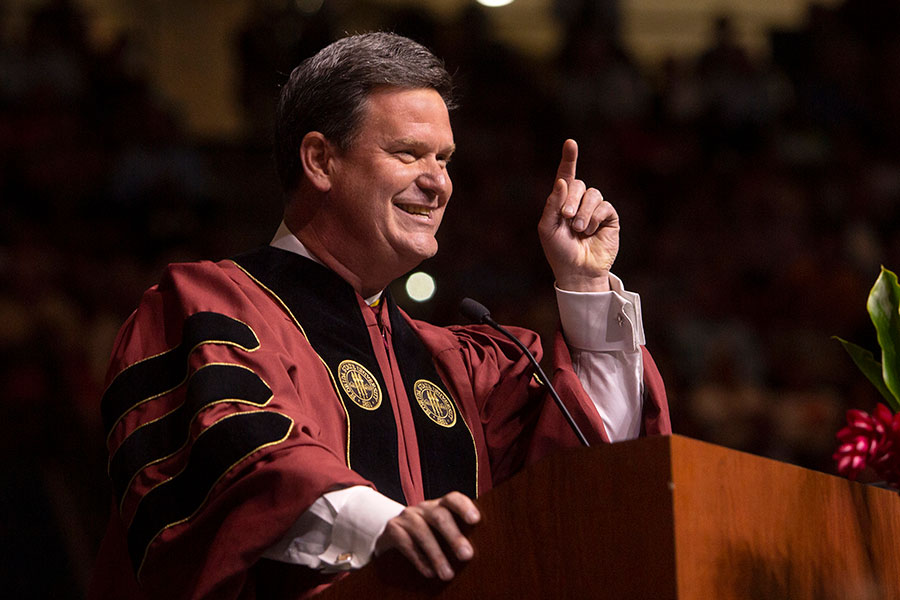 Dailey told graduates to remember the foundation of knowledge they built at FSU, and when times get tough, return to that foundation. He also stressed the importance of hard work and persistence.
"The opportunities before you are infinite, but you've got to work hard to chase down those dreams," Dailey said. "Nothing is going to be handed to you. Each of you possesses your own unique talents that you have spent the years at FSU cultivating and refining. Take those skills and talents and make a difference in the world."
Before awarding degrees Friday afternoon, Thrasher recognized two students who should have been crossing the stage with their fellow graduates.
Allison Elizabeth Overholt passed away in January. Her family accepted their daughter's posthumous Bachelor of Arts degree in Religion and Bachelor of Science degree in International Affairs. Maura Binkley, who died during the yoga studio shooting in November of last year, also was acknowledged with a posthumous Bachelor of Arts degree in German.

Thrasher assured the crowd that Overholt and Binkley's legacies will continue to thrive at the university.
"On behalf of Allison's and Maura's professors and student colleagues, I can assure you that their friendships and their accomplishments will not be forgotten," he said.
Jordan Anderson, who graduated summa cum laude with a bachelor's degree in Editing, Writing and Media on Friday afternoon, said it felt incredibly rewarding to see her efforts come to fruition during graduation.
"It's everything you've ever worked for, and it comes down to this moment," Anderson said. "It's so rewarding to see all of the hard work you've done come together and to see all of us celebrating our achievements."
History was made during Friday night's ceremony as the first class of graduates from the new Jim Moran School of Entrepreneurship walked across the stage.
The school, made possible by a record $100 million gift by Jan Moran and The Jim Moran Foundation in December 2015, awarded bachelor's degrees to 137 students at the ceremony. Jan Moran participated in the ceremony and shook hands with the school's inaugural graduates.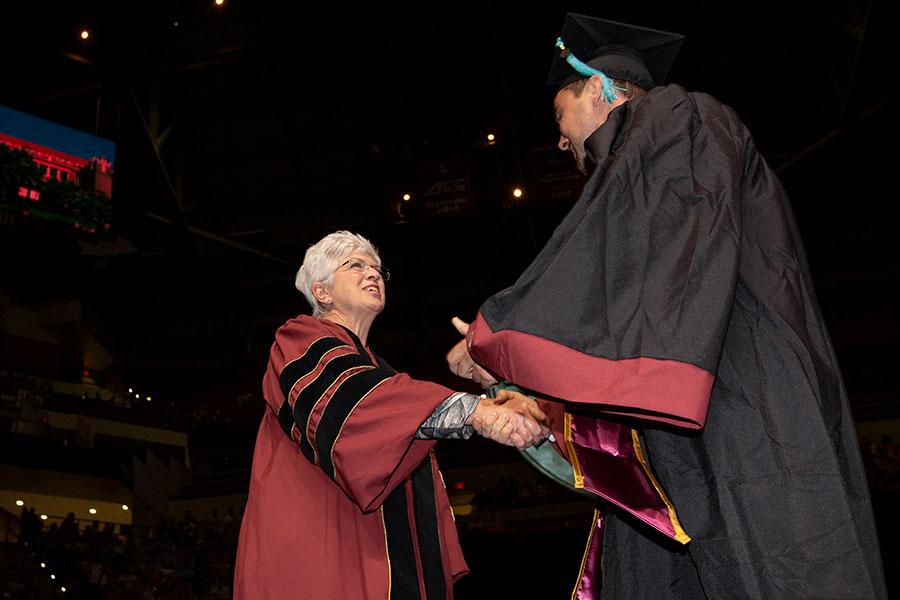 Cory Witt, who was the first to shake hands with Jan Moran, said he was honored by the opportunity. He said, for him, the school was more than an educational program.
"It provided real-life experience," Witt said. "The teachers are all entrepreneurs themselves. They've been out there and done the things that they've trained us to do."
Danisha Carrasco, a first-generation Afro-Latina who received a degree in business management and marketing, celebrated her own milestone as she became the first college graduate in her family. While at FSU, she served as president of her sorority, was involved in the Women Student Union and was voted 2019 Homecoming Princess runner-up.
"To make it this far means everything to me because I was able to accomplish a goal that no one in my family has experienced," Carrasco said. "As a first-generation student, my goal was to take over the campus, and I did not settle for anything less amidst a campus of over 40,000 students. I hope I inspired many along the way to build their own legacy."
Another first-generation college graduate, John Thiel, served as Friday night's commencement speaker. Thiel, a business consultant and current member of the FSU Foundation Board of Trustees, earned a bachelor's degree in accounting from FSU in 1982, and recently retired as the head of Merrill Lynch wealth management.
He encouraged students to embrace their development both personally and professionally by fostering strong relationships, being lifelong learners and doing their best to do the right thing.  "Those principles worked for me," Thiel said. "I achieved things beyond my dreams. It can happen for you, if you do it."
Also Friday night, Provost Sally McRorie recognized Tim Cross, the Earl Frieden Professor in the Department of Chemistry and Biochemistry, as the 2019-2020 Robert O. Lawton Distinguished Professor. The award is the highest honor that FSU faculty members bestow upon one of their own.
Florida State alumnus Dave Lane, the president and CEO of Terlato Wines and chair of the FSU Foundation Board of Trustees, described a near-death experience that forever changed his life as he spoke to graduates during Saturday's two ceremonies.
Lane survived a harrowing plane crash that crystallized for him the most important things in life, including an attitude to put others first before yourself.
His life-changing incident happened in 2001 while traveling in Australia aboard a small twin-prop plane with members of his company's executive team. As he sat at the back of the plane admiring the bright blue skies outside the window, he realized the plane's right engine was on fire and smoke started filling the cabin.
Suddenly, the plane was plummeting toward the ground and crashed into a pasture. One of Lane's colleagues immediately burst out the emergency exit and ran away without looking back, but Lane was trapped under his seat and a pile of luggage.
"I couldn't get out, but fortunately another executive, who had a clear path to the exit, stopped, came to the back of the plane, pulled me out from under the pile and said, 'You go first.' You don't forget that kind of thing. 'You go first.' That day, I learned the importance of putting others first, and now it's my life's mantra."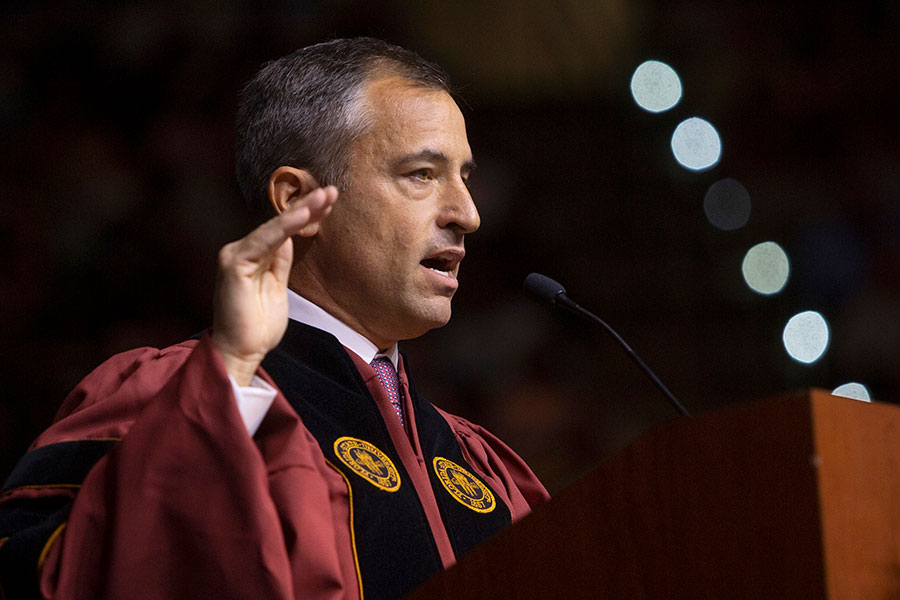 Lane encouraged graduates to build up every person they meet, and he urged them not to delay anything that's important to them.
"Do it," Lane said. "There's nothing like a near-death experience to give you focus on what's important in life. My advice to you is to do what's in your heart."
Lane's plane crash demonstrated how unpredictable life can be, so he urged graduates to go after their dreams.
"If there's something you really want in life, don't put it off," said Lane, as he announced he's leaving his company next week. "I've chosen to follow my heart and take a new position. I don't know if it will pay off but I do know that as long as I live my values, I can't lose. When you come to a crossroads in life, it's real simple. Put others first, take risks and do it. Be boldly human and live well."
Lane's message resonated with student-athlete McKenna Keith as she sat in the crowd at the third of FSU's four spring commencement ceremonies.
Last year, the star swimmer was diagnosed with Hodgkin's lymphoma. Keith underwent several surgeries and eight rounds of exhausting chemotherapy.
During her treatment, Keith made a goal for herself to stay on schedule for graduation so she could walk across the stage to accept her bachelor's degree in sociology. She not only accomplished that goal by taking online courses, Keith returned to the pool — healthy and happy — for the Seminoles' final swim meet this semester.
She said that goal kept her motivated during the chemotherapy regimen and helped her stay focused on looking forward.
"My self-motivation to graduate this semester, coupled with the amazing support of my academic advisers and student-athlete development staff, led me to where I am today," Keith said. "I definitely have learned about strength. With everything that happened last semester, you really see how strong you are when you have no other option."
Keith's battle with cancer also pointed her toward a new career path. She recognized she has a powerful passion for nursing, and now she plans to go to nursing school.
It is a monumental shift from the vision of her life just a year ago, but like Lane, she's following her heart. Before she takes the next step in her life's journey, she took time out Saturday to celebrate her new degree.
"This feels like a culmination of everything that helped me get to where I am," Keith said. "It's an exciting day. Definitely, a day to remember."
Carolina Perez graduated Saturday afternoon with a bachelor's degree in communication media studies. While her undergraduate career has come to a close, her time as a Seminole is far from over; she'll be starting her master's program at FSU in the fall.
"I plan to continue being a Seminole," Perez said. "I'm going to graduate school here, and I will always hold this place near and dear to my heart; it's like my second home. I've learned and grown so much here, and I'd like to give back as much as I can in the future."