With its Gothic architecture, live oaks, fountains and greens, Florida State University is one of the most beautiful campuses in the country. 
For the past 20 years, the FSU Master Craftsman Studio has been adding to the campus' natural and architectural splendor with hand-crafted artistic pieces. The university marked the studio's 20-year anniversary with a celebration Oct. 9 at the Heritage Museum in Dodd Hall, a location adorned with 40 stained glass windows created by the workshop.  
"Our master craftsmen took this beautiful, historic building and made it even more magnificent with the addition of 40 stained glass windows, each one a tribute to the people, places and programs that have made Florida State University what it is today," President John Thrasher said.   
A champion of campus beautification, President Emeritus Talbot "Sandy" D'Alemberte established the Master Craftsman Studio in 1999. It's the only university program of its kind in the United States.  
"We're a full in-house studio for Florida State University — both design and fabrication," said Courtney Ryan, Master Craftsman Studio coordinator and faculty artist. "We create the stained-glass windows in Dodd Hall, the bronze statues of university presidents you've walked by on campus, walkways, window treatments, and at graduation, when you walk under the stage, that 12-foot seal that hangs from the ceiling. We made that right here." 
John Raulerson, Master Craftsman program director, said that D'Alemberte's vision for the campus was to capitalize on the "economics of aesthetics." D'Alemberte believed that to attract world–class researchers, professors and students, Florida State needed to provide a place, or a sense of place, where they feel they want to live and study.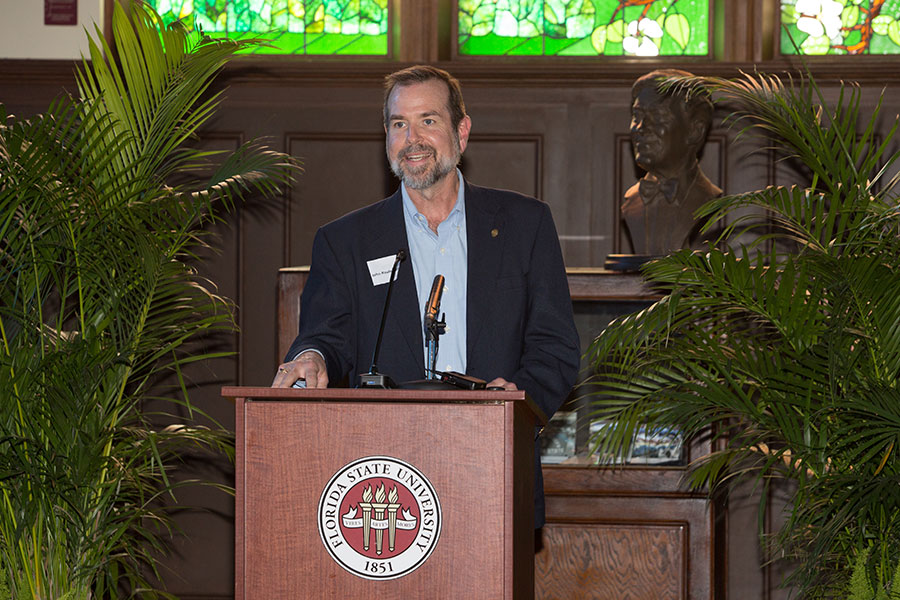 Since its inception, the Master Craftsman program has been persistently fulfilling D'Alemberte's vision. Their creations can be spotted in the spears over Doak Campbell Stadium, at Cascades Park located in downtown Tallahassee and in commissioned works across the nation.  
"This is one of the best examples of how Florida State provides unique educational opportunities to our students, and it demonstrates the exciting things that can happen when creativity and entrepreneurship collide," Thrasher said.  
The first Master Craftsman project was the intricate 22-foot stained-glass window located in the Heritage Museum of Dodd Hall. The window features images of four iconic campus locations — including the Westcott fountain, the Longmire Building, Bryan Hall and Dodd Hall. 
In addition to enhancing FSU's campus beauty, the studio provides internship opportunities for students at FSU, Florida A&M University and Tallahassee Community College. The program attracts students from FSU's Department of Art, Interior Design and Architecture program and the FAMU-FSU College of Engineering via a semesterly application process. Students can gain class credit for their internship and receive hands-on experience that extends past the traditional classroom setting. 
In September, the Master Craftsman Studio unveiled its latest work at Dodd Hall, a new stained-glass window commemorating the FSU Marching Chiefs.  
Interns worked alongside six artist faculty members during the months-long, meticulous process to fabricate the window. Multiple sketches of the desired design, hundreds of kiln firings and the use of 3D cast glass came together to create a timeless window that is now housed in the Heritage Museum.  
After celebrating this milestone, the Master Craftsman Studio plans to continue beautifying campus and creating stunning commissions.   
"We've had 20 years," Ryan said, "and we're hoping for 20 more and then some." 
The Master Craftsman Studio is a self-sustaining studio located at 905 West Gaines St., and operates 8 a.m.- 4:30 p.m., Monday-Friday. For more information, visit facilities.fsu.edu/depts/mastercraft.