The cool temperatures and gray skies that hovered over Tallahassee couldn't put a damper on festivities this weekend as commencement ceremonies honored the 2,700 students who earned degrees from Florida State University this fall.
President John Thrasher presided over FSU's two fall commencement ceremonies Friday, Dec. 13, and Saturday, Dec. 14, at the Donald L. Tucker Civic Center. This year's class of graduates included 1,989 students earning bachelor's degrees, 587 earning master's or specialist degrees and 99 doctorates. About 1,950 students participated in the two ceremonies.
Professor Tim Cross, a world leader in chemistry and biochemistry research, served as the featured speaker Friday evening. Cross wasted little time letting graduates know the challenges facing them and future generations of Seminoles because of climate change.
Cross is FSU's 2019-2020 Robert O. Lawton Distinguished Professor — the highest designation FSU faculty members can bestow upon a colleague.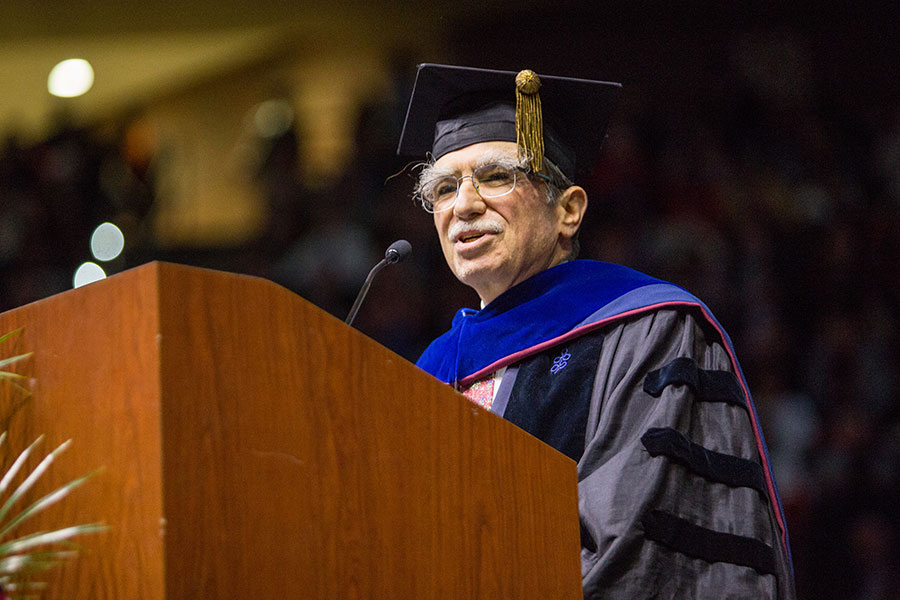 He implored graduates to use their FSU education to identify and avoid misinformation to help combat the effects of climate change. He noted that crises like rising sea levels and pollution are not the positive sentiments graduates might have expected to hear but he reminded them that their education empowers them to affect change.
"Graduates, I am sorry. This was supposed to be an upbeat commencement talk. What happened?" he asked, before answering, "Life happened."
Cross continued by comparing the challenges of today to those of World War II.
"Today it's a different war we must wage to save our planet for our children, your children and your children's children," he said.
Cross then pledged to join in the fight against climate change to "save our little blue planet for the next generation of Seminoles."
Seated amongst the graduates, FSU men's basketball player Trent Forrest, a native of Chipley, Florida, felt right at home on the floor in the Tucker Center where he's played for the past three seasons. Forrest credited others for helping him earn his bachelor's degree in sport management and for his next step — graduate school this spring.
"Receiving a quality education and earning my degree from such a prestigious university was one of the main reasons I decided to become a Seminole," Forrest said. "Now that I have earned my degree in Sport Management there are so many people — professors, administrators, members of the Academic Support Unit for Athletics — who I need to thank for everything they have done for me. It is because the bar is set so high within our program that I am proud to say I am a graduate of Florida State University."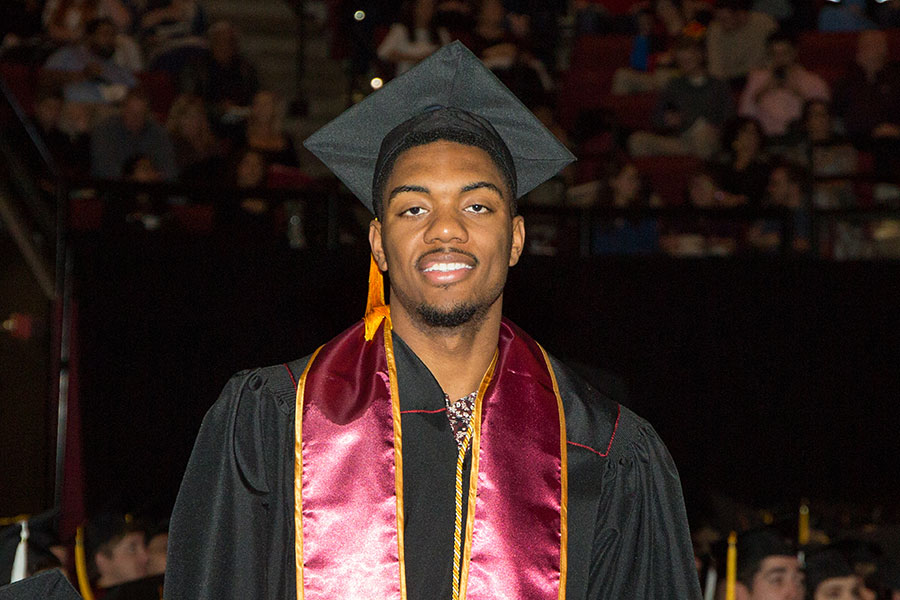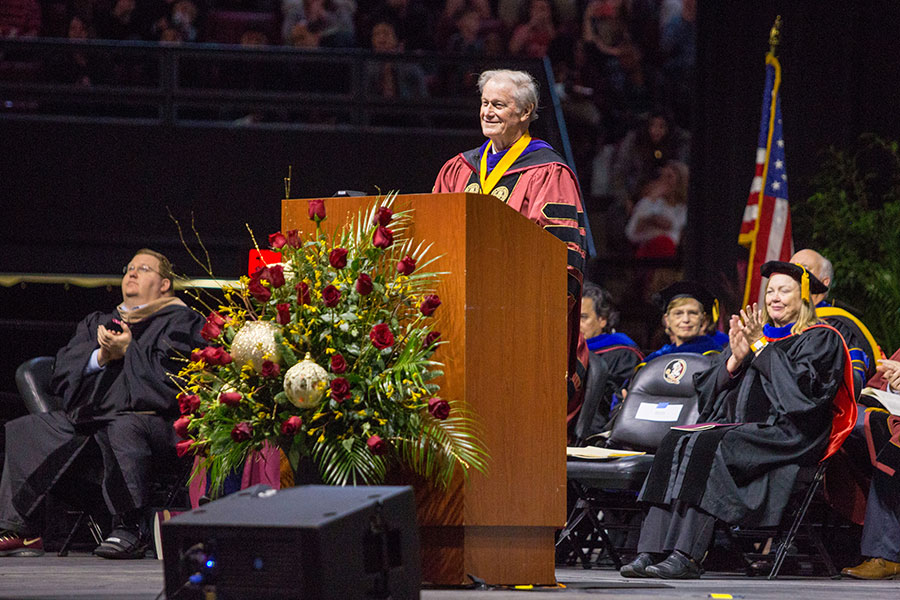 Eve Humphrey, who rose to national prominence earlier this year when she joined with a local photographer in a photoshoot depicting a copy of her dissertation as a newborn child, received her long-awaited doctoral degree in biology. Photos from the shoot, which featured Humphrey cradling her dissertation and the document seated in a stroller, went viral.
Humphrey returned to Tallahassee for commencement from her postdoctoral work in Syracuse, New York.
"I can actually celebrate and appreciate what I accomplished here," she said when asked what the evening means to her. "I'm excited. I'm joyful. Mostly, I'm grateful."
Also, during Friday's ceremony, Austin John Burns from Weston, Florida, crossed the stage as the first graduate of FSU's new undergraduate neuroscience program.
"It's very exciting," Burns said. "I'm happy to be the first and I think it's the start of a great program here. It's an awesome step in the right direction for FSU and for our new neuroscience program."
During Saturday morning's ceremony, the Honorable Nina Ashenafi-Richardson, a judge in Florida's second judicial circuit and the first Ethiopian-born person to serve as a judge in the United States, addressed the graduates. An alumnus of FSU's College of Law, Ashenafi-Richardson acknowledged FSU's rise in the national rankings, record researching funding for the 2019 fiscal year, best four-year graduation rate in the state of Florida and status as a Diversity Champion.
"This is all attributed to the university's focus on student success," Ashenafi-Richardson said. "It is a great time for you to be receiving your degree from the most distinguished university."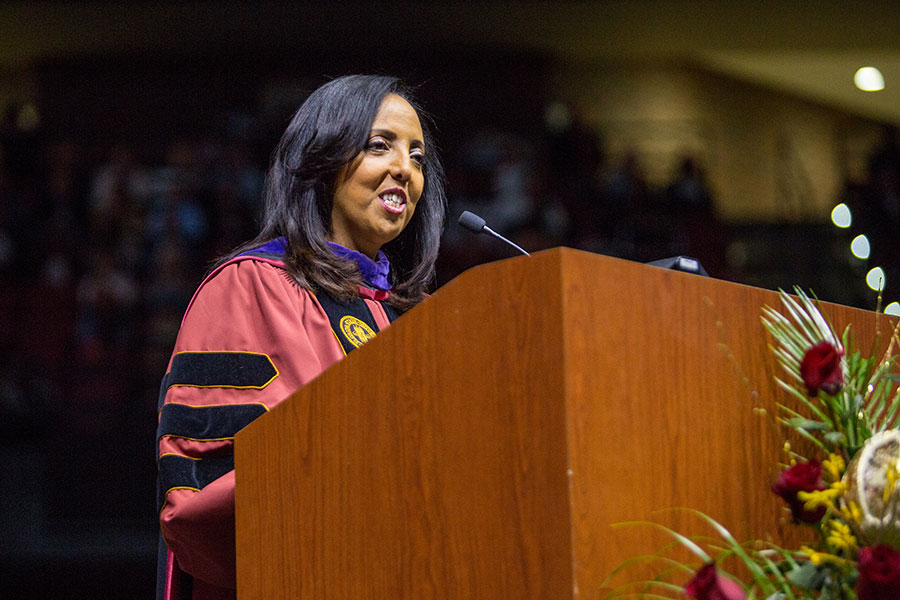 Ashenafi-Richardson's praised President Thrasher for his admirable leadership and role in FSU's success, and she challenged the arena of graduates to harness the power of positive thinking.
"As you make time to think and reflect about your life after graduation, find out what gets you up in the morning — your passion, your divine purpose," Ashenafi-Richardson said. "Be wary of focusing too much energy on outward, superficial markers of material success or titles. No doubt material success will come, but let it be a by-product of a life that fully connects you to what makes you happy."
Participating in Saturday's ceremony were doctoral graduates Nastaren Abad and Divya Bahadur, two best friends from the FAMU-FSU College of Engineering whose friendship formed through their rigorous studies.
Abad, who studied biomedical engineering, came to FSU from Pakistan when she was 17 for undergraduate studies. After finishing her bachelor's degree, Abad decided to remain at FSU and pursue a Ph.D. During her first week in the program she met Bahadur, a chemical engineering student from India, and by the next semester they were living together.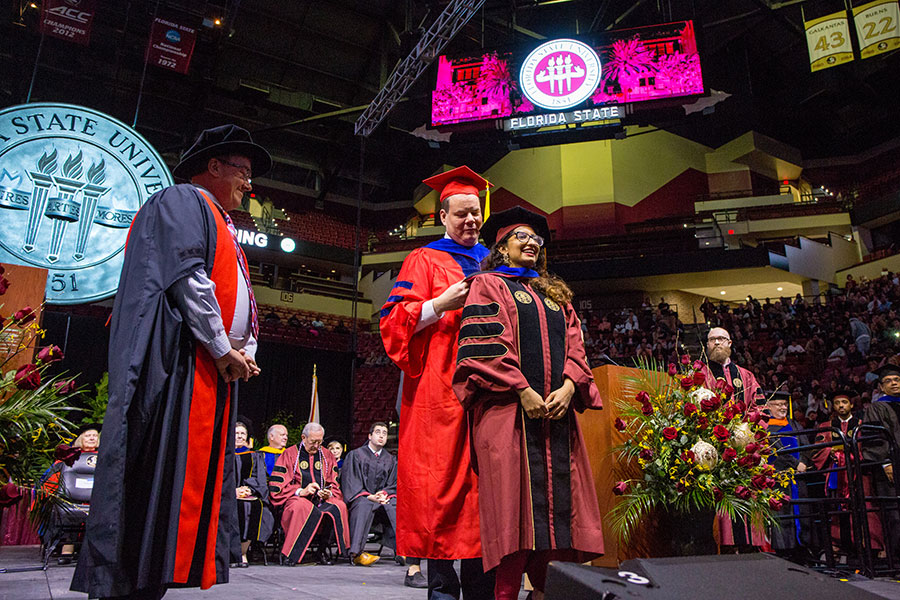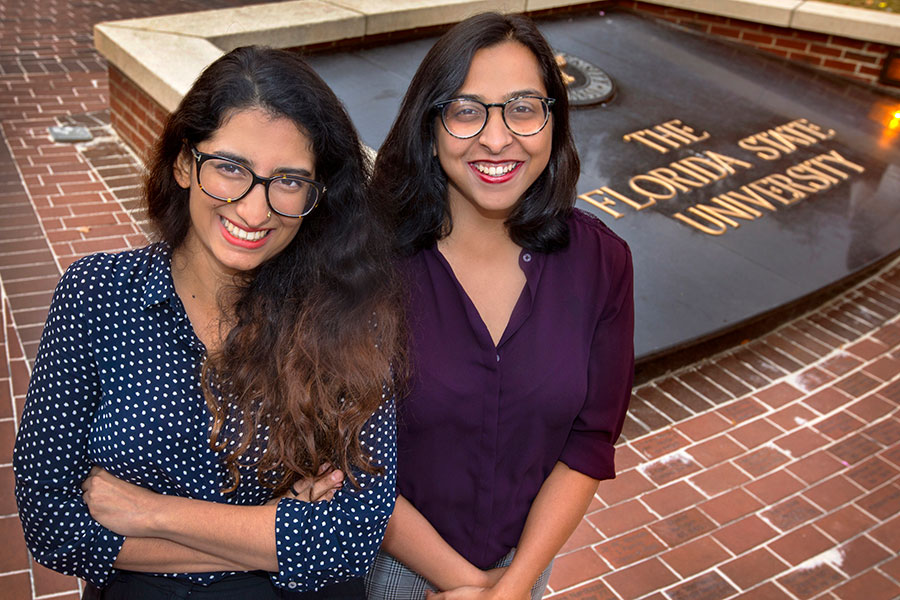 "It feels really surreal at this point because I've been in Tallahassee for nine-and-a-half years now," Abad said. "It feels very bittersweet to be closing that chapter. Well, not closing it, but building on it."
Bahadur, who earned her undergraduate degree in India and will soon be working at Johnson and Johnson in Belgium, praised FSU for the plethora of opportunities they offered her.
"Through the professors and programs at FSU, I've had several opportunities to broaden my horizons and try out different areas of research," Bahadur said. "Our lab ended up collaborating with a lot of different FSU departments, and it's just really nice to see how open people are to collaborate on different kinds of research topics. You get to learn more about what they're doing and you don't pigeon-hole yourself."
Abad, who will be moving to Albany, New York, to work as a scientist for General Electric, highlighted the immense amount of support she's received at FSU as both a graduate and undergraduate student.
"I think the biggest thing for me would be the support that I've gotten, not just as an undergraduate student but as a graduate student from my mentors, as well as the students who were in our department," Abad said. "When I first came here as an undergraduate student, I was part of the Women in Math, Science and Engineering (WIMSE) program, which is super fantastic in the way they have structured themselves to help you find what you like and get research opportunities but also has a really incredible support system."
On Saturday afternoon, FSU's 37-member inaugural class from the School of Physician Assistant Practice graduated during a separate ceremony at Opperman Hall. College of Medicine Dean John P. Fogarty presided and Thrasher conferred degrees.
FSU was abuzz with activity throughout the weekend, as friends and family joined new graduates on campus. In front of the iconic Westcott fountain, a parade of newly minted graduates posed for pictures with siblings, parents and pets.
Among them was Sohee Yu, a public relations major from Seoul, South Korea, who was joined by her parents, her boyfriend and her Golden Retriever, Mochi.
Yu said she always wanted to be a PR major. FSU's renowned program was just part of what drew her to Tallahassee. While Mochi's nose led her toward the nearby statue of the late FSU President T.K. Wetherell, Yu reflected on what FSU has meant to her.
"I wanted the American college experience," she said. "I got that here. FSU had a little bit of everything."
Yu, who will be moving to Salt Lake City, added that her graduation was bittersweet.
"I know it is a cliché but it feels like freshman year was last semester," she said. "I'm sad to leave but excited for what the future holds and I know that FSU has prepared me for it."