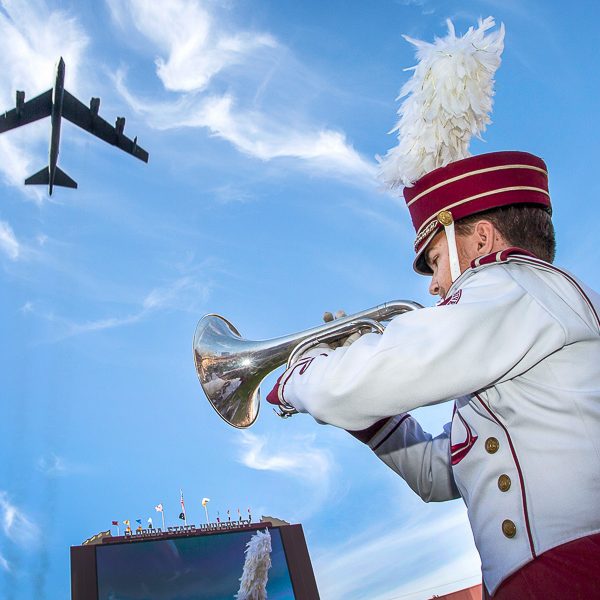 Florida State University's world-renowned Marching Chiefs will be the only collegiate band to participate in France's official D-Day Normandy Parade, marking the 75th anniversary of the bold mission and honoring the brave soldiers who helped win World War II.
The weeklong trip to Paris and the beaches of Normandy from June 3-10 will mark the third time in the Marching Chiefs' 80-year history that the band has performed overseas.
"It's a huge honor to represent FSU and the United States at the D-Day 75 Normandy Parade," said Director of Bands Patrick Dunnigan, who led the Chiefs on their last international trip to London in 1997. "When you think about all the soldiers who fought in France, what a big difference they made in the war and the thousands of young men who never returned home, it's overwhelming."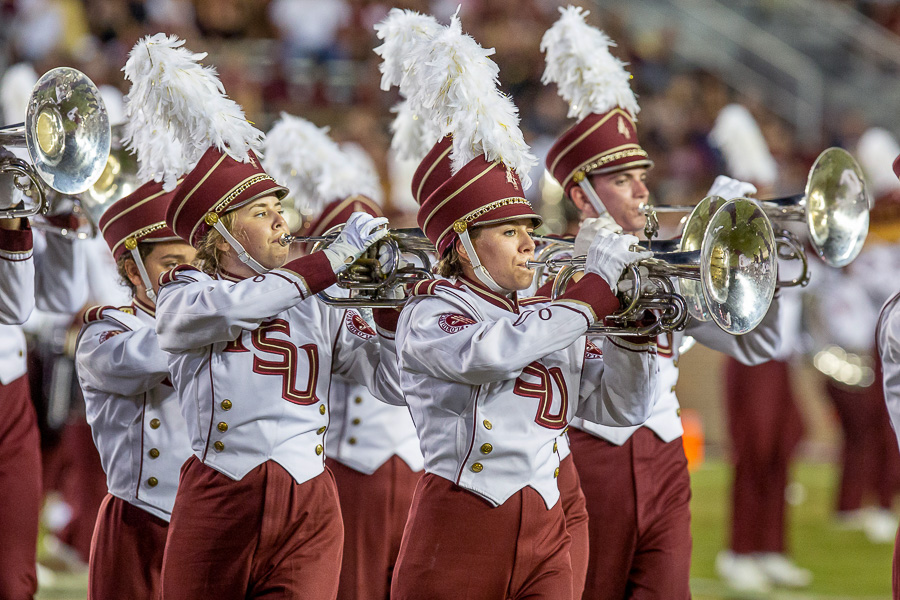 During the parade, the Chiefs will play "March Militaire Française" as they march about a mile-and-a-half between Vierville-sur-Mer and Saint Laurent-sur-Mer. The two villages overlook Omaha Beach, one of five beaches along the Normandy coast where more than 150,000 American and Allied soldiers landed by sea and air June 6, 1944, in the largest seaborne invasion in history.
More than 4,000 Allied soldiers died in Operation Neptune, the military code name for the D-Day invasion. That heavy sacrifice inspires members of the Marching Chiefs as they prepare to honor the World War II heroes.
"These ceremonies have special significance so when this opportunity came up last fall, we knew it was the right international trip to honor a meaningful event and make FSU and all Americans proud," said Director of Athletic Bands David Plack, also the Chiefs' co-director.
It was a short timeline — less than six months — to fundraise and organize a major trip to France. Initially, the cost for each student was $3,500, a steep price tag that Plack thought would limit participation. Privately, he hoped 150 band members would sign up.
"For a trip of this magnitude, you normally would have two years to plan and fundraise, and we did it thanks to help from the university, alumni and other donors," Plack said. "We were successful with fundraising because the Florida State community believed this was a very significant event."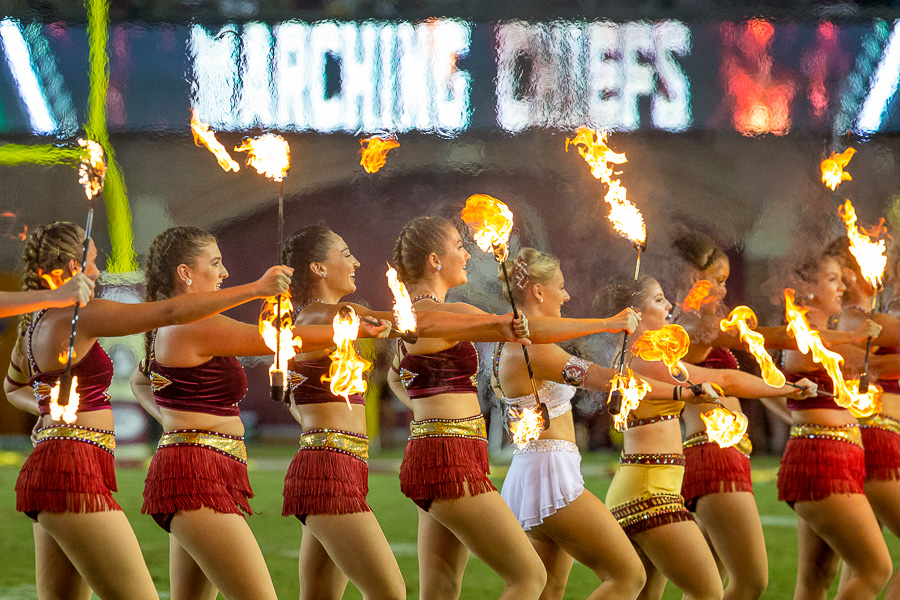 The fundraising campaign attracted contributions from hundreds of donors, including Tom and Dana Ando, whose son plays trombone in the band. The Andos gave $75,000 for the trip, and that gift generated an additional $77,000 in donations during FSU's Great Give, a 36-hour online campaign in March.
"For the past four years, we have witnessed the hard work and dedication that the Marching Chiefs exemplify," said Tom Ando. "When Travis told us about the trip, we wanted to do our part to allow as many of these talented musicians as possible to represent FSU, the state of Florida and the USA."
Band members also set up GoFundMe pages, and all of the fundraising helped lower the per-student cost to less than $2,500 for airfare, hotels and meals.
"We are overwhelmed by the generosity of so many who have made this trip possible," said Patricia Flowers, dean of the College of Music. "Not only is it an opportunity to honor those who sacrificed for our country in a time of dire need, but also an occasion to reflect on the value of freedom and our responsibility to preserve it at all costs."
The successful fundraising efforts and the significance of the commemorative D-Day events resulted in a larger travel group than expected. Now, about 385 of the band's 420 musicians are going to France.
"That level of participation shows they understand this opportunity is historic," Plack said. "They will be able to say they stood on Omaha Beach on June 6, 2019, and honored the lives lost there."
The opportunity has special meaning for senior Emilia Addeo, the band's assistant drum major. Her grandfather is one of the last living World War II veterans.
"He served in the U.S. Navy, and when he and my family found out I was going to Normandy for the 75th anniversary of D-Day they were in tears," Addeo said. "This will be my first time traveling out of the country, and I'm so glad this is the reason I'm going. It's amazing. Every time I look at the itinerary, I get chills."
In addition to marching in the D-Day 75 Normandy Parade, band members will place a wreath at the Normandy American Cemetery where more than 9,300 soldiers are buried. A brass ensemble will play "Amazing Grace."
The Marching Chiefs, who first earned the title "world renowned" during a trip to Syria in 1974, will also perform in Paris. The music will include a collection of John Philip Sousa marches and songs specifically arranged for this trip.
Students said they never could have imagined an opportunity like this.
"I'm excited to represent the Marching Chiefs and Florida State at such a historic event," said senior Joel Ferst, who plays saxophone. "I never thought I'd get the chance to participate in something as big as the 75th anniversary of D-Day, and I feel like there is no better college marching band to represent the United States. The Chiefs' presentation is a good example of American college marching bands, and the band's success over the years reflects FSU's rising national prominence."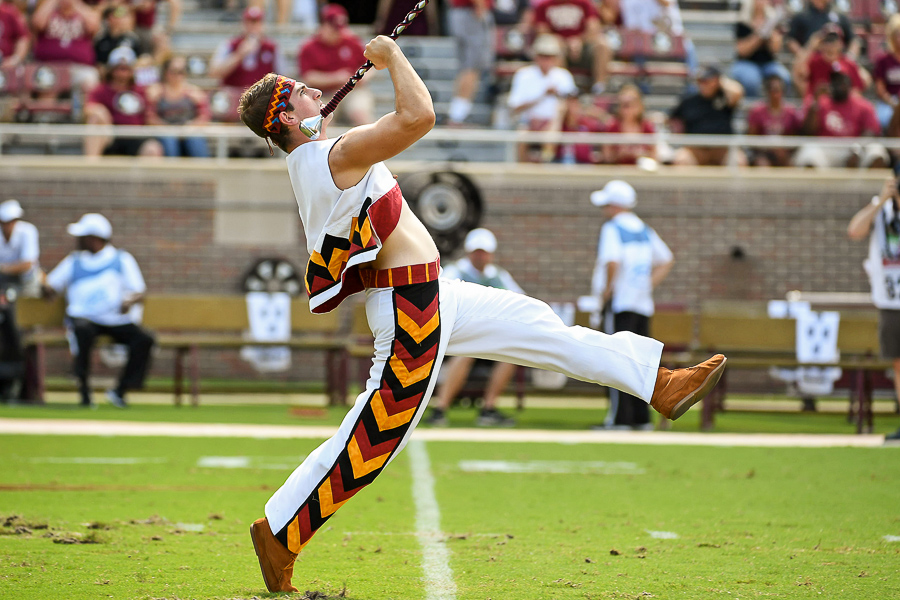 Senior Alex Arbeiter, who plays trombone and serves as the band's head drum major, said he's proud to represent FSU in France.
"It will be great to share a little love across the world and what better way to do that than with music," he said.
Florida State's long-standing reputation as one of the most veteran-friendly universities in the nation should get a boost in the global spotlight of France's D-Day activities.
"FSU has always been veteran-friendly, so participating in a powerful anniversary like this will build on the university's priority to support veterans," Plack said. "I hope people see our performances and say, 'That's an incredibly impressive and professional group of young people.'"