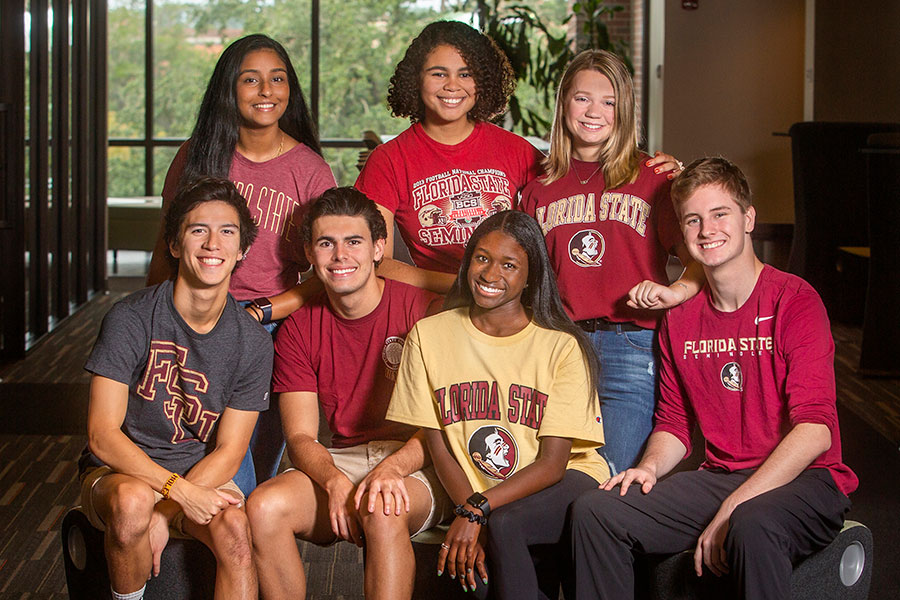 Florida State University will welcome its largest freshman class in school history as the new academic year kicks off Monday, Aug. 26.
The class of about 6,900 first-year students also is one of the brightest and most diverse.
"It's a joy to welcome such a talented freshman class as we begin another academic year," said President John Thrasher. "There's never been a better time to be a part of the Florida State family. Across the board, the university is enjoying unprecedented success."
Among the recent highlights:
Florida State's four-year graduation rate ranks among the Top 10 public universities in the country and No. 1 in Florida.
FSU researchers received a record $233.6 million in funding in the 2019 fiscal year.
FSU ranked No. 9 in the nation among public universities on Kiplinger's annual list of Best Values in Public Colleges.
The national recognition contributed to a record-breaking 60,555 first-year student applications for admission to the 2019 summer and fall semesters — a 20 percent increase over last year.
Of those first-year students who were accepted into the university for the summer and fall semesters:
The average high school grade point average was 4.2 with an average 1310 total SAT score and ACT composite score of 29.
The group includes students from 64 Florida counties, 45 states and 18 nations. After Florida, the states with the most new accepted freshmen are Georgia, New York, North Carolina and New Jersey.
Women make up 60.2 percent of the new freshman class, while 39.8 percent of students are male.
The top five majors selected are business, biological science, psychology, engineering and nursing.
Graduate enrollment also is at an all-time high after FSU received more than 10,000 graduate school applications. This year's graduate student cohort will be FSU's largest with more than 2,150 new students — a 6 percent increase over last year.
Other highlights of the new academic year include:
New freshmen will be the first class required to participate in experiential learning before graduation, making FSU the largest and most diverse university in the country to have such a requirement. Experiences such as internships, service learning, undergraduate research or international study can be transformational and improve academic performance and post-graduation outcomes.
The university is launching the "More in Four" program for students who enter FSU with 20 hours of college credit. Advisers will encourage these students to consider completing their bachelor's degree in three years and using their fourth year to attain a master's degree or begin their careers. Students with Bright Futures scholarships may be able to use those funds to offset some of the costs.
Florida State's 18 residence halls, which are operated by the Office of University Housing, will open for the Fall 2019 semester at 8 a.m. Thursday, Aug. 22. The residence halls will house 6,691 students this year. More than 500 volunteers — students, faculty, administrators and community members — will assist students with move-in Thursday and Friday. The MyFSU app has a housing icon where students can find maps, times and helpful information. Move-in information is available here: https://housing.fsu.edu/future-residents/residence-hall-move-in-fall.
Beginning Thursday, Aug. 22, Florida State will host "Welcome FSU," a weeklong tradition full of engaging events that promote student involvement and inclusion on campus. The week of campus activities, which runs through Thursday, Aug. 29, introduces students to a variety of campus organizations and opportunities to connect with other students who share common interests. New events include the New Nole Pep Rally at Doak, the Transfer Leadership Institute and a Traditions Fest on Landis.