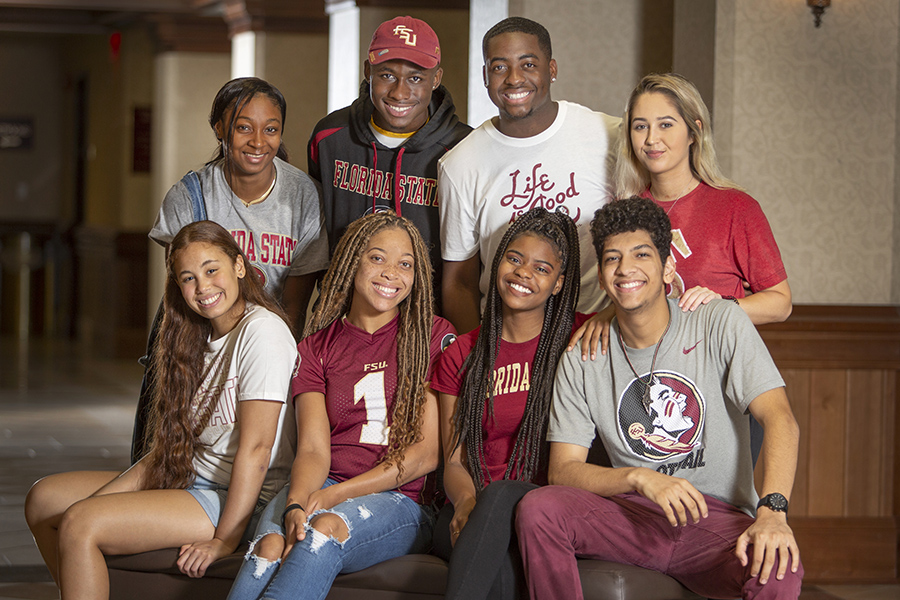 More Florida State University students than ever are graduating in four years, but the university's upward trajectory in student success hasn't happened overnight.   
As a result of careful and strategic investments over the past two decades, Florida State's four-year graduation rate is No. 1 in the state of Florida and one of the best in the nation.  
Of the freshmen who entered the university in 2014, 72 percent graduated in four years. By comparison, 49 percent of freshmen who started at FSU in 2005 graduated in four years. Florida State's six-year graduation has steadily risen to 83 percent, and the university's first-year retention rate has climbed to 94 percent.  
"We didn't simply buy our way to student success," said Sally McRorie, provost and executive vice president for Academic Affairs at Florida State. "Instead, we found ways to invest our resources strategically and incrementally in student success programs over several years." 
What's even more impressive is that Florida State has eliminated disparities in graduation and retention rates among its diverse undergraduate population, which includes nearly a third who are Pell Grant recipients and first-generation college students.   
"We've shown that regardless of background, students can thrive in higher education," McRorie said. "We've virtually erased graduation rate gaps between all categories of underrepresented and traditional student populations." 
This recent success has been decades in the making. 
For the past 20 years, a group of about 20 administrators from all facets of campus, known as the Enrollment Management Taskforce, has met every two weeks to discuss the university's strategic investments in areas such as tutoring and academic advising and coaching. 
They represent offices such as advising, admissions, institutional research — and even parking services. Armed with data on Florida State's students, they pinpoint the reasons why students aren't returning to school or graduating. Then, they design solutions and make investments that help students succeed at higher rates.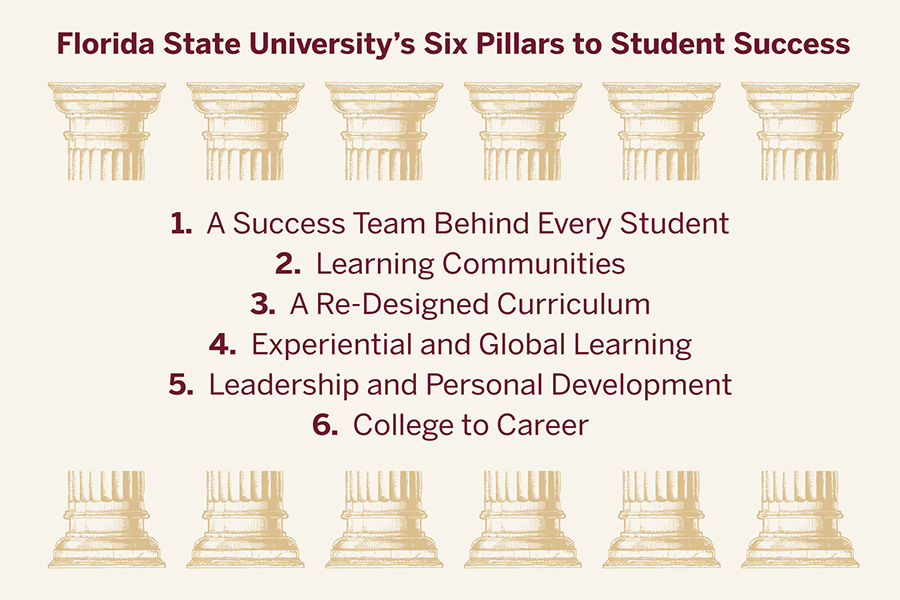 The result is a six-pillar strategy to support students along their path to graduation, as well as challenge and engage them through targeted programs. Key among the pillars is the concept of having a "success team" behind every student. The strategy also involves learning communities, a redesigned curriculum, experiential and global learning opportunities, leadership and personal development initiatives and career preparation. 
Florida State's investment in its student support team has included nearly 100 new hires, more than 20 new programs and initiatives such as experiential learning and undergraduate research, and cutting-edge applications and software that guide the data-driven approach.  
Today, this team of academic and career advisers, peer and faculty mentors and alumni stands ready to guide and support students throughout their journey at Florida State. The team has the information and tools to work collaboratively and proactively. The result is 200,000 face-to-face interactions and more than 1 million communications with students annually. 
"Before we built this team, we realized that we were actually doing a disservice to students by not providing adequate guidance to help them, particularly underrepresented and first-generation students, navigate the complexities of higher education," McRorie said.  
The Center for Academic Retention & Enhancement (CARE) is one Florida State program that addresses particular interests and challenges of a unique and at-risk population. CARE is nationally recognized for providing first-generation and underrepresented students with the necessary tools, resources and support network they need to flourish in the collegiate environment. 
Graduation and retention rates for CARE students are regularly at or above those of the general population. The first-year retention rate for CARE students tops 96 percent, two percentage points higher than FSU's overall 94 percent retention rate. 
McRorie said any institution can choose to make student success a priority, even with limited resources. In fact, Florida has the second-lowest state tuition in the nation, and FSU is regularly ranked by U.S. News & World Report as the most efficient university in the country.  
Florida State's efforts are quickly becoming a model for the nation as other universities look to replicate its success.  
Last summer, McRorie spoke to the Association of Public and Land-grant Universities about Florida State's student success strategies, and in April, she gave a presentation on undergraduate success at the TIAA's 100th anniversary celebration. 
"It's clear that the strategies we have been applying are working," McRorie said. "And people are recognizing Florida State as a national leader in student success."