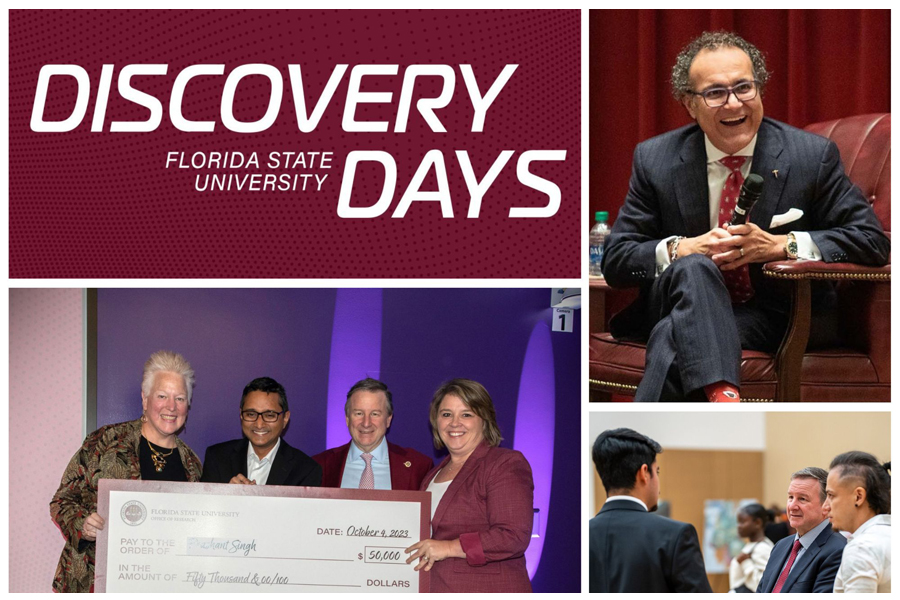 From inspiring speakers to commercialization seminars, the inaugural Florida State University Discovery Days had something for everyone.
The weeklong celebration showcased research, creativity and innovation from colleges and departments around campus. Here's a look at some of what was featured:
SHARING HIS STORY: DR. Q
The week began with a visit from Dr. Alfredo Quiñones-Hinojosa, chair of the Department of Neurologic Surgery at Mayo Clinic's campus in Florida and the director of Mayo Clinic's Brain Tumor Stem Cell Research Laboratory, where he and his team work to find a cure for brain cancer.
Dr. Quiñones-Hinojosa — who goes by Dr. Q — shared the story of how he came to the U.S. as an undocumented immigrant and worked on farms until he received a scholarship to attend the University of California-Berkeley. From there, he went to Harvard Medical School before eventually joining Mayo Clinic.
At the end of his presentation, Dr. Q shared a portion of the Emmy Award-winning 2020 Netflix docuseries "The Surgeon's Cut," which chronicles that story.
"I think it is an amazing gift that I am given every single day, that my patients allow me to use my hands to be able to navigate their brains and to use my own brain to defeat their diseases," Dr. Q said in the episode. "That, to me, is the beauty of what I do."
FSU President Richard McCullough joined Dr. Q on stage for a Q&A session with students and faculty to conclude the symposium.
"I have failed more times than I have succeeded, but I have never failed to learn from my mistakes and try again," Quiñones-Hinojosa told the audience.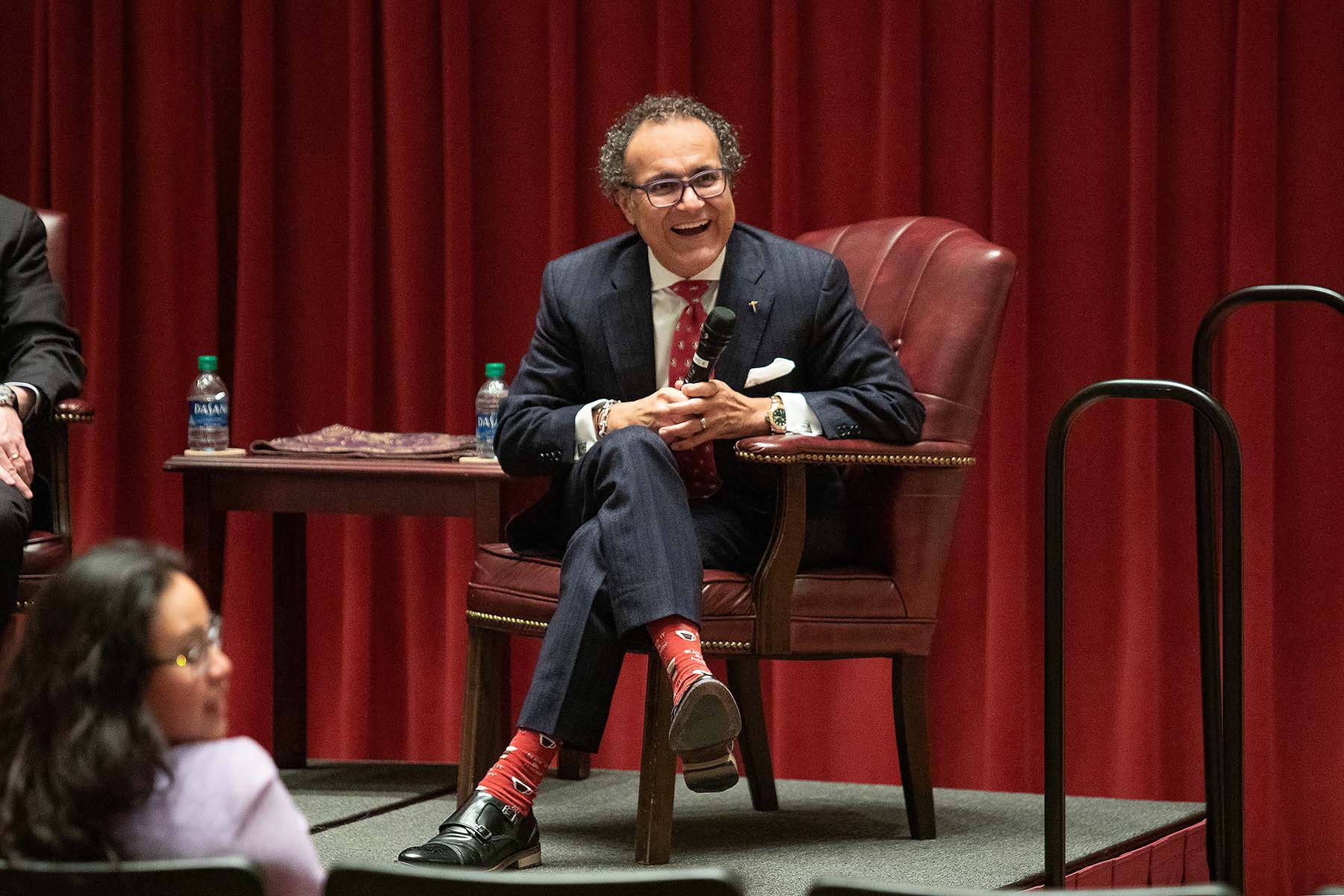 INNOVATING FOR IMPACT
The FSU-headquartered National High Magnetic Field Laboratory hosted a Discovery Challenge, in which five faculty presented their research in front of three judges with venture capital experience. Presenters earned a combined $100,000 in funding for new projects that show commercial potential.
Associate Professor Prashant Singh from the College of Education, Health, and Human Sciences took the top prize of $50,000 for a project aimed at improving food safety, followed by FAMU-FSU College of Engineering Assistant Professor Rebekah Sweat, who received second prize of $25,000 as well as the crowd favorite award of $10,000.
"There is so much potential here: the pitches, the faculty, the way that they were talking about their science in a new way, thinking about how they are going to market that and let those technologies change the world," Vice President for Research Stacey Patterson said. "We gave away $100,000 in prizes to help move those technologies to market. This is the first step for these faculty to really start thinking about what their technologies can mean in the world, and this prize money gives them seed funding to help them think about it more and more time and resources to be able to do that."
The university also co-hosted the Innovation Ecosystem Workshop with UIDP, an organization dedicated to addressing issues affecting academic-corporate collaboration.
FSU researchers and professionals from business, government, economic development and health care met to discuss common challenges and goals and how they can work together.
"Florida State University serves as the innovation anchor for Northwest Florida, and with other significant R&D resources, such as the National High Magnetic Field Laboratory and Florida A&M University, a leading HBCU, this region has much to offer to private sector partners and other organizations interested in generating impact from their investments," said Anthony Boccanfuso, president and CEO of UIDP.
FSU Health is a recent example. Florida State University is partnering with Tallahassee Memorial HealthCare (TMH) to build an academic health center on the TMH campus while also developing partnerships with other health systems such as Mayo Clinic, HCA and others across the region.
"We have so many resources in this community to develop research and to be innovative," said Dr. Dean Watson, Chief Integration Officer at TMH.
DISCOVERY IN THE ARTS
Discovery took center stage at "Innovation and the Arts: Scholarship-Performance-Creativity," a night of performances from faculty in music, English, mathematics and art departments.
"FSU is a hub for innovative research that makes an essential contribution to society while being a constant inspiration for our campus community," said College of Music Professor Iain Quinn. "As a member of the faculty I am aware of the tremendous research of colleagues that defines the excellence of current scholarship for our students and the larger academy."
Arts and science intersected with "Physics + Art: Waves," the first event of this year's Saturday Morning Physics program. Attendees learned about the physics of all types of waves, from the ocean to the radio. More Saturday Morning Physics events are scheduled through Nov. 11, with topics including particle physics, quantum mechanics, the James Webb Space Telescope and more.
EDUCATION AND ENGAGEMENT FOR STUDENTS AND FACULTY
Along with celebrating ongoing research, Discovery Days was also an opportunity to prepare for future innovations. FSU hosted several seminars to help faculty and students, with topics that included an introduction to the National Science Foundation's guidelines for Small Business Innovation Research and Small Business Technology Transfer, 3D printing technologies, and research from the Institute of Sports Sciences and Medicine being used by FSU student-athletes.
The Office of the President and the Center for Undergraduate Research and Academic Engagement hosted the President's Showcase of Undergraduate Research Excellence, which featured research and creative projects from departments across FSU.
"One of the greatest things about undergraduate research that I love so much is that it gives you an opportunity to be with people — grad students, postdocs or even your professor — who can provide you with help and advice and guide you and cheer you on," McCullough said. "It's really been an important part of who I am, and I'm so proud that we have undergraduate research as a vital part of what we do here at Florida State University."