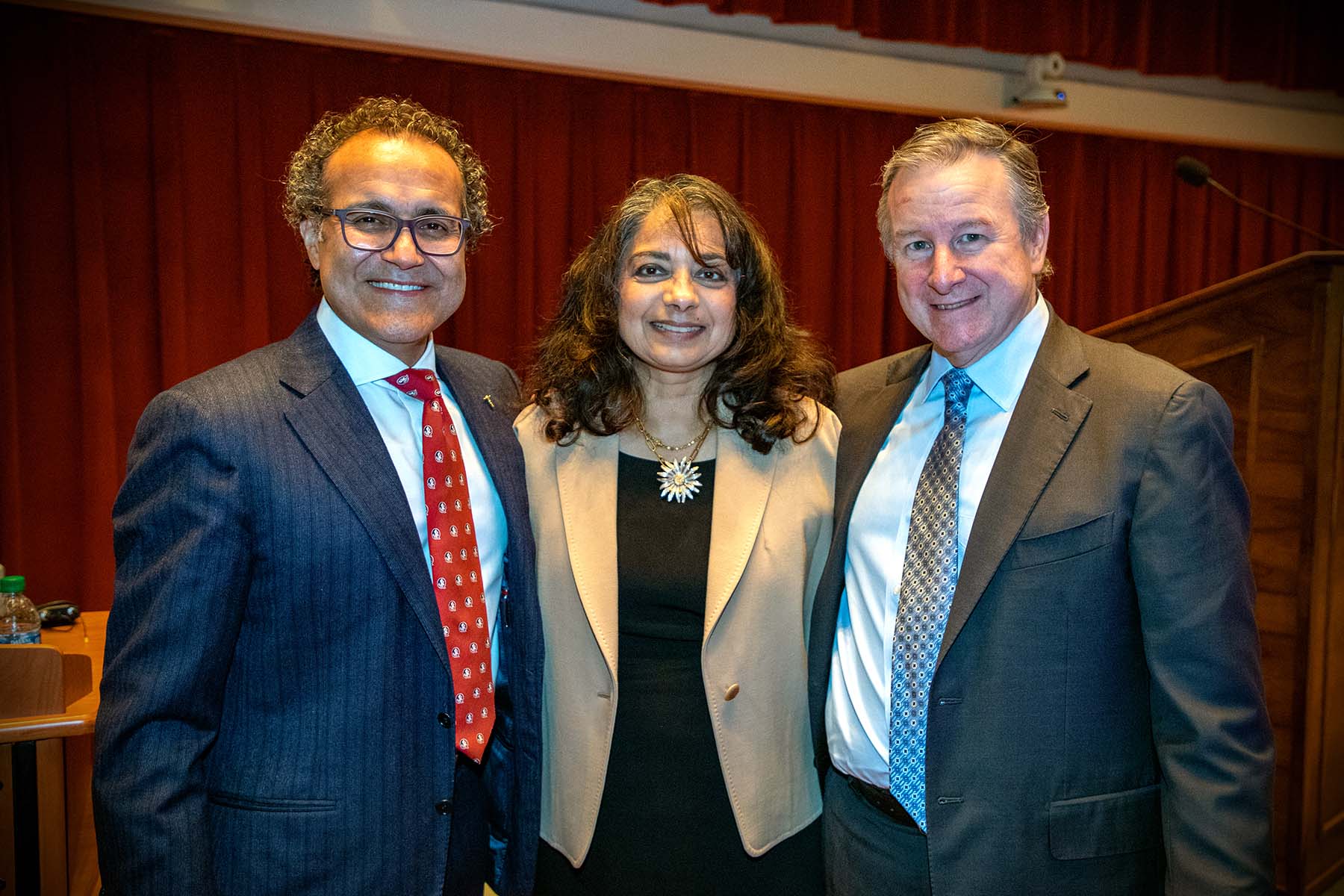 As a child, Dr. Alfredo Quiñones-Hinojosa and his friends would play a game where they imagined a place far away from their village in Mexico. He never could have imagined one day being a renowned neuroscientist and neurosurgeon at Mayo Clinic Florida with an inspiring story and impressive research to share.
Quiñones-Hinojosa, known as Dr. Q, shared his story on Monday, Oct. 2, at a presidential symposium at Florida State University. The event kicked off FSU's inaugural Discovery Days, a weeklong celebration of research, creativity and innovation.
FSU President Richard McCullough introduced Dr. Q to the audience at the College of Medicine's auditorium.
A proud father of an FSU alumnus, Dr. Q collaborates with FSU scientists through the university's partnership with Mayo Clinic.
His charisma and compassion shined through as he shared some of his insights and experiences on his journey from migrant farmworker to chair of the Department of Neurologic Surgery at Mayo Clinic Florida.
"I have failed more times than I have succeeded, but I have never failed to learn from my mistakes and try again," Quiñones-Hinojosa told the audience.
His story is a glimpse into the spirit of exploration and ingenuity present in every area of his life's work.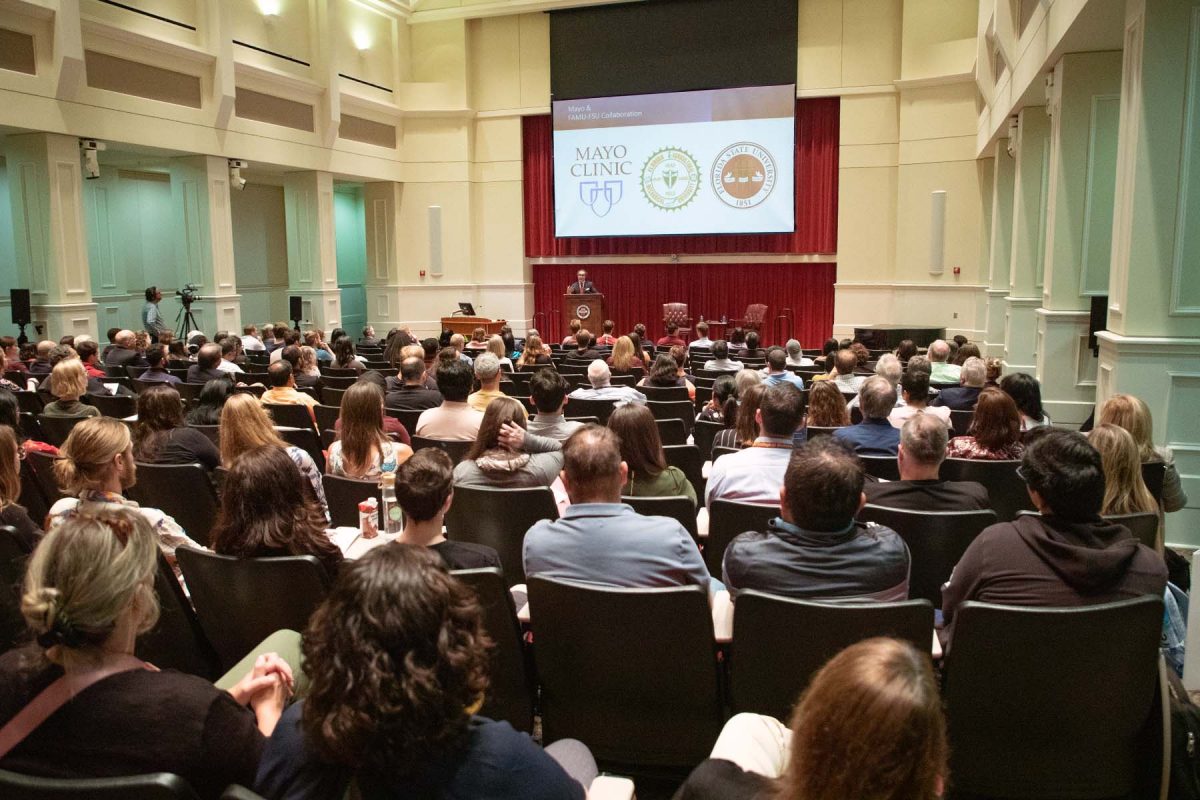 Dr. Q grew up in a small town about 35 miles from Mexicali, Mexico, where he worked to help his family and did well in school. At 19, he immigrated to the U.S. with no money and unable to speak English. He made it to Fresno, Calif., where he worked on farms until he received a scholarship to attend the University of California-Berkeley.
After earning a bachelor's degree in psychology, he went on to receive his M.D. from Harvard Medical School. He then completed his neurosurgeon residency and post-doctoral fellowship at the University of California, San Francisco, before transitioning to Johns Hopkins School of Medicine as an attending neurosurgeon and eventually professor of neurosurgery.
Dr. Q's journey led him to Mayo Clinic Florida, where he is the James C. and Sarah K. Kennedy Dean of Research and the Monica Flynn Jacoby Endowed Chair for the Department of Neurosurgery. He also holds the William J. and Charles H. Mayo Professorship and serves as the Clinical Neuroimmunology and Brain Tumor National Institute of Health Chair.
Dr. Q's clinical expertise focuses on enhancing patient outcomes for the surgical treatment of brain tumors, spinal cord lesions, pituitary tumors and skull base tumors. Beyond the operating room, he's dedicated to finding a cure for brain cancer by leading NIH-funded projects and pioneering work in understanding cancer progression and migration in the brain. He's also president and co-founder of the nonprofit mission:brain.
At the end of his presentation, Dr. Q shared a portion of the Emmy Award-winning 2020 Netflix docuseries "The Surgeon's Cut," which chronicles his life's story.
"I think it is an amazing gift that I am given every single day, that my patients allow me to use my hands to be able to navigate their brains and to use my own brain to defeat their diseases," Dr. Q said in the episode. "That, to me, is the beauty of what I do."
President McCullough joined Dr. Q on stage for a Q&A session with students and faculty to conclude the symposium. Among the insights Dr. Q shared:
Advice for young students: "Surround yourself with people brighter than you are."
Favorite movie: Rocky. "Take one step at a time, one punch at a time, one round at a time," and he added, don't be afraid to ask for help.
The essence of a great doctor: "Compassion. And that compassion has to be for you, your patients and their families."
His main conviction: "Anything you can imagine can be achieved if you believe in yourself and your ability to make a difference."
FSU Discovery Days events continue through Saturday, Oct. 7, and have something to offer everyone – from concerts to Shark Tank-style pitch competitions.
For the full calendar of events, visit discoverydays.fsu.edu.