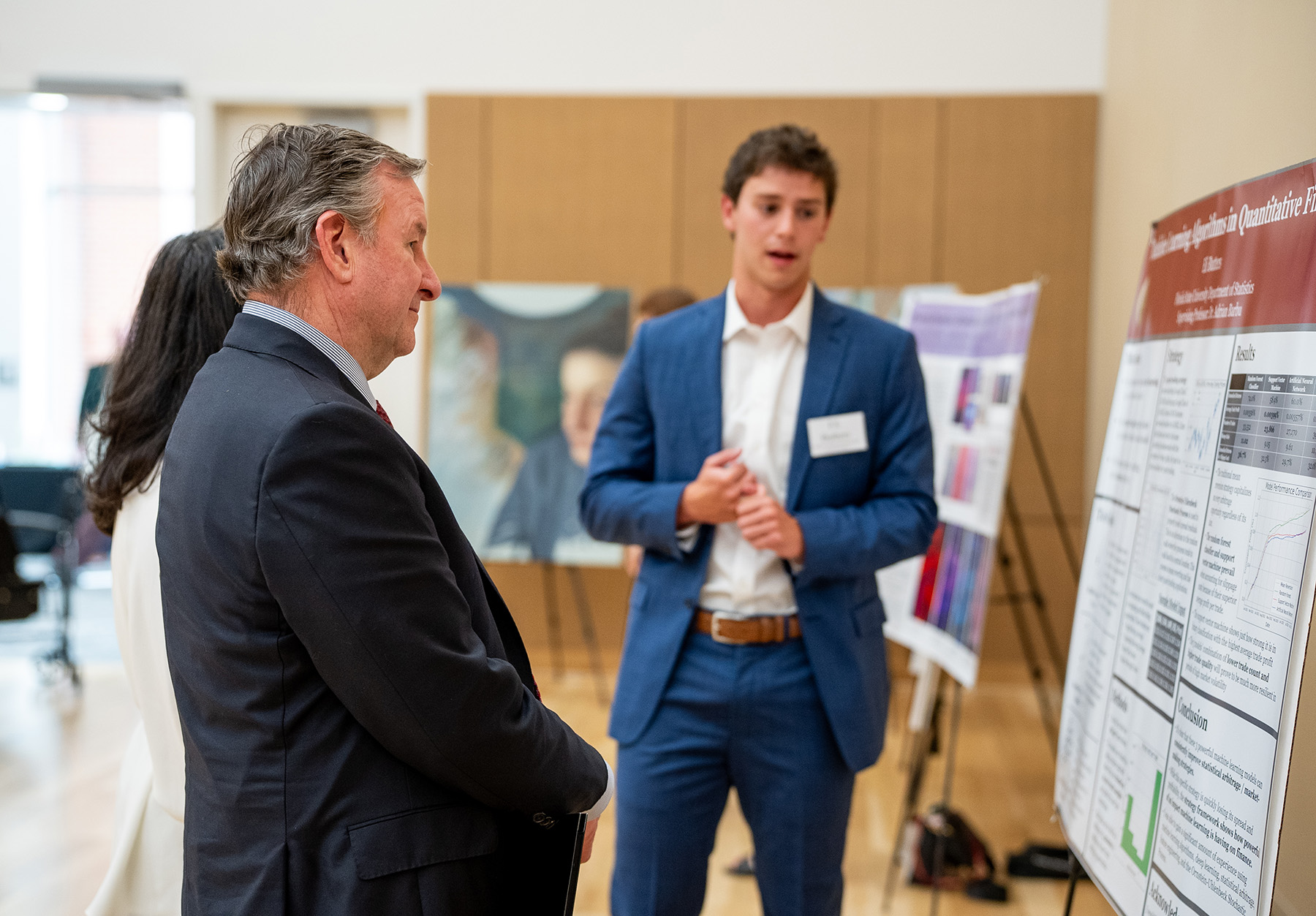 Florida State University senior Rosalyn Wadsworth spent three weeks in Japan this summer studying the biological differences between inland and coastal inhabitants of a hunter-gatherer society known as the Jōmon.
Wadsworth's research opportunity was made possible by her participation in FSU's undergraduate research and honors programs. She presented her research Tuesday, Oct. 3, with about 45 other students at the President's Showcase of Undergraduate Research Excellence, a collaboration between the Office of the President and the Center for Undergraduate Research and Academic Engagement (CRE).
Part of FSU's weeklong Discovery Days celebration, the showcase was the culmination of the IDEA Grant, Tech Fellows and FSU International Genetically Engineered Machine (iGEM) programs. It was a chance for students who were selected by those competitive grant applications to share their research and creative projects through poster and oral presentations.
FSU President Richard McCullough shared with attendees how he participated in research as a college student and later as a professor.
"One of the greatest things about undergraduate research that I love so much is that it gives you an opportunity to be with people – grad students, postdocs or even your professor – who can provide you with help and advice and guide you and cheer you on," McCullough said. "It's really been an important part of who I am, and I'm so proud that we have undergraduate research as a vital part of what we do here at Florida State University."
Students presented grant-funded research on a range of topics, including frog biofluorescence, ecotourism in Northwest Florida, machine learning applications within financial markets, the psychopathology of immigrant children, and the role of geography on voting behavior.
The FSU iGEM team shared their work in pursuit of a biosynthetic solution to the devastating body-odor condition known as trimethylaminuria. The research team will share findings in November at the annual iGEM Grand Jamboree in Paris.
"This event is a testament to the significance of undergraduate contributions to the research ecosystem at an R1 university like FSU," said CRE Director Latika Young. "Many of these award recipients will continue their intellectual pursuits through Honors theses, independent study projects, graduate research and entrepreneurial and creative work, both here on our campus and beyond."
Undergraduate research at FSU is growing, as evidenced by the 10% increase in undergraduate student participation and 20% increase in research mentor participation in the Undergraduate Research Opportunity Program, the CRE's largest undergraduate research program. Students who conduct undergraduate research have higher GPAs, higher graduation rates and higher rates of admission into graduate schools, according to Young.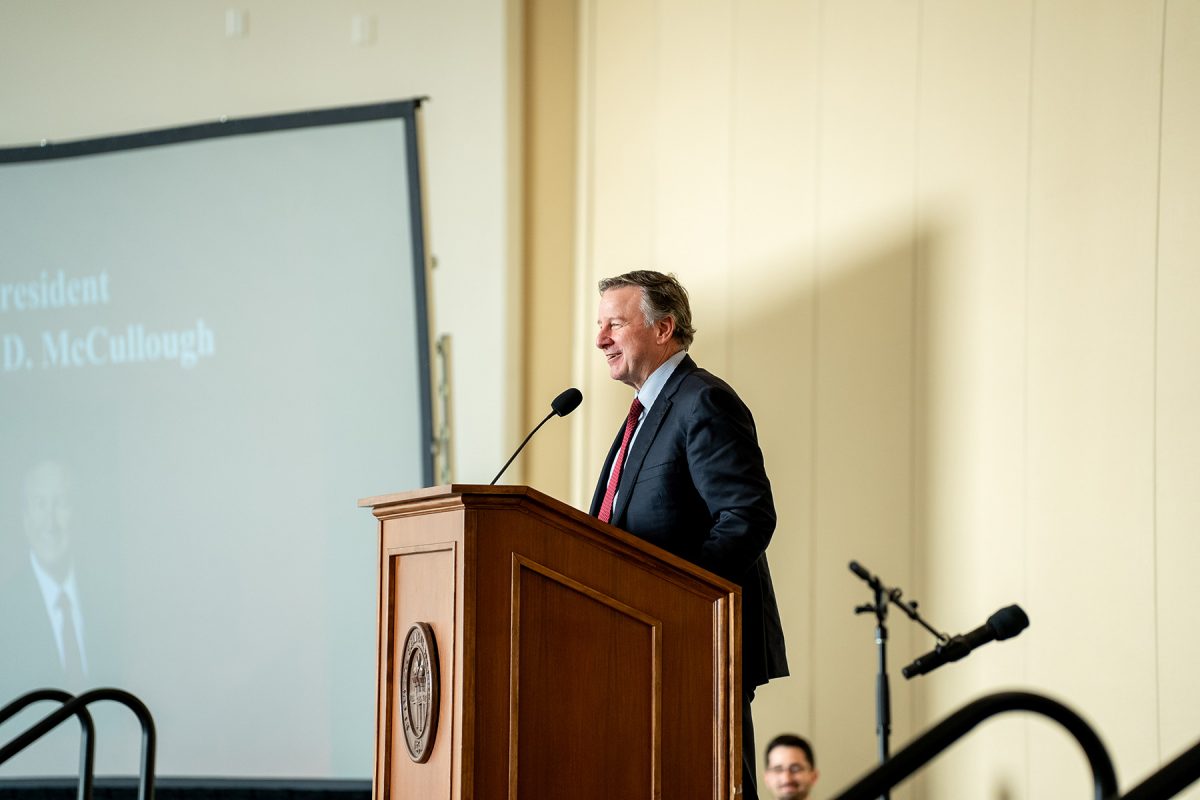 For Wadsworth, undergraduate research has provided opportunities she never imagined and an engagement with academics that has steadily grown over time.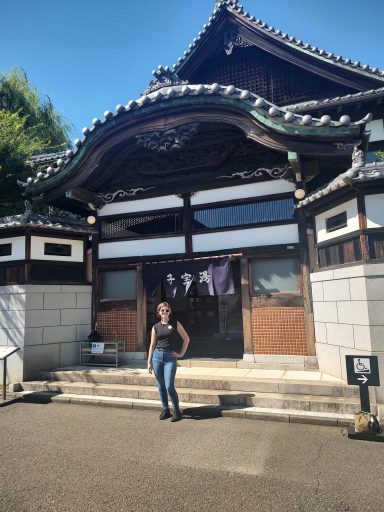 With help from an IDEA Grant funded by the Tyler Center for Global Studies, Wadsworth traveled in August to Tokyo, Kyoto, Osaka and the Goshono Archaeological site in Iwate Prefecture to meet with archeologists and visit museums and archives. She learned about recent scholarship that aims to better understand the diversity within the Jōmon period by analyzing biological traits such as dental features, stature and limb proportions.
The Jōmon arrived in Japan around 30,000-40,000 years ago and occupied the Japanese archipelago. They are widely accepted as the first to have a pottery tradition, a rarity among hunter-gatherer societies, and are more commonly associated with later agricultural societies.
Wadsworth, a senior anthropology major pursuing a minor in Japanese, is working to finish her thesis on the subject through an Honors in the Major project.
Although Wadsworth plans to pursue these academic interests beyond her time at FSU, she wasn't always so passionate. She came to FSU not knowing what to major in and eventually landed on anthropology because she found herself most interested in her cultural anthropology class during her first year. Combining that budding interest with a previous curiosity about Japanese culture due to her love of anime, the path she followed is one she paved with the help of multiple professors and mentors.
"I was putting in my best work in class, and I was asking questions, and I was talking to the instructors," Wadsworth said. "Opportunities just presented themselves. And anytime one did, I just took it."
For more information, visit cre.fsu.edu.