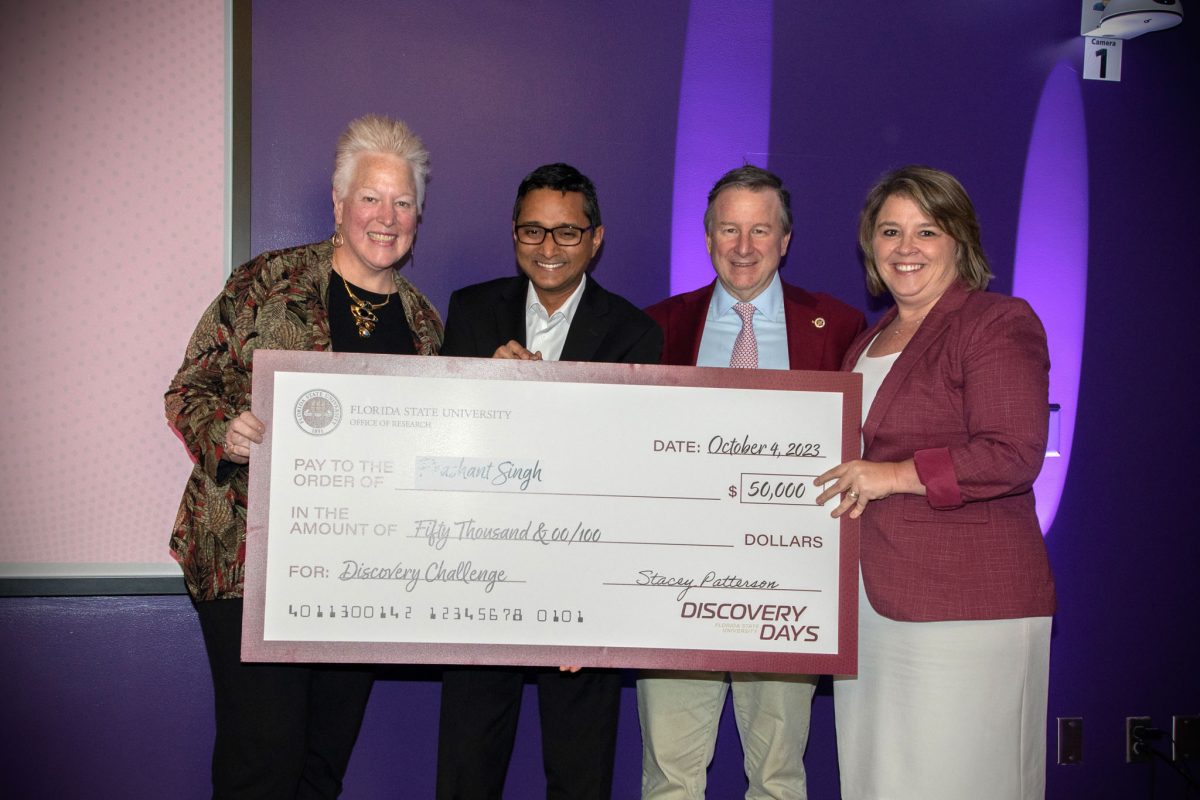 In a remarkable showcase of innovation, five Florida State University researchers walked away with a combined $100,000 in funding for new projects that show commercial value at the Discovery Challenge event on Wednesday.
Discovery Challenge was a high-energy, standing-room-only event that allowed these five faculty members to present their research in front of three judges with experience in venture capital. The event, held at the National High Magnetic Field Laboratory, was part of FSU Discovery Days, a week that celebrates FSU research, creativity and innovation.
"It's super exciting to see our faculty who are making discoveries and innovations every day, and to see just a few of those presented today," said FSU President Richard McCullough. "I am so excited about what the future holds for patents and startups for Florida State University. There is almost nothing better than making a discovery in the lab, publishing it, but then also starting to think about how it can impact society and make a difference in the world."
Associate Professor Prashant Singh took the top prize of $50,000 for a project aimed at improving food safety, followed by Assistant Professor Rebekah Sweat who received second prize of $25,000 as well as the crowd favorite award of $10,000. Runners-up — Biwu Ma, Hui Wang and Judy Delp — received $5,000 each.
The presentations featured a range of projects spanning fields of 3D printing technology, medical imaging, health care, materials science and food safety. The projects demonstrated the potential for a positive impact on various industries and society as a whole, leaving the judges with difficult decisions, event organizers said.
The three judges for the event were Amy Recht, David Lane and Chris Rumana, who have experience in venture capital funding. Presenters had seven minutes to pitch their project for a chance at funding, with five minutes for judges' questions after.
---
Prashant Singh: Transforming food safety with conserved markers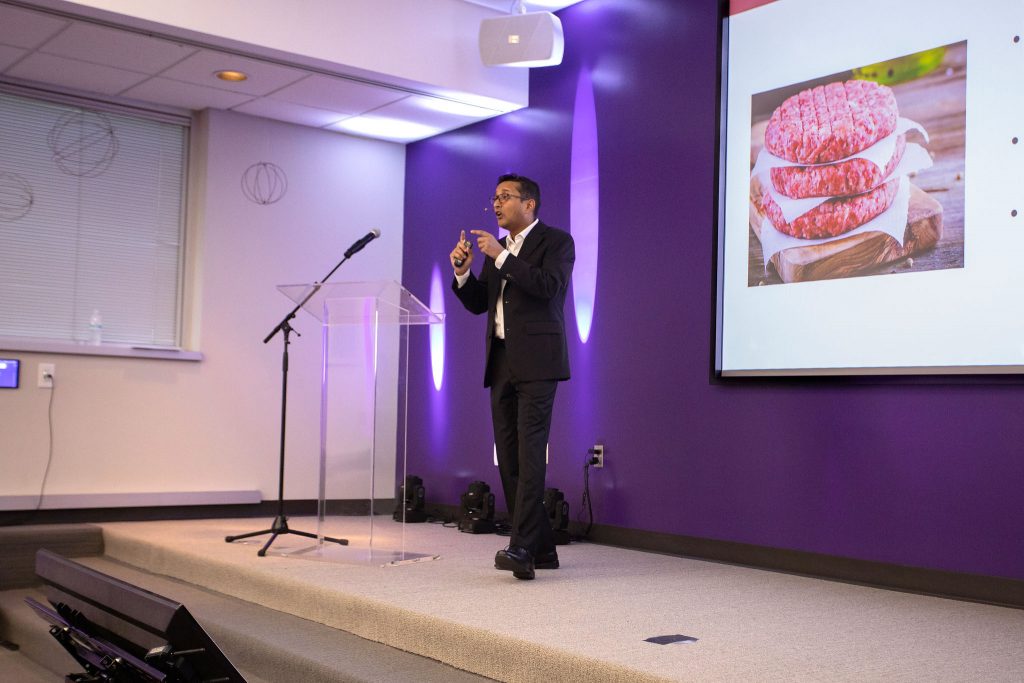 Singh, an associate professor in the College of Education, Health, and Human Sciences, won first place for his project to develop simple rapid diagnostic tests to improve food safety, specifically for the beef industry.
"E. coli is very pathogenic; it can kill people, especially kids," Singh said. "Current testing methods have a lot of false positives. That's where I come in. My method is more accurate than the currently available methods. We are not only helping the beef industry save a lot of money, we are helping keep everybody safe, too."
Singh explained that the current diagnostic methods suffer from high false-positive results, costing the beef industry millions. To address this issue, he developed a method using markers found only in disease-causing E. coli strains. His testing workflow is well-suited for industry and regulatory agencies because it uses existing instruments in beef testing laboratories.
"This is great recognition for five years of hard work at FSU, work that really began in 2012, coming to a full circle," Singh said. "Meeting the judges and taking their advice is a big deal for me, so I'm very happy."
---
Rebekah Sweat: Pioneering extreme material interface testing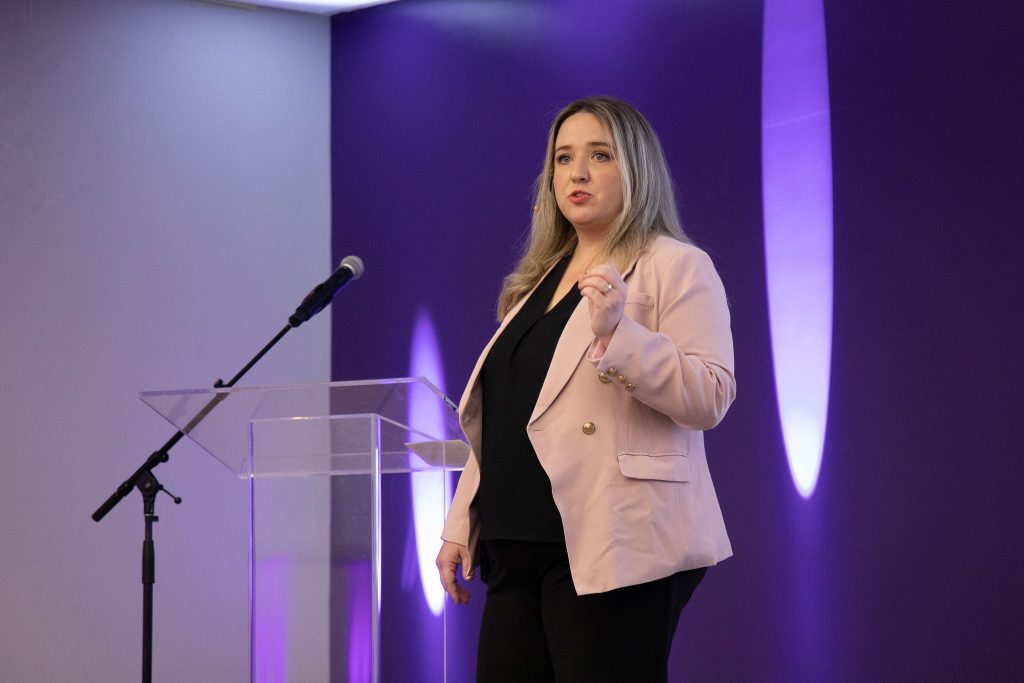 Sweat, who took second place and crowd favorite, presented a project focused on addressing the lack of diagnostic tools for materials in extreme environments. Her solution, extreme material interface testing, aims to test the bonding strength between metals and polymers in extreme conditions. It has applications in aerospace, the oil and gas industries, clean energy and more.
---
The other three presenters were awarded $5,000 each:
Hui Wang: Revolutionizing 3D printing with SEC-3D technology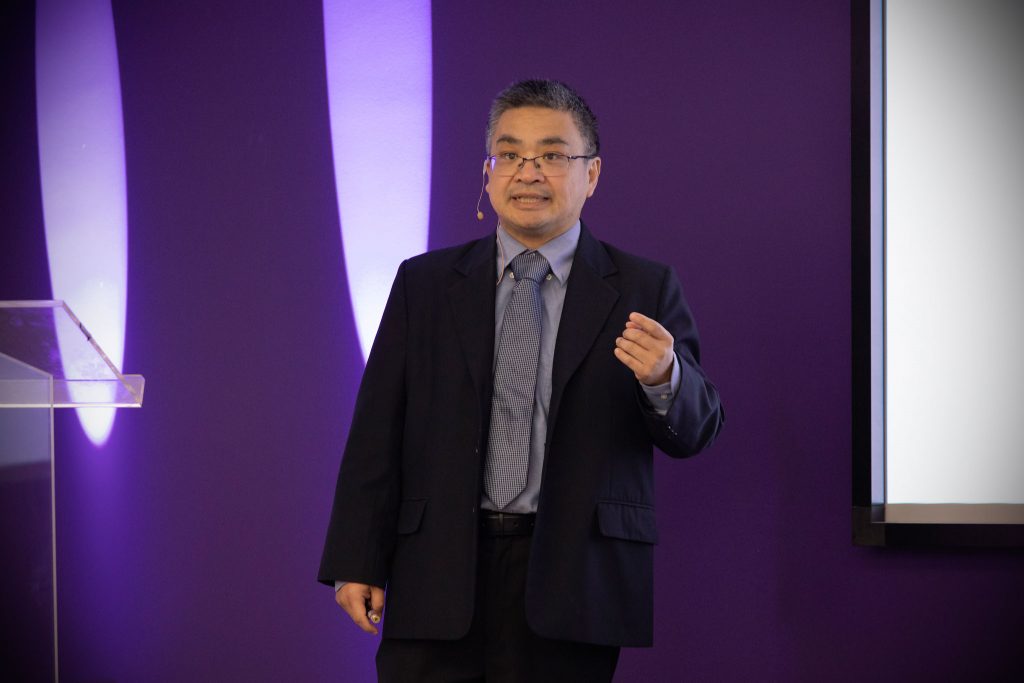 Wang, an associate professor in the FAMU-FSU College of Engineering, delved into  3D-printing technology for personal protective equipment. He outlined the critical issue of low productivity due to high printing speeds leading to increased defects. He introduced SEC-3D, or software-based error compensation for 3D printing, as a solution to this problem and said it would significantly reduce printing time and defects.
---
Biwu Ma: Enhancing medical imaging with structured scintillators
Ma, a professor in the Department of Chemistry and Biochemistry in the College of Arts and Sciences, presented a project focused on improving medical imaging technology. He began by highlighting the importance of accurate disease detection through X-ray imaging and the role of scintillators in this process. Current flat scintillators suffer from low spatial resolution and require high doses of X-rays, which pose a risk to patients. Ma introduced his solution, a startup called Bright Matters Tech, which aims to establish structured scintillators using high-performance materials. These structured scintillators promise significantly improved spatial resolution and use lower X-ray doses for imaging.
---
Judy Delp: Revolutionizing peripheral artery disease treatment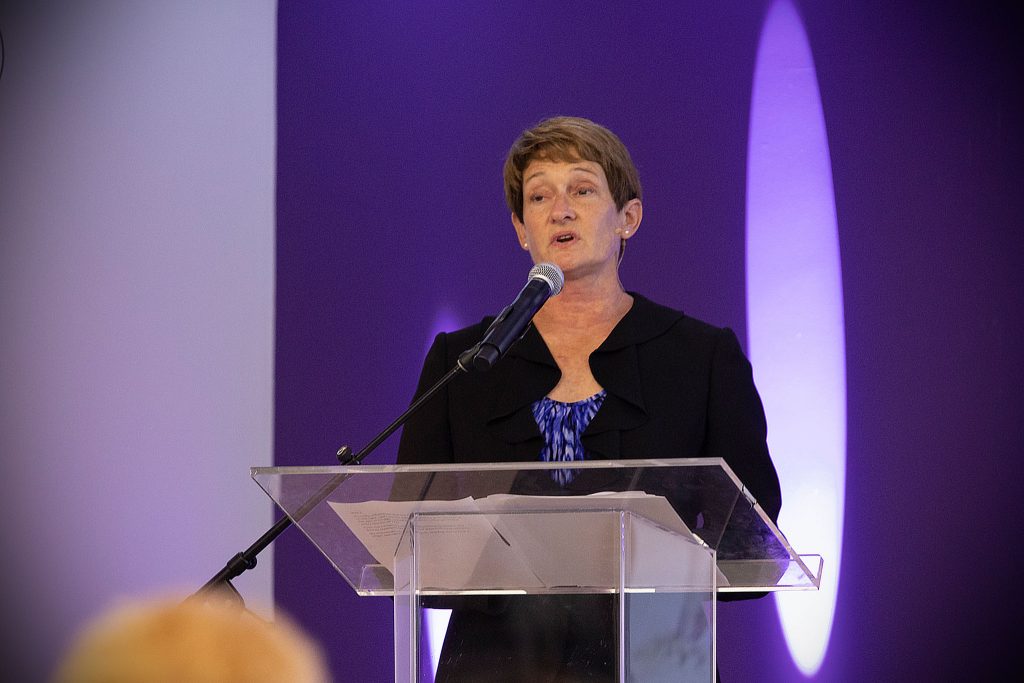 Delp, a professor from the Department of Biomedical Sciences at the College of Medicine, addressed the issue of peripheral artery disease (PAD). She introduced a solution, muscular stretch training, aimed at increasing walking function for PAD patients. This at-home and affordable technology promises to improve blood flow and reduce pain without the need for a caregiver. While her technology initially requires clinical education, it has the potential to transform the lives of those suffering from PAD.
---
Vice President for Research Stacey Patterson said this event and these projects help build excitement around the research, innovation and discovery happening right here at FSU.
"There is so much potential here: the pitches, the faculty, the way that they were talking about their science in a new way thinking about how they are going to market that and let those technologies change the world," Patterson said. "We gave away $100,000 in prizes to help move those technologies to market. This is the first step for these faculty to really start thinking about what their technologies can mean in the world and this prize money gives them seed funding to help them think about it more and more time and resources to be able to do that."
FSU Discovery Days events continue through Saturday, Oct. 7. For the full calendar of events, visit discoverydays.fsu.edu.