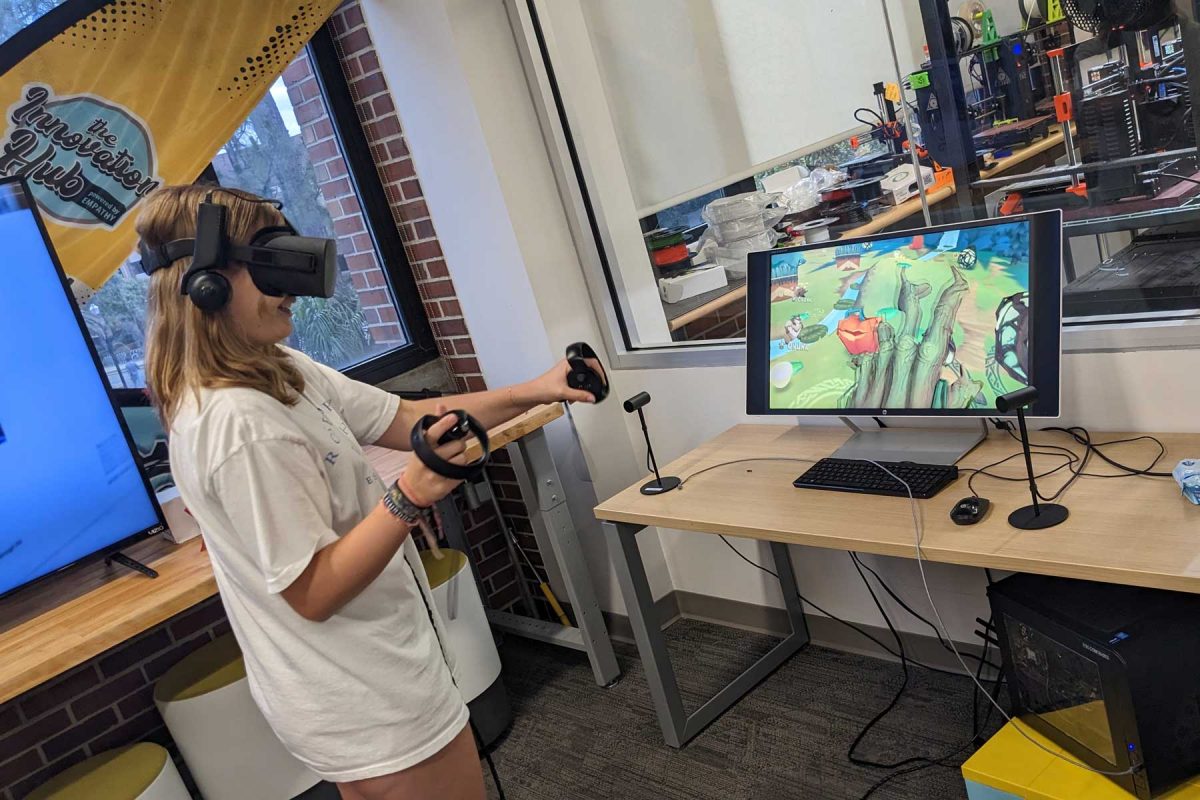 Florida State University's weeklong celebration of research, creativity and innovation made an appropriate stop Wednesday at the Innovation Hub.  
As part of Discovery Days, the Hub hosted an open house and showcased the range of cutting-edge technology and interdisciplinary expertise within its space in the Shores Building.   
Hub Director Ken Baldauf explained the center's mission as one that bridges the divide between disciplines in the realm of innovation.  
"We fill the gaps of skills and knowledge that aren't taught in a particular department," Baldauf said. "As a hub, our purpose is to connect the different interests on campus and guide students with the expertise provided by professors in different departments." 
To accomplish this feat, the Hub is home to a suite of technological hardware and software that can meet the demands of students looking to push past conventional design. The Hub's offerings span digital fabrication and include immersive media, programmable drones, robotics and generative artificial intelligence. 
The lab is open to students of all majors. Baldauf said the interdisciplinary environment coupled with the support of innovative technology fuels collaboration and promotes the work of creators from across campus.   
To harness that diversity of thought and aim it toward innovative solutions to pressing problems, students use Design Thinking. At its core, Design Thinking is a methodological framework that guides projects from idea to completion.  
The dedication to interdisciplinary experimentation and skills building extends to the Fablab, a lab within the Hub equipped with resources such as 3D printing, vinyl cutting, laser cutting, an electronic soldering station and hand tools.  
"If you have an idea, don't think you have to understand how to print before coming in here," said Rian Jackson, a Fablab intern. "There's always going to be an expert or someone who understands these technologies to help anyone who comes in. The point of the Fablab is to teach people how to use the technologies."  
Recently, students demonstrated exceptional technical and creative skills during the "Guardians of the Grid" Hackathon in September.  
The 24-hour event, hosted by the Florida State University Career Center in partnership with the FSU Innovation Hub and the College of Communication and Information, challenged students to explore new concepts that leveraged technology and improved customer outreach during hurricane season. Participants used case studies, background information on storm grids and contacted industry professionals throughout their design process.  
Participants pitched ideas to a committee of industry professionals across corporate divisions within NextEra Energy, and winners received over $4,000 in prizes, collectively. 
"Hackathons such as this enable students to showcase their innovative abilities in solving real-world problems through design thinking," said Christy Mantzanas, program director of Employer Relations at the FSU Career Center. "These events not only foster creativity, but also empower our future leaders to address pressing challenges with fresh perspectives."  
For more information, visit innovation.fsu.edu.