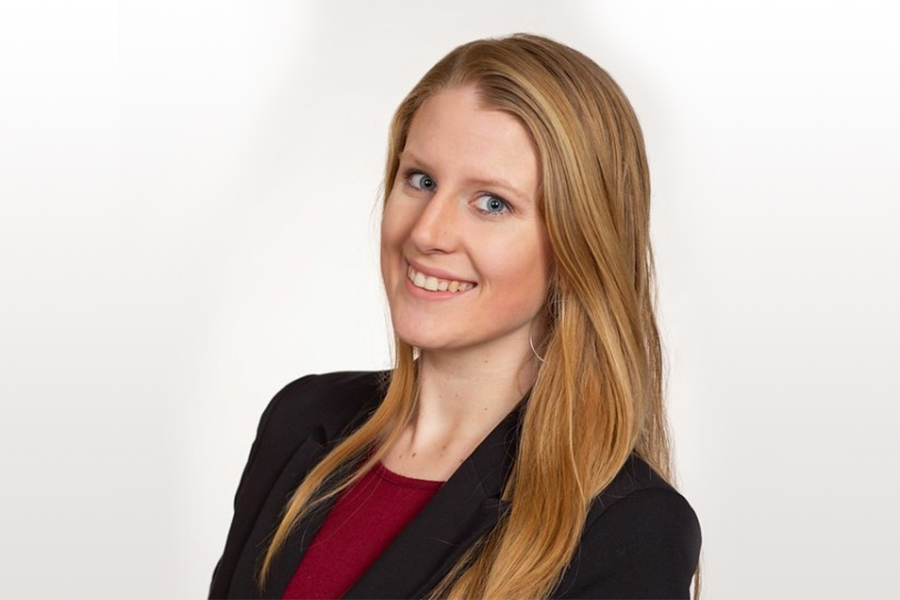 "Florida State has provided me an education inspired by the textbook and lived in experience. It is an honor to contribute to the research community at FSU and an equally invaluable opportunity to learn from and collaborate with the renowned faculty."
Senior Amber Hedquist has discovered her enthusiasm for research and a fascination with rhetoric through an abundance of experiential learning opportunities at Florida State University.
"Florida State has provided me an education inspired by the textbook and lived in experience," she said. "It is an honor to contribute to the research community at FSU and an equally invaluable opportunity to learn from and collaborate with the renowned faculty."
Hedquist, a native of Nashua, New Hampshire, spent her first year at FSU in Valencia, Spain, in the First Year Abroad program through FSU International Programs.
"It was an opportunity that was irreplaceable and could not turn down," she said.
While volunteering in Valencia with T-Oigo Allies, a Spain-based program that pairs English mentors with children with hearing impairments who want to improve their English, she realized her love of the English language.
"I believe that language is a contributing factor to how we act as a society and is something that defines us," Hedquist said. "A quote by Toni Morrison, 'We do language. That may be the measure of our lives,' is a mantra that I live by."
When Hedquist arrived at FSU's campus the following year, she reaffirmed her interest in rhetoric and how people persuade others through experiential courses, including a class with Professor Davis Houck.
Houck's class inspired her to assess pragmatic applications of rhetoric in government and beyond that led her to pursue her research by applying for an IDEA Grant from the Center for Undergraduate Research and Academic Engagement (CRE). This past summer, Hedquist received the Scott and Ina McNichols Undergraduate Research Award of $4,000 for her research project focused on spatial rhetoric.
She will present the findings at the President's Showcase in November and will use them to inform her undergraduate thesis to be defended in March. She is currently working on her thesis as a student within the Honors in the Major Program here at FSU.
Her project will contribute to the growing literature on spatial rhetoric and provide insight on the individual and institutional perceptions in the Tallahassee community.
"What spatial rhetoric does is it looks at a physical space or entity with regard to theories of the public sphere and other considerations to understand how it affects perceptions and actions," Hedquist said. "It shares a lot of similarities with visual rhetoric — what we see, how we feel about it and how that affects how we carry ourselves and how we interact with people."
With the mentorship of Taraz Samra Graban, an associate professor within the Department of English at FSU, Hedquist is analyzing the railroad system in Tallahassee and how that affects, reflects and provides commentary on the surrounding community.
"I am really excited to contribute to this somewhat evolving idea of spatial rhetoric and how space affects rhetoric studies as well as our general world view," she said. "My project is situated primarily within discourse and how language, meaning and space overlap."
Currently, Hedquist is working as a research assistant with the Students, Social Media, and Schools (SSMS) research team within the College of Education at FSU on a separate project. The project focuses on how teens are using social media during the COVID-19 pandemic, specifically in reference to informal learning on the platforms and overall student resilience. She is excited for her team to present their findings in the coming months.
This fall, Hedquist will serve as an Undergraduate Research Opportunity Program (UROP) Leader, a program she was part of during her sophomore year at FSU. Here, she hopes to inspire her students to pursue research projects beyond the symposium and into their futures.
Hedquist said research has opened many doors for her. "Being in a space like the UROP where everyone talks so positively and passionately about research made me refocus on that academic side — that curious side of me — which was very much alive and invigorated in this environment," she said.
She believes her IDEA Grant project will positively benefit her teaching ability, stating: "I look forward to gaining experience with new research methods, contributing to my community and honing in on my academic interests: all of which will increase my impact as a UROP leader and future educator. Above all, I want my students to gain the tools and perspectives that inspire them to seize and create opportunities during their FSU tenure and beyond."
Hedquist is also working as the Editorial and Public Affairs manager at the DeVoe L. Moore Center within the College of Social Sciences and Public Policy. There, she's learned the importance of interdisciplinary collaboration and asking hard questions that impact the state of Florida.
"The best thing about research is that you are actively asking questions to improve something," she said. "I truly believe that that is what we are here to do. We are here to create and ask hard questions and not simply accept facts as they are told."
With Florida State University ensuring that research is a guiding priority in every department and organization that was important to her, Hedquist has been able to develop both personally and professionally during her time here.
"I feel I have developed more at FSU than could be possible at any another institution," she said. "I will always be proud to be a Seminole."
With endless gratitude for her family, friends, and mentors for supporting her every ambition and guiding her along the way, Hedquist stated that "proper gratitude cannot be summarized."
After graduation, Hedquist plans to pursue a doctoral degree in Rhetoric and Composition with a specialty in spatial studies.