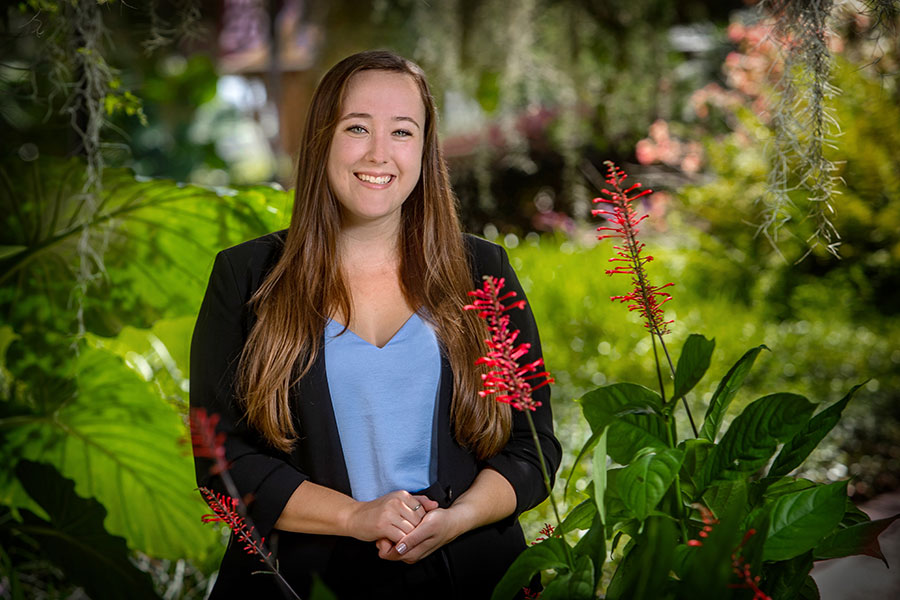 "From the beginning, the university and the Presidential Scholars Program made me feel welcomed to campus, that they cared about my goals as an individual and were going to help me every step along the way to succeed in those areas."
Florida State University senior Nicole Heim remembers watching the 2013 National Championship game from her couch in Cranford, New Jersey, when she was a freshman in high school. After FSU won the championship, she told her family that's where she was going to go for college.
No one took the comment seriously until Heim and her family found themselves on a tour of the campus a few years later.
"After touring the university, I couldn't stop smiling," Heim said. "I remember my mom just laughing and telling my dad that this was it, and I wouldn't settle for anything else. Every other school paled in comparison to me."
Heim quickly started considering the various scholarships available to her through FSU and began applying. She was accepted to the Presidential Scholars program — the university's premier academic scholarship program — which develops students into leaders in their fields and provides them with means to enrich their experience at Florida State.
"From the beginning, the university and the Presidential Scholars program made me feel welcomed to campus, that they cared about my goals as an individual and were going to help me every step along the way to succeed in those areas," Heim said.
Recipients of the Presidential Scholarship have access to an enrichment fund that they can put toward experiences outside of the classroom they believe will impact their undergraduate experience.
With the help of her enrichment fund and the Bess Ward Honors Travel Grant from the Honors Program, Heim spent a semester abroad in Valencia, Spain, through FSU International Programs.
"I immersed myself into the language, culture and newness that comes with being somewhere totally outside of one's comfort," Heim said. "I took classes detailing Spanish history and culture, and language classes that allowed me to dive into the culture outside of FSU's study center."
Heim also used her enrichment funding, along with help from The Career Center's Internship Fund, to travel to South Africa, where she worked under a wildlife veterinarian for three weeks.
"I worked with species such as zebras, giraffes and nyalas, as well as livestock and domesticated species such as cattle, sheep and dogs," Heim said. "Being in a culture that was so different from my own was a challenging experience but something I will always treasure. Seeing these animals in zoos is nothing like seeing them in their habitat and being able to work up close with them. It provided me with a lifetime of incredible memories, as well as invaluable hands-on experience."
That experience prompted Heim to major in Biological Science and get involved with FSU's Pre-Veterinary Club, serving the organization as speaker coordinator and treasurer.
The Pre-Veterinary Club at FSU also provides members with volunteer opportunities in the local community. Heim has taken advantage of this opportunity and acquired a few hundred volunteer hours by creating safer enclosures for species, helping prepare specialized diets that cater to different animal's medical and dietary needs, and educating the public on the local species.
Heim hopes to attend veterinary school after graduating from Florida State in Spring 2021.
"As of right now, I am not quite sure what area of veterinary medicine I am most interested in, but I find that this is the junction of all my main interests such as animal welfare, medicine and conservation of biodiversity," Heim said.
Research also has been a big part of Heim's collegiate journey. Through the Undergraduate Research Opportunity Program (UROP), she served as a research assistant in the Nee Lab in the Department of Psychology. There, she assisted on a project that aimed to explore the mechanisms behind working memory and spent much of the year working on coding a paradigm that allowed participants to target different regions of the brain within the same task. Heim presented the project at the Undergraduate Research Symposium and the Florida Undergraduate Research Conference.
She also received the Helen Louise Lee Undergraduate Research Award, which is part of the IDEA Grant Program. She will use this award to continue working on her Honors in the Major thesis, which explores how the timing of prescribed burns in the Apalachicola National Forest might be affecting the phenology of the sundial lupine plant. With the assistance of graduate and doctoral students, Heim has been collecting data for the current year that will be analyzed with data from previous years in hopes of gaining more insight into the situation.
As an Honors Program participant, Heim also serves as an Honors Colloquium Leader and helps welcome students to Florida State and the Honors Program.
"The Honors Program has provided me with incredible mentorship and tools for success," Heim said. "Being able to work with students was a wonderful experience and I loved being able to learn from them and see how there are so many different paths one can take to get to the same goal."
Heim is also a member of the Academic Recruitment Organization (ARO), which aims to recruit high-quality students from high schools around the country through student-to-student style communication. She's helped to coordinate personalized tours for prospective students and has spoken with prospective students over the phone, via email and in-person at college fairs.
Last year, she served as ARO's Vice President of Membership, working with members on how to plan effective meetings, ensure they're happy with the executive board and are active participants in the organization.
"The Academic Recruitment Organization (ARO) has been an integral part of my time here at FSU," Heim said. "I thoroughly enjoy my time with prospective students and giving them a glimpse into time at FSU."
Heim's experience with ARO led her to become a University Ambassador. In this role, she provided outreach to more prospective students and their families, helping them through the application process and answering any questions they had along the way.
"The college application and decision process can be stressful and overwhelming, and I feel like my ability to answer questions and share experiences made a difference for many families," Heim said. "I've seen many students in classes and walking around campus that I played a role in encouraging to come to FSU, and that has been a wonderful experience."