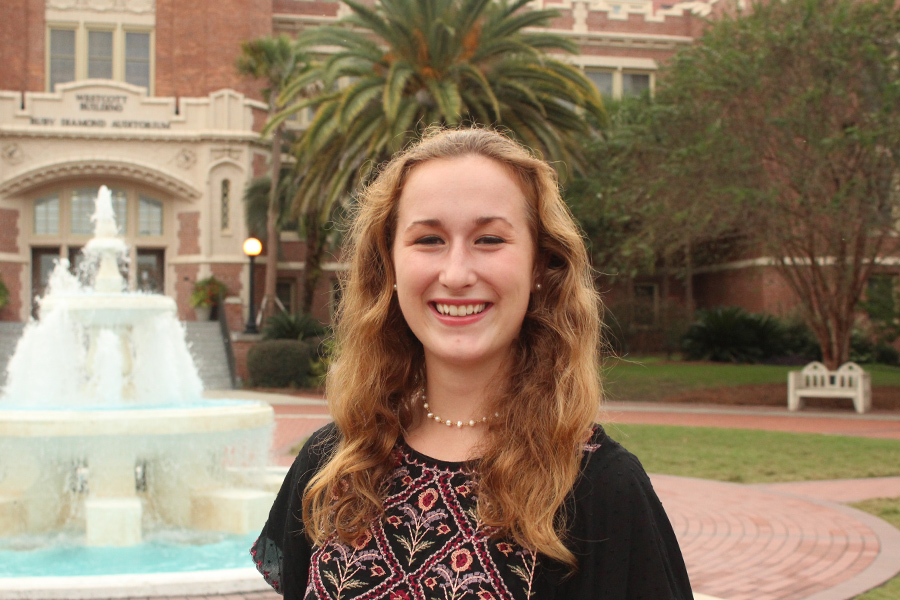 "Enacting sustainability is key to community well-being, so I participate in opportunities that emphasize environmental care."
Florida State University junior Rachel Corry strives to connect a future career in communications and environmental public service while encouraging individuals to be mindful of local sustainability.
Born and raised in Tallahassee, Corry grew up with garnet and gold in her blood and was attracted to FSU by the welcoming, exciting and diverse spirit.
"I chose FSU because of its hundreds of student-led organizations that provide spaces for me to explore my interests," she said. "I knew FSU was a leader in research, which is a main passion of mine in the field of communication and the environment. Even more importantly, I knew FSU was a leading institution of student diversity, inclusion and experiential opportunities."
Corry, who has posted straight A's every semester, is the recipient of multiple scholarships throughout her academic career, including the University Freshman Scholarship, as well as the Ashley Elizabeth Nugent Endowed Scholarship and the Patricia Sibley Endowed Scholarship in Mass Communication, which both support communication students.
Along with her continued success in the classroom, Corry has taken full advantage of exciting opportunities that have enhanced her academic career.
One of these opportunities was the Florida State Alternative Breaks program, an immersion experience for students to create sustainable change in partnership with local and national community organizations and their constituents.
Through FSU Alternative Breaks, Corry spent two consecutive spring breaks at Woodland Harvest Mountain Farm in West Jefferson, North Carolina, a place that inspired her to pay more attention to the environment.
"I want to instill in others a desire to protect the Earth, just as Woodland Harvest instilled in me," she said.
Before going on the first trip to Woodland Harvest, she followed basic environmental guidelines such as recycling and turning off lights when leaving a room.
"I grew up being told these were the right things, but I did not understand why they mattered," she said. "I was never bothered if I forgot to recycle, saw trash on the ground, or left water running."
While at the farm, she found herself reducing the use of technology and learning about the importance of a true sustainable way of life.
"Everyone's level of knowledge varies on sustainability, but it is fascinating to be physically present somewhere where you can work together and see the big picture, like we did at the farm in North Carolina," she said.
Through daily discussions, Corry and other FSU participants formed positive connections by sharing how the farm service projects reshaped their perspective toward environmental health.
Corry is committed to making the Tallahassee community a healthier and happier place to live. She feels that enacting sustainability is key to community well-being and participates in opportunities that emphasize environmental care.
"The spring break trips made me realize sustainability can only be achieved when community support exists," she said.
During a summer study abroad in Florence, Italy, she explored international differences in social and environmental institutions.
"While in Florence, I reversed my unsustainable habits like purchasing from large-scale chain companies, ordering large food portions that would go to waste and using excess plastic bags," she said. "My experiences from organic farms and Florence remain a model of the sustainable lifestyle that I strive to enact and share with others."
Corry has always been interested in engaging others with service-learning opportunities. She served as a Southeast PeaceJam Mentor during her freshman year, as well as a tutor for FSU Student Athlete Academic Services during her sophomore and junior years.
Corry is finetuning her professional skills as an intern as a communications coordinator at Knight Creative Communities Institute (KCCI). There, her editing and research skills have directly contributed to KCCI receiving a key annual Knight Foundation grant for placemaking projects. She also won two Florida Public Relations Association Local Image Awards for leadership at KCCI community events last spring.
"During my internship, I have been able to think about sustainability from a different perspective in terms of urban placemaking, not just in relation to food," she said.
For her Honors thesis, Corry is working with College of Communication and Information Associate Professor Patrick Merle to conduct a study on existing consumer perceptions toward sustainability and organic agriculture.
Corry, who works at Orchard Pond Organics farm in Tallahassee, received an IDEA Grant to complete this project during the summer and fall 2020 semesters. It will focus on local organic farms throughout the Southeastern United States and their outreach strategies.
"There is a fundamental need for new knowledge in this area due to insufficient research connecting communication and sustainable farming," she said. "Interviews with local farmers are necessary to understand organic farms' collaboration with their surrounding communities."
Initial interviews will direct the design of surveys measuring consumer perceptions of sustainability and the effectiveness of different marketing tactics.
In Fall 2020, through an online survey, she intends to examine current consumer views on sustainability and organic agriculture. An online experimental survey will then compare communicative approaches farmers utilize and their public reception.
"My ongoing IDEA Grant project and Honors in the Major thesis should have a positive impact on the FSU, Tallahassee and Southeastern communities," Corry said. "My research will reveal the strategies that organic farms can implement to broaden their support base. It will also present relevant findings on consumer awareness and understanding of sustainability as it relates to organic agriculture."
After graduation Corry plans on pursuing her master's degree at the University of Georgia's Interpersonal and Health Communication program with career aspirations of becoming an account manager for a global communications firm specializing in the healthcare and environmental sectors.
"There are almost no words for the many opportunities and experiences that I've had at FSU. I am so lucky for the people that I've met and the mentors that I've had, especially Dr. Patrick Merle, Dr. Craig Filar, Professor Mark Zeigler and Betsy Couch," Corry said. "I cannot express my gratitude or my love for that university enough."