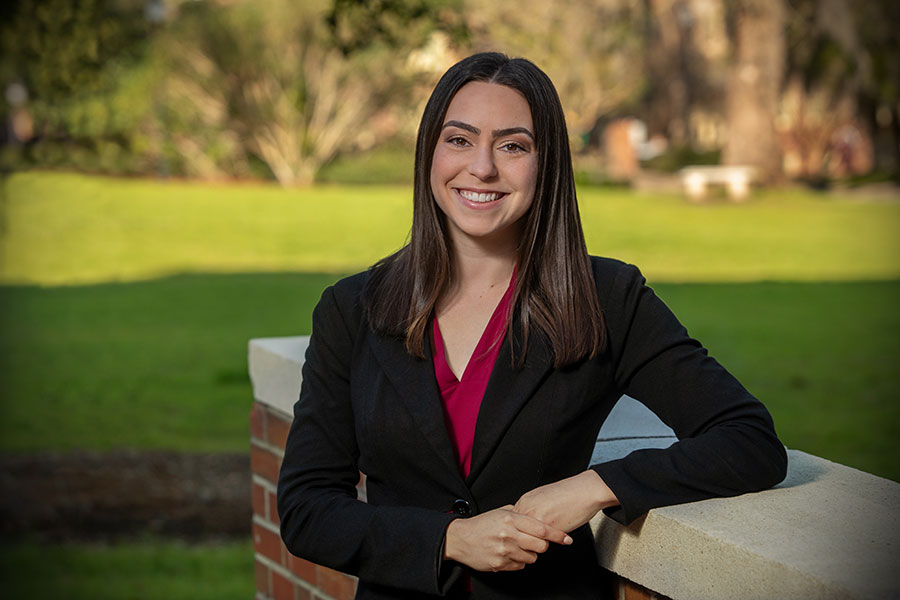 "I am most proud of my time spent empowering the special abilities of people with disabilities and helping them form meaningful friendships with fellow Noles."
Senior Cara Steinberg has tailored her Florida State University experiences to support her end goal of becoming an occupational therapist for those with special needs.
Steinberg said Florida State has always been the right place for her because of the campus organizations that aligned with her values and interests. At first, she wasn't sure where she wanted to attend college, but for her, it wasn't so much why she came but rather why she stayed at Florida State.
A huge part of that was the ability for Steinberg to immerse herself in community service opportunities through FSU.
"Service is an important value to me because it enables myself and other individuals to create change in the community," Steinberg said.
Since high school, Steinberg has devoted herself in multiple capacities to the organization Best Buddies. Recognized around the world, Best Buddies focuses on forming friendships between people with and without intellectual and developmental disabilities.
With FSU Best Buddies, Steinberg has served as a buddy, general member, External Vice President and Public Relations Vice President. As Public Relations Vice President, she promoted campaigns, such as the "Friendship Walk" and "End the R Word," while also building personal relationships with students with disabilities.
"My experiences with Best Buddies are extremely invaluable and meaningful in that the organization has allowed me to learn from young adults and guide them through obstacles," Steinberg said. "Due to the divide that often exists between individuals with and without disabilities, my goal was to break down preexisting boundaries and reinforce a new norm of inclusion."
Her interest in helping those with special needs has even extended beyond her major in Family & Child Sciences and into her research interests on campus.
As a sophomore, a friend encouraged her to apply for the Undergraduate Research Opportunity Program (UROP) and she was accepted. As a UROP student, Steinberg selected a research project in the Special Education Department at FSU's College of Education and worked under Assistant Professor of Special Education Jenny Root.
"Dr. Jenny Root really took me under her wing and is a big mentor that I've had here at FSU," Steinberg said. "I really appreciated how she treated me the same way she treated everyone on her team. I was very much in the loop with their projects and knew what was going on at a higher level than just a research assistant."
Root allowed Steinberg to have a hands-on role in the research project, where she assessed students while recording and reviewing data at the Florida Autism Center. She also helped contribute to the publications of Root's team and attended weekly meetings. In April 2018, Steinberg presented her research at the annual Undergraduate Research Symposium.
"Cara was one of the most outstanding undergraduate research assistants I've had the pleasure to work with,". Root said. "The success of our research projects would not have been possible without her diligence, initiative and forward thinking."
Steinberg wanted other students to see that research can be exciting and interesting, and became a UROP leader to guide other students through the research process. She taught a bi-weekly colloquium with another UROP leader, planning and executing engaging lessons to equip students with research tools and critical thinking skills.
In addition, Steinberg has been involved with Dance Marathon at FSU, serving as a Morale Captain where she supported other dancers and personally raised more than $1,000 for Children's Miracle Network Hospitals. In 2019, Steinberg served as president of her sorority, Sigma Delta Tau, and as a recruitment counselor for the Panhellenic Association. Last semester, she served as a peer leader for the Office of Fraternity and Sorority Life's Peer Leadership Course.
During her time at FSU, Steinberg has completed more than 800 service hours, all while maintaining a 3.87 GPA, and this has not gone unnoticed by the FSU community.
In 2019, Steinberg was awarded the President's Humanitarian of the Year Award for the College of Human Sciences for her work with Best Buddies, Dance Marathon and the Florida Autism Center.
"Receiving this award was such a great surprise," Steinberg said. "Honestly, it was very unexpected because I had never been nominated or recognized at the university level. I have invested my time into organizations such as iGrow and Dance Marathon in order to fully immerse myself in all the FSU has to offer. Our campus has vast room for growth, and I want to be part of it by continuously reinforcing the importance of being compassionate and giving back to one's home."
She also received the Artes Award from the Garnet and Gold Key Leadership Honorary. Artes is part of FSU's guiding philosophy – Vires, Artes, Mores – and is one of FSU's three torches represented on the university seal. Artes alludes to the beauty of intellectual pursuits as exemplified in skill. Steinberg received this award because of her work with the Tallahassee community — a commitment so important to her that she was unable to attend the ceremony to accept the award because she was at a Best Buddies event.
Steinberg said it's not the awards or the recognition that she'll remember about her time at Florida State, but the experiences she's had on campus, due in part to the support of friends and her twin brother. She said attending FSU with her brother has been a particularly memorable experience.
Steinberg's twin brother, Evan, currently serves as FSU's Student Body President. His presidency overlapped with Steinberg's presidency of her sorority, Sigma Delta Tau, making both siblings presidents of their respective organizations at the same time.
Both siblings graduated from Marjory Stoneman Douglas High School in Parkland, Florida, and they worked together to organize a vigil at FSU for the victims of the 2018 Parkland Shooting in February 2018 and 2019.
"The way we've been able to bounce off of each other or help one another with our involvement has been an incredible experience," Steinberg said. "We've both grown so much personally and professionally."
The growth she's experienced during her time at Florida State has made her confident in the next step: graduate school. Steinberg is currently in the process of receiving acceptance letters and hopes to start graduate school in summer or fall 2020. She plans to become an occupational therapist who specializes in working with individuals with disabilities.
"I am most proud of my time spent empowering the special abilities of people with disabilities and helping them form meaningful friendships with fellow Noles," Steinberg said. "The different moments where I was able to step out of my comfort zones are what I'll remember most."