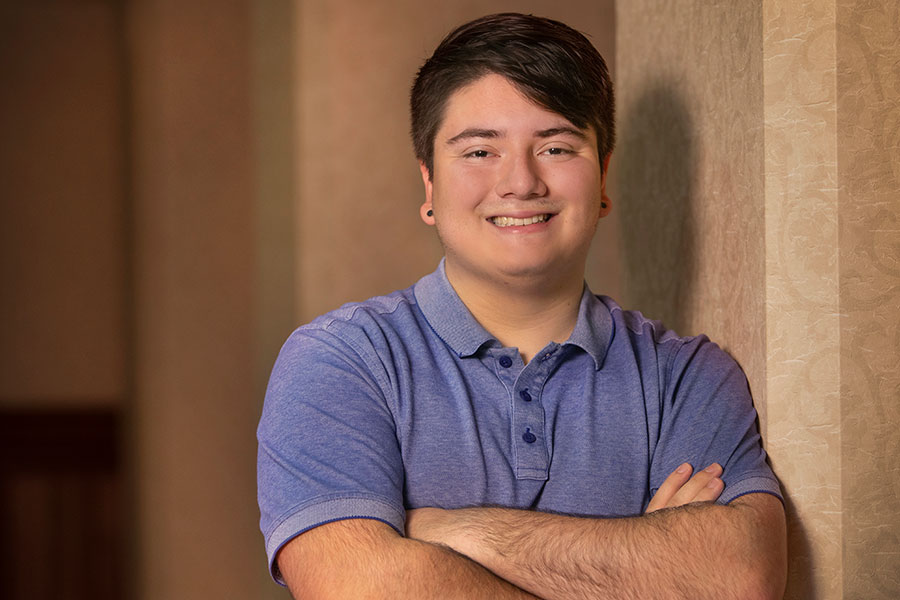 "FSU has done a great job of increasing Latinx enrollment, which has provided me with an established Latinx community on this campus."
Sebastian Mejía found his passion for Latin American & Caribbean Studies at Florida State University while embracing his identity as a member of the Latinx community through involvement and research.
Mejía, from Naples, Florida, originally chose to attend FSU because of his fascination with law and politics. However, after taking several classes and exploring his different interests, Mejía decided to pursue a dual degree in International Affairs and Latin American/Caribbean Studies, along with a minor in Portuguese.
"Attending FSU has given me the ability to explore all of my interests and be able to hone in on the ones I actually want to practice professionally," Mejía said.
Mejía focused his research of Latin American & Caribbean studies by assisting doctoral student Jordan Holsinger through the Undergraduate Research Opportunity Program (UROP) in his study, "Non-Governmental Organizations & Political Certainty: NGO Obstruction in Nicaragua."
He continued his research through the Moore Undergraduate Research Apprentice Program at the University of North Carolina – Chapel Hill, where he investigated how individuals took Indigenous language courses at U.S. universities as a vehicle to reconnect with a specific Indigenous community in Latin America.
Mejía received inspiration for his own research during a study abroad trip to Rio de Janeiro, Brazil, through the University of Florida's Language and Culture Program. His interest in indigeneity was sparked after conversations with his host brother, who spoke about wanting to connect with an Indigenous community he had familial ties to but was geographically separated. Inspired by this encounter, through FSU's Honors in Major,  Mejía chose to research how Indigenous communities in Brazil are resisting social and political whitening and demanding recognition as Indigenous.
With funding from the IDEA Grant and the Social Science Scholars program, Mejía returned to Brazil the following summer to do archival research for his study, "Decolonizing Land & Re-indigenizing Body: The Recuperation of Indigenous Identity in Brazil." His thesis interrogates why communities in Brazil are resisting their social and political whitening, demanding land repatriation and how this process occurs either in concert of or in conflict with long recognized Indigenous communities. Mejía presented his research at the 2019 Presidential Showcase of Undergraduate Research Excellence and at the 2020 Florida Undergraduate Research Conference.
"Sebastian approaches his academic work and his passion for the community with a critical awareness of social justice and a deep desire to help others," said Erin Sylvester Philpot, Mejía's mentor.
As a member of the Latinx community, Mejía is grateful for the way he has been able to connect with his heritage at Florida State.
"FSU has done a great job of increasing Latinx enrollment, which has provided me with an established Latinx community on this campus," he said. "Courses at FSU that cover the languages, history and intellectual contributions of the Latinx community in the United States have helped me connect with my identity and community."
Realizing the importance of the representation of ethnic studies on campus, Mejía has gotten involved with several student organizations. He has served as the public relations chair for the Hispanic/Latinx Student Unionand was the membership chair and secretary for Leaders Empowering Others in Needs of Education and Service (LEONES). He also co-founded the Coalition for Latinx Studies and serves as the current director.
The Coalition for Latinx Studies is a student organization that advocates for the establishment of a Latinx Studies Department at Florida State. The organization hosts events that center around the histories of Latinx communities in the U.S. Mejía is passionate about the coalition and wants all Latinx students at FSU to receive the same opportunities he did.
"A future Latinx Studies Department would provide the Latinx community on campus with a similar experience to mine but more developed and meaningful," Mejía said.
Mejía has received many accolades for his studies and service. He is a Global Scholars Alumnus, a Social Science Scholar, a Service Scholar, a Foreign Language and Areas Studies Fellowship recipient and was awarded two International Affairs departmental scholarships. As a Service Scholar, he has volunteered at the Frenchtown Urban Farm for two years and provided the surrounding community with low-cost organic produce in order to make nutritional and healthy food options more accessible to Tallahassee residents.
Following graduation, Mejía plans to continue his studies in a graduate program where he can continue the research he started at FSU with a goal of becoming a university professor.