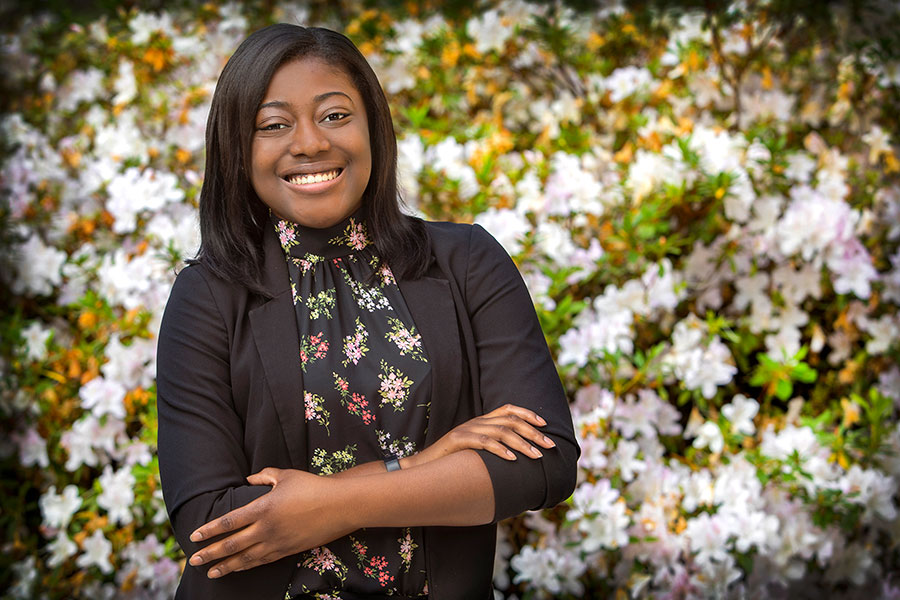 "FSU thrives when its students thrive, and it is that approach that has made all the difference."
Senior Jalicia Lewis has spent her time at Florida State University advocating for victims of injustice on and off campus.
Initially attracted to Florida State because of its advantageous location in the state capital, the double major in political science and public relations knew FSU would be able to provide her with the opportunities necessary to succeed in her field.
Lewis became involved on campus before her first week of classes when she attended the Service Leadership Seminar (SLS) through the Center for Leadership and Social Change. SLS is a weeklong event held before the start of each fall semester to help incoming freshmen explore their identity and expose them to leadership, service and ways to create sustainable change on Florida State's campus.
Lewis says this experience was a huge turning point for her.
"That week changed my entire life," Lewis said. "I wouldn't be where I am today if it weren't for this program. SLS opened my eyes to social inequalities and showed me that I have a voice and the capability to make sustainable and positive change."
Lewis returned to SLS for two additional summers, first as a facilitator and then as a coordinator.
"I've kept going back to that program because of the opportunity to learn," Lewis said. "As a black woman, I know I have a voice to share, but there are so many other identities I need to learn about and be a better advocate for."
The life lessons she learned at SLS motivated Lewis throughout the rest of her college career, and she soon became an advocate for those closest to her when she returned to her hometown of Jacksonville the following summer.
Lewis discovered the Fairfax Environmental Committee for Justice (FECJ) while volunteering with the Jacksonville Black Chamber of Commerce. This committee was created in reaction to the Fairfax Wood Treatment Center, a building located behind the elementary school Lewis attended. For many years, the treatment center had used arsenic, chromium and copper within 300 feet of the elementary school in a residential black neighborhood without notifying the local community. The FECJ was created in order to push the EPA and the city into action. Lewis spent her summer advocating for justice alongside the FECJ for the workers, the community and against the negligence that allowed the contamination to occur.
"This wasn't just something I could see on the news and ignore," Lewis said. "This was my family and the neighborhood who shaped who I am. This was my life."
It was this experience that ignited Lewis' passion for finding sustainable solutions for communities affected by environmental injustice. After receiving the 2019 Gilman Scholarship, Lewis decided to use the money to fund a study abroad trip to Lobitos, Peru, where she interned for an environmental nonprofit EcoSwell.
She continues her fight against injustice through her research. Lewis is working on an Honors Thesis project titled "Impact of Amendment 4 on Black Voting Attitudes," which aims to discover if the passage of legislation that restored felon voting rights will have a positive impact on black attitudes towards voting in the state of Florida. Lewis anticipates that her research will provide an indication of whether black voter turnout and political participation during the 2020 Presidential Election will increase as a result of the policy change.
The research was inspired by her stepfather's experience as a former felon.
"Seeing him own his own business, be involved in the community and pay his taxes but still not have the right to vote was very difficult," Lewis said. "I remember going to vote in the 2016 election, and he had to stay home. Amendment 4 changed that."
While writing her thesis, Lewis also got involved with the Big Bend Voting Rights project. The project's mission is to provide information and support to returning citizens impacted by Florida's Amendment 4 leading up to the 2020 Presidential Election. Lewis volunteers every Saturday with this organization to help register and inform new voters.
"Jalicia believes in the civic responsibility of voting and wants to ensure every vote is encouraged and counted," said Craig Filar, Lewis' adviser and the director of the Office of National Fellowships. "Her mature, intentional and amiable character are going to serve her well in her academic journey and beyond."
Lewis has done her best to advocate for and represent as many students as possible while at Florida State. She's volunteered as a PeaceJam Coach at Sail High School, as a Conversation Partner at the Center for Intensive English Studies and at Going Places Street Outreach. She's also served as an administrative coordinator for the Multicultural Leadership Summit, a 2018 Orientation Leader, vice president of public relations for the FSU Student Foundation, student vice president of the Honors Society Phi Kappa Phi and director of the Diversity and Inclusion Institute.
Lewis claims her purpose has always been to help students feel empowered.
"Relationship building is at the core of my work, and with each experience, I have found ways to expand that network of support to the students who need it most," Lewis said. "My involvement is rooted in how I can best serve other students, so that they can reach their full potential as Seminoles. FSU thrives when its students thrive, and it is that approach that has made all the difference."
Lewis has been greatly recognized for her accomplishments at FSU. She is a recipient of the 2018 Seth Rosetti Memorial Scholarship, a 2018 Garnet and Gold Key inductee, a 2019 Social Science Scholar, a 2019 Truman Scholar Nominee, a 2019 Gilman Scholar Recipient and a Garnet and Gold Scholar. Lewis also had the prestigious honor of being a senior Torchbearer representing Mores at the 2019 Freshman Convocation, reflecting her commitment to character as an FSU student.
Lewis is grateful for the Office of National Fellowships and the College Life Coaching program that have supported her throughout her college career. As a first-generation college student, these programs helped Lewis find her place at FSU and opened opportunities she never considered for herself, such as study abroad.
"Florida State does a great job of creating ways for students to get fellowship opportunities and letting them know that they are just as competitive as any Ivy League student," Lewis said. "You just have to seek those out and believe in yourself."
Lewis is a Fulbright Semi-Finalist and hopes to return to Peru following graduation to conduct her own research on nonprofit development. Ultimately, Lewis' goal is to become a lobbyist for environmental justice nonprofits throughout the state of Florida.