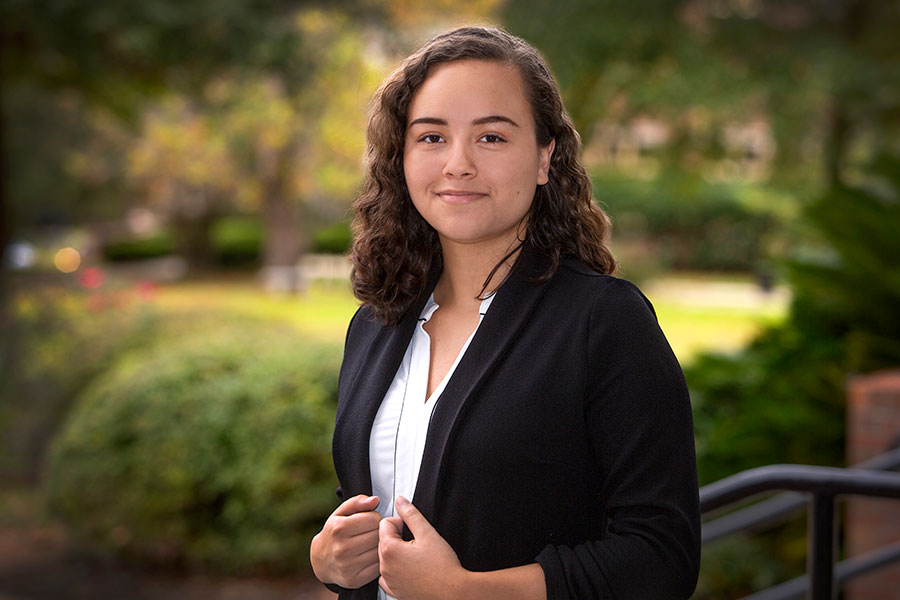 "FSU gave me so many opportunities in different realms and applications of psychology. Coming here really helped me achieve my goal of trying to find my specific niche by allowing me to explore so many options at the same time."
Florida State University is giving junior Celina Meyer the educational background to pursue her goal of preventing the psychological effects of childhood adversity.
Meyer is from Orlando, where her family lived in poverty for most of her life. Growing up, she also endured severe abuse and neglect stemming from her family's unstable circumstances.
She knew many obstacles stood in her way of attending college, but she met the challenges and excelled at Colonial High's magnet program before applying to FSU.
"I chose FSU because of its prestigious and rigorous psychology department," Meyer said. "FSU gave me so many opportunities in different realms and applications of psychology. Coming here really helped me achieve my goal of trying to find my specific niche by allowing me to explore so many options at the same time."
As a freshman, Meyer was unsure whether to take the research path or attend medical school after completing her undergraduate degree. That summer, she had the chance to analyze the effects of alcohol dependence on executive functioning in the brain at the University of Missouri.
"It was such a fulfilling experience that I switched from being pre-med to wanting to enter the field of clinical research," Meyer said.
Excited to explore research opportunities at FSU, Meyer spent her sophomore year working in Assistant Professor Alexandria Meyer's lab looking at anxiety biomarkers using electroencephalogram scanning.
Meyer also worked at the Center for Translational Behavioral Science, where she collaborated with Natalie Sachs Ericsson, a scholar/scientist in the Department of Psychology, and Associate Professor of Sociology Dawn Carr to look at emotional resilience in older adults and how it interacts with perceived social support, depressive symptoms and other symptomology. Meyer presented the results at the Undergraduate Research Day last spring.
Inspired by her personal experiences, Meyer created her own research project to study Adverse Childhood Experiences (ACEs) and how they might interact with household chaos to lead to cognitive and emotional impairments in early adulthood. ACEs is a term used to describe all types of abuse, neglect and other potentially traumatic experiences that occur to minors.
Meyer said the hardships of her upbringing were the motivation behind her project.
"I think the word resilience defines my story," Meyer said. "I've gone through all of the adverse childhood experiences in the books, but I want to know what makes me different and why I am successful. The goal of my research is to help people who went through what I went through get to where I am," she said. "I want more people to be resilient."
She received IDEA Grant funding to conduct the summer project and presented her findings at the President's Undergraduate Research Showcase in October.
Meyer said her research is designed to discover if the negative effects of ACEs could be buffered if the structure of a household is maintained. After analyzing her data, Meyer wanted to address the project's limitations and improve the statistical power of her analyses and decided to turn her project into a larger honors thesis, which she will begin in spring 2020 with help from her mentor, Julia Sheffler, a faculty researcher in the Center for Translational Behavioral Science.
"Celina has really become a vital part of my research team and is just a pleasure to work with," Sheffler said. "She is insightful, intellectually curious and driven to succeed. I have no doubt that her passion for research will lead to impactful interventions and innovations in the field of psychology."
Meyer's end goal with her research is to transfer it into clinical intervention methods.
"Intervention could buffer the negative effects of ACEs," she said.
Meyer currently works as a project coordinator at the Center for Translational Behavioral Science in the College of Medicine, overseeing multiple projects and working with a multidisciplinary team. She also is involved in the National Alliance on Mental Illness, an advocacy group that reduces the stigma on mental illness.
Meyer is thankful for the research opportunities and support from faculty she has received at FSU.
"I want to make an impact, and FSU has provided me with the means to do that," she said. "FSU also has thoroughly prepared me for graduate school by providing me with work within the psychology field and extensive training."
Following graduation in spring 2021, Meyer plans to spend a year as a research coordinator at either a children's hospital or a clinical research lab attempting to deliver clinical interventions to those who have endured early adversity. She then plans to pursue a doctorate in clinical psychology.