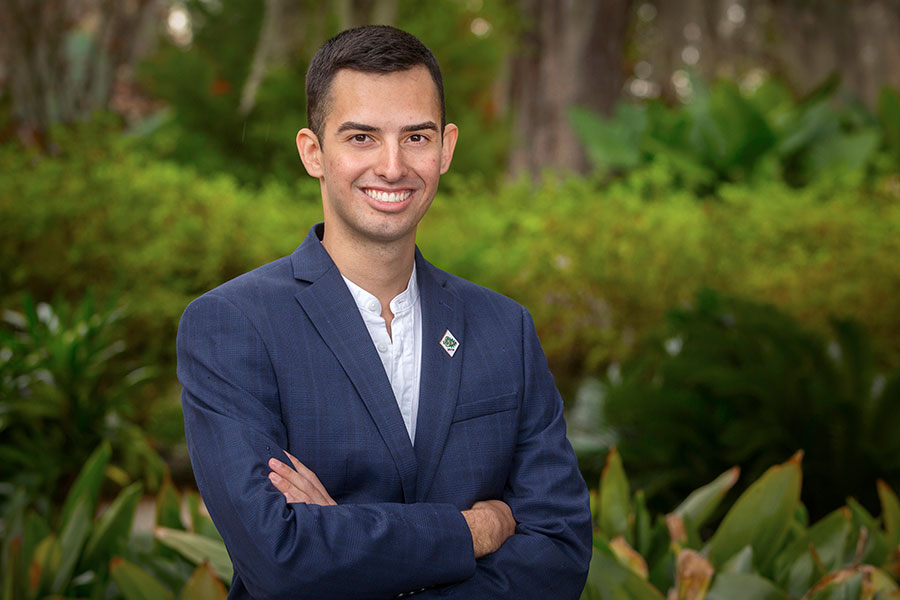 "There is such a diverse community at FSU that you never get tired of meeting new people."
Senior Roderick Meyer's experiences at Florida State University have shaped the budding scientist into a motivated, young leader ready to make the world a better place.
Meyer, who was born in Venezuela, moved to the United States with his parents at nine years old, settling in Fleming Island, a small town south of Jacksonville.
During his senior year of high school, Meyer decided he wanted to apply to Florida State in pursuit of a law career. However, Meyer had a change of heart when he took AP Biology and was inspired by his teacher's love of science.
"Through her, I realized that sometimes it takes someone else's passion to ignite your own," Meyer said. "Without realizing it, she changed my academic path and ultimately my career goals; and for that, I'm forever grateful."
Now, a biology major at FSU, Meyer has taken initiative to put what he's learned in his classes into action. Last January, Meyer found out about iGEM, FSU's International Genetically Engineered Machine club and quickly became involved. He was appointed team lead for its 2019 season.
iGEM is the premier international competition for synthetic biology. Each team focuses on researching and creating solutions for local problems through synthetic biology. This year, FSU's iGEM team chose to focus on combating citrus greening, a bacterial disease that has reduced Florida's citrus production by 80 percent over the past two decades.
Meyer's 15-member multidisciplinary team sought to engineer an antimicrobial peptide cocktail designed to attack the bacterial agent causing the greening when it reaches the tree. They designed cell-free systems that can express these antimicrobial peptides, then combined them and demonstrated the inhibition of growth of E. coli and L. crescens, which are model organisms for the target species.
The team received a $6,000 IDEA grant for the competition and became the first team to win a gold medal for the state of Florida. They were one of eight teams in the nation to accomplish the feat, along with MIT, Cornell, Brown and Princeton.
As team lead, Meyer presented this research at the President's Showcase of Excellence in October and at the iGEM Giant Jamboree in Boston.
"iGEM has enabled me to successfully manage a multidisciplinary team that mirrors those present in every innovative workforce," Meyer said. "I have made it my priority to inspire and motivate our team in order to ignite empathy, curiosity and ingenuity in the project we set out to explore."
The team worked closely with Florida citrus farmers in order for their research to be beneficial to them.
"We have restored hope to the Florida citrus farmers by assuring them that we are working diligently to find a solution to citrus greening," Meyer said. "As team lead, I take responsibility for motivating our team and making sure they understand the full potential of our research. We hope to educate the local community on the work we're doing and why it's so important to us and should be to any Floridian."
Meyer also frequently volunteers in the cardiovascular ICU unit at Tallahassee Memorial Hospital, assisting nurses and staff with daily management tasks, and at the UF Institute for Food and Agricultural Sciences, studying entomology and agriculture. He is also a member of Florida State's Biological Honors Society, Tri-Beta.
Meyer is grateful for his time at FSU and gives credit to the university for providing him with excellent undergraduate opportunities and for helping him to embrace his ethnicity.
"The diversity here is incredible," he said. "It makes you appreciate where you come from. In Fleming Island, I would hide the fact that I'm Venezuelan, but at FSU I have become proud of it. There is such a diverse community here that you never get tired of meeting new people."
After graduating in spring 2020, Meyer plans to take a gap year to study for the MCAT and find job opportunities in preparation for medical school.