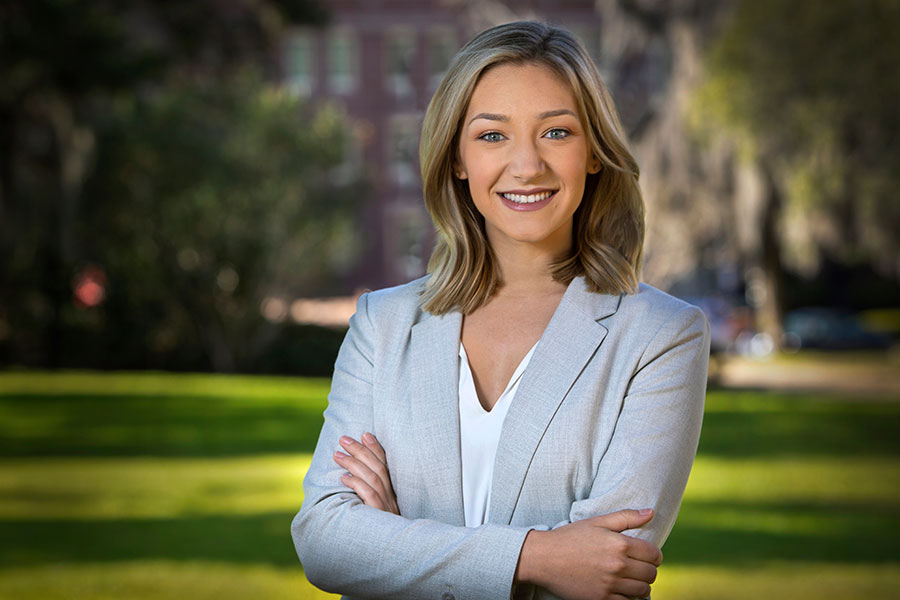 "I am proud to have been educated at FSU and to have used the skills and education I gained here to benefit the community that surrounds me."
Senior Charlotte Wollermann has used her time at Florida State University to further her professional ambitions while giving back to her hometown of Tallahassee in the process.
Wollermann was attracted to Florida State because of its student-centered culture and atmosphere to foster growth and learning.
At Florida State, she's had the opportunity to develop the skillset she needs to achieve her goal of becoming a physician through the Interdisciplinary Medical Sciences program, along with wide extracurricular involvement. And she's done it while maintaining a 4.0 GPA.
Community service has always been an important aspect in Wollermann's life. As she began her education at FSU, she found herself eager to serve others through her involvement with various organizations on campus. She has more than 900 service hours on her transcript to show for it.
"I was first interested in community service in elementary school, and I have since become more and more involved with the Tallahassee community," Wollermann said. "Because I am from Tallahassee, I have been able to make long-lasting relationships with the communities and organizations that I serve, which has helped to foster those connections with various community groups."
As a freshman, Wollermann joined MEDLIFE, an organization on campus that focuses on giving back and empowering communities to live healthier lives. MEDLIFE is an acronym for the goal of the organization — to bring Medicine, Education and Development to Low Income Families Everywhere (MEDLIFE).
In 2017, Wollermann even received a scholarship from MEDLIFE to help pay for her spot on the organization's weeklong trip to Cusco, Peru, where students participated in medical mission work in the local community.
In addition to being a general member, Wollermann has also served MEDLIFE in various leadership roles, including Relay for Life chair, public relations chair, and now as executive director of public relations. The roles and experiences MEDLIFE provides have allowed her to combine her drive to serve the community with her career goals in the medical field.
During her sophomore year, Wollermann delved into research that combined her interests in medicine and service. She first worked with Dr. Martina Luchetti, whose research focuses on caretakers of Alzheimer's patients.
Wollermann then joined Dr. Heather Flynn's lab, which focuses on research around maternal mental health and aims to provide means for screening women early on to prevent postpartum depression. For the past two years, she's helped researchers develop a database to connect those seeking help with a list of well-trained mental health providers.
"When we could call these providers to gather information, some of them would almost tear up on the phone because they were so thankful," Wollermann said. "They would tell us how important this is and that we may not realize what we're doing, but that it could be really life-changing and life-saving to some of the women it could help."
The Florida Maternal Provider Directory was the result of many phone calls to compile provider information and is part of the Florida Behavioral Health Impact Project. This valuable database is directly accessible to Florida families and health providers through the website flmomsmatter.org (Florida Maternal Mental Health Collaborative).
Wollermann first discovered her interest in women's health two summers ago during a medical fellowship in Zagreb, Croatia. She received a scholarship from the American Medical Student Association to help cover the costs of the fellowship where she shadowed and volunteered in a hospital for four weeks.
"One of the rotations at the hospital during the fellowship was for obstetrics and gynecology, and I was able to see C-sections, multiple live births and interact with the mothers, patients and other babies in the hospital," Wollermann said. "The experience was really life-changing, and I found that's what I really love. Watching the doctors interact with the patients, seeing how compassionate they were toward them really inspired me."
On campus, Wollermann also is part of FSU's Medical Response Unit (MRU), which provides additional medical support to students and faculty in need of assistance. The MRU functions on a regular basis while also providing support at campus events, such as Dance Marathon and the FSU Flying High Circus.
In addition, Wollermann is an active member of the sorority Alpha Delta Pi and has served as chaplain and community service chair. She is also part of Florida State's Honors Program and has been involved with organizations, such as The Big Event and Dance Marathon FSU.
Now, Wollermann is passing along her experiences to first-year students by serving as a Freshman Interest Group (FIG) Leader for pre-health students.
"Being a FIG leader and teaching students gives you an entirely new perspective and experience with FSU, and honestly makes me have so much respect for my professors who teach classes every day," Wollermann said. "It really brings my whole experience with FSU full circle. Now, I can pass on all of my experiences, advice and everything I've had to my FIG students and see what they're going to do with it."
Wollermann believes a major part of her success at FSU is owed to the amazing and caring professors she has been able to connect with both in and out of the classroom. She actively encourages her FIG students to talk to their professors during office hours because of the potential connections they can make beyond a semester class. One of those professors for Wollermann is Mark Kearley, an honors lecturer in the chemistry department.
"Charlotte is a very serious student, but she also has a great sense of humor and a positive outlook," Kearley said. "These traits made Charlotte a welcome addition to my office as her work ethic and optimism have influenced the other students."
As graduation quickly approaches in May 2020, she's open to any opportunities that arise for her, but hopes to attend medical school and stay in Tallahassee. After seeing her brother graduate from FSU in May 2019, Wollermann is excited to walk across the stage and be handed her own Florida State University diploma.
"The greatest success I have achieved is my experience as a student," Wollermann said. "I have gained a spectacular education that will prepare me for my future while having incredible experiences and leadership opportunities that I will cherish forever."