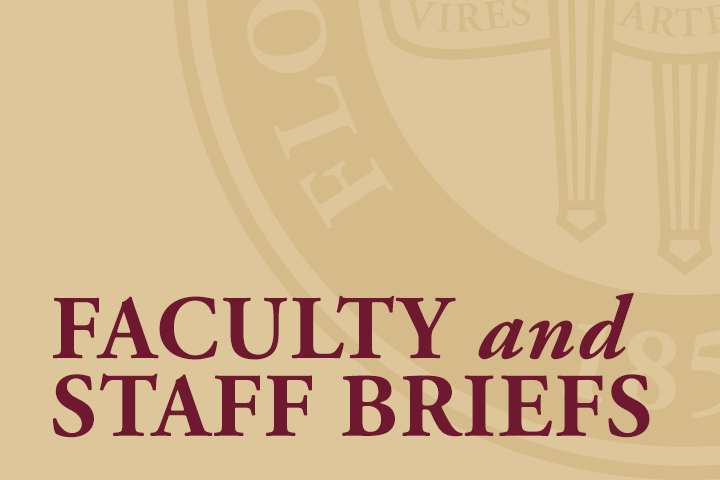 HONORS AND AWARDS
Martin Mende, Ph.D. (Business) has been selected as the 2017 Emerging Scholar by the Marketing and Society Special Interest Group (MASSIG) of the American Marketing Association (AMA). The award honors the contributions of a researcher in the early stages of his or her academic career who tackles societal issues of significance that substantially advance our understanding of these issues. The award will be presented to Mende in June at AMA's 2017 Marketing and Public Policy Conference in Washington, D.C.
Mallory Lucier-Greer, Ph.D. (Family & Child Sciences) was named as one of the Top 50 Reviewer of 2016 by the Journal of Family Relations, published by the National Council on Family Relations. Selected out of 511 peers, her review service to the journal was above the 90th percentile.
Frank Fincham, Ph.D. (Family & Child Sciences) was named as a top reviewer in 2016 by the Journal of Social and Personal Relationships, with the number of contributions provided ranking in the top 5 percent of reviewers.
The Department of Sport Management was presented with the 2017 Active Leisure for Life award from the Florida Disabled Outdoor Association for their outstanding service to people of all abilities in the area of active leisure. 
Alysia Roehrig, Ph.D. (Education), was named a recipient of the annual Guardian of the Flame award from Burning Spear. This award is given to a faculty member by a coalition of students, staff, and alumni.
Brad Cox, Ph.D. (Education), was honored with the College of Education's Robert M. Gagné Research Award at the annual Marvalene Hughes Research in Education Conference held on April 7.
SERVICE
David C. Larbalestier, Ph.D., (Mechanical Engineering) has been nominated for service on the National Academies' National Materials and Manufacturing Board (NMMB). Larbalestier is also director of the Applied Superconductivity Center, and chief materials scientist in the National High Magnetic Field Laboratory. The NMMB is the principal forum at the National Academies for issues related to materials and manufacturing and has oversight responsibility for National Activities studies in these areas.
Lynn Panton, Ph.D. (Nutrition, Food & Exercise Science) was nominated as president-elect for the Southeast Chapter of the American College of Sports Medicine.
GRANTS
Anders Ericsson, Ph.D. (Psychology) received a $44,000 award from the Character Lab for his project titled "Good Best Better: Toward Expert Performance in Teaching."
Elizabeth Hammock, Ph.D. (Psychology) received a $20,000 Go! Grant from the Good Nature Institute. This grant was awarded to recognize her work on the neural mechanisms of social imprinting in development.
Rick Hyson, Ph.D. (Psychology), Frank Johnson, Ph.D. (Psychology), Richard Bertram (Mathematics) and Wei Wu (Statistics) were awarded a four-year $800,000 grant from the National Science Foundation for their project entitled "Developmental Learning Involves Nonsynaptic Plasticity."
Pam Keel, Ph.D. (Psychology) along with colleagues from Michigan State University, received a $3.4 million grant from the National Institute of Mental Health to use a multi-method (behavioral genetic, neuroendocrine), longitudinal twin study to document the effects of combined oral contraceptives on phenotypic and genetic risk for binge eating in women.
Wen Li, Ph.D. (Psychology) received an $8,000 grant from Utrecht University to support her research on human olfaction, emotion and related problems.
Meredith McQuerry, Ph.D. (Retail, Merchandising & Product Development) and Michael Ormsbee, Ph.D. (Nutrition, Food & Exercise Science) received a $94,603 grant from Lion Apparel to collaborate on designing a novel turnout suit pattern with increased mobility and comfort for firefighters.
BYLINES
Meredith McQuerry, Ph.D. (Retail, Merchandising & Product Development) paper, "Garment Ventilation Strategies for Improving Heat Loss in Structural Firefighter Clothing Ensembles," was selected for the J.W. Weaver Paper of the Year by the Association of Textile, Apparel & Materials Professionals.
Russell Clayton, Ph.D. (Communication and Information) and Jessica Ridgway, Ph.D. (Retail, Merchandising and Product Development) co-authored, "Is Plus Size Equal? The Positive Impacts of Average and Plus Sized Media Fashion Models on Women's Cognitive Resource Allocation, Social Comparisons, and Body Satisfaction," which will be published in an upcoming issue of the journal Communication Monographs.
Kate Sherron, Ph.D. (Economics) published the chapter, "The Effect of Inter-School District Competition on Student Achievement: The Role of Long-Standing State Policies Prohibiting the Formation of New School Districts," in the book, "Explorations in Public Sector Economics: Essays by Prominent Economists," edited by Joshua Hall.
Paromita Sanyal, Ph.D. (Sociology) co-authored the paper "Associational Participation and Network Expansion: Microcredit Self-Help Groups and Poor Women's Social Ties in Rural India," published in the journal Social Forces.
Luke Boosey, Ph.D. (Economics) and R. Mark Isaac, Ph.D. (Economics) co-authored "Asymmetric Network Monitoring and Punishment in Public Goods Experiments," published in Volume 132 of the Journal of Economic Behavior and Organization.
James P. Sampson, Ph.D.; Debra S. Osborn, Ph.D.; Janet G. Lenz, Ph.D. (Education) published the digital publication, "Integrating Theory, Research, and Practice in Vocational Psychology: Current Status and Future Directions," which contains 20 peer-reviewed papers that examine the challenges and opportunities for integrating theory, research and practice in vocational psychology from the perspectives of theorists, researchers, practitioners and journal editors. This is the first book-length publication hosted by the FSU Libraries' open access publishing program.