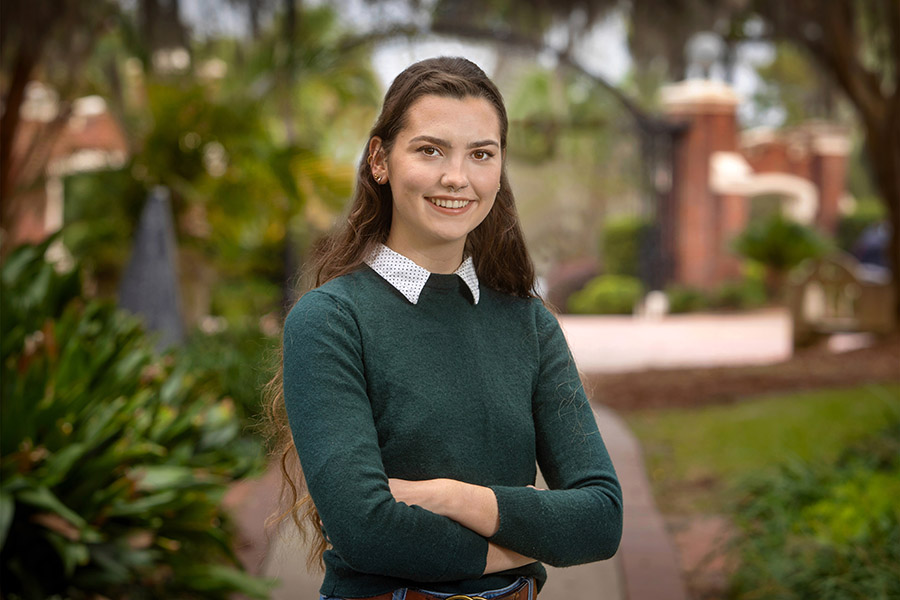 "FSU has provided me with opportunities for learning inside and outside of the classroom. My time here has taught me skills like leadership, creative research processes and perseverance that will remain with me throughout my academic and post-graduate career."
Growing up, Florida State University junior Aoife Trotter always knew she wanted to pursue a career focused on helping others.
At FSU, Trotter's study of psychology sparked her interest in addressing the effects of sexual assault on mental health and its impact on marginalized communities.
To learn more about the emotional and psychological reactions victims of sexual assault can experience, Trotter has taken advantage of the countless opportunities for research engagement offered at FSU in addition to double majoring in psychology and social work.
"I have a strong desire to help others and shift the culture so that it no longer denies the prevalence and unacceptability of sexual assault and works to heal from and prevent it in all communities," Trotter said.
Trotter, a member of the University Honors Program, is confident that she has found her purpose.
"My goal since starting my academic journey has been to use the tools, resources and opportunities I am lucky to have as a means of helping others," she said.
As a sophomore, she started developing her research interests after joining the Undergraduate Research Opportunity Program (UROP) where she served as a research assistant in the Anxiety and Behavioral Health Clinic (ABHC). 
Trotter's positive experience within UROP inspired her to become a UROP leader and she is now teaching a psychology and neuroscience colloquium in that role.
"I wanted to give back to this program because I truly felt like it shaped my undergraduate experience and my engagement research," Trotter said. "Being a UROP leader has been a really rewarding experience because I am able to help others the same way others helped me."
Under the mentorship of Brad Schmidt, a research professor of psychology and director of the ABHC, and graduate student Carter Bedford, Trotter worked on a virtual treatment targeting anxiety sensitivity and post-traumatic stress in survivors of sexual assault.
"My experience on this project was very fulfilling, and I am grateful for the opportunity to conduct clinical psychology research that has the ability to increase access to important treatments for survivors of trauma," Trotter said.
As Trotter continued working with the ABHC, she became interested in examining how these findings generalize to communities that are frequently left out of psychological and sexual assault research, specifically the LGBTQ community.
With the help of her mentors, Trotter received an IDEA grant to fund a project that studied attitudes and beliefs that may impact psychopathology following sexual assault in LGBTQ individuals.
Trotter presented her project at the President's Showcase for Undergraduate Research Excellence this past September along with other student researchers.
"I felt very grateful that I was able to present my work at the showcase, and the event allowed me to have a platform where I could speak about an issue that I am very passionate about," Trotter said. "I hope that my presentation helped educate people about aspects of sexual assault that they were unaware of and encouraged them to learn more."
To build upon her past research, Trotter is in the process of completing her Honors in the Major project, which focuses on an app that aims to reduce safety behaviors, or behaviors that individuals feel will reduce their anxiety or post-traumatic symptoms but actually exaggerate them, with the hopes of reducing overall post-traumatic distress.
To do so, Trotter is testing whether people's coping self-efficacy and their beliefs about whether they or outside influences that affect their life can predict how well they respond to the app and experience reductions in their safety behavior usage and post-traumatic symptoms.
"This project is going to be a good conclusion to some of the research I have been doing over the past couple of years because I am able to get strong feedback from multiple departments," Trotter said. "I hope my research makes a difference for individuals who are impacted by trauma and PTSD."
Following graduation in the summer of 2023, Trotter intends to pursue a Master of Social Work degree and become a licensed clinical social worker. Trotter ultimately hopes to help individuals find healing and stability as they recover from trauma or cope with mental illness.