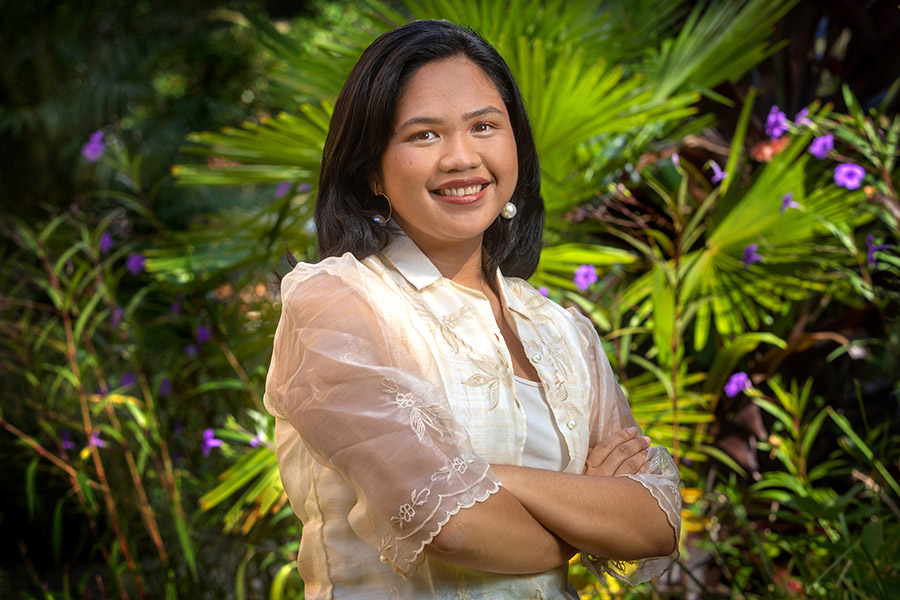 "One of the biggest things FSU has provided me with is the familial, warm, tight-knit culture you see across campus. This is something that I always try to enact in my interactions on campus."
Growing up in the Philippines, Florida State University junior Christelle Bucag was suddenly uprooted when her mother was hired as a nurse at Tallahassee Memorial HealthCare, and they moved to Tallahassee in 2016.
"As a recent first-generation immigrant, it was hard to insert myself in the culture and way of life here in the United States," Bucag said. "It was always a push and pull between adapting to my new home and keeping with my roots."
Florida State was always on Bucag's radar for college, but an opportunity to participate in an event with FSU's Filipino Student Association (FSA) solidified her feelings towards the university.
During her sophomore year of high school, Bucag's Filipino folk dance company was invited to participate in Barrio Fiesta, FSA's spring banquet. From this experience, she saw many opportunities to flourish and a strong sense of community that she wanted for her time in college.
Bucag joined FSA as soon as she enrolled on campus, connecting with a community that helped FSU feel like home. During her sophomore year, she served as the organization's finance chair and is currently president.
"I chose to attend FSU because this institution made me feel that I had the potential to excel on campus with the plethora of resources they have — be it in research or in extra-curricular," Bucag said.
In her role as president, Bucag acts as a representative for the organization.
"With my various leadership positions on campus, I found a way to use student organizations as platforms to advocate for issues relevant to Filipino and Filipino Americans in Tallahassee," Bucag said. "My role in the Filipino Student Association allowed me to transform our platform from a multicultural student organization to that of advocacy."
Bucag has worked to transform FSA into something that members would be excited to participate in, and as a result, has seen an increase in attendance at meetings.
"These meetings aim to build a connection between students and their culture through discussions on Filipino contributions to society throughout the U.S. and locally," she said.
In the first months of the COVID-19 pandemic, Bucag worked with the organization to create an annual fundraiser to help Filipino nurses in the area.
"We are on the smaller side of registered student organizations, so it is very rewarding to see the friendships that form and how more people start turning out for our general body meetings," Bucag said. "It is so impactful to see those relationships grow and how that helps our community grow."
Research also has been a big part of Bucag's FSU career. She immediately took advantage of the resources on campus and joined the Undergraduate Research Opportunity Program (UROP) where she worked on the project "High Pressure Raman Spectroscopic of 3.65 Å Hydrous Phase" during her freshman year. The project studied how a particular phase of dense hydrous magnesium silicates (DHMS) called 3.65 Å behaves under high pressure using Raman Spectroscopy.
"My UROP experience taught me the importance of flexibility and intersectionality in research," Bucag said. "Despite engaging in a project that was not directly related to the medical field, I learned a lot of knowledge and skills that could be translated to my current research commitment."
Bucag, who is majoring in Interdisciplinary Medical Sciences, is currently working under Lei Zhu in the Department of Chemistry and Biochemistry on solving fundamental problems in chemistry and developing new technologies using the tools in supramolecular chemistry.
"These research experiences have helped me improve on laboratory skills," Bucag said. "I have learned how mass spectroscopy can be translated and used in the medical field especially for screening and diagnostic purposes."
As part of the Honors Experience Program (HEP), Bucag enrolled in the class "Everyday Life: Time, Space, and Power" during Spring 2020 and was tasked with finding something in her daily life to research. Influenced by her volunteer experience in clinical settings, Bucag chose to study how hospital architecture can affect the interactions between parties and providers.
Bucag published her findings in the article "Exemplifying the Panopticon: A Case Study on Hospital Architecture," which appeared in a special edition of The Owl, FSU's peer-reviewed undergraduate journal. The special issue of the publication focused on everyday life in a pandemic.
Also interested in serving her community, Bucag has volunteered in the Stay Healthy Ambassadors Program (SHAP) under University Health Services for the duration of COVID-19. As an ambassador, she gives out free masks, encourages proper masking and now helps with vaccination efforts.
"Having a vital role in aiding the local community to fight against COVID-19 was very fulfilling and it allowed me to further solidify my goal of pursuing a career in the medical field," Bucag said.
Upon graduating in spring 2023, Bucag plans to attend medical school in hopes of becoming a doctor who advocates for the well-being and safety of patients and members of her team.
"One of the biggest things FSU has provided me with is that familial, warm, tight-knit culture you see across campus," Bucag said. "This is something that I always try to enact in my interactions on campus."