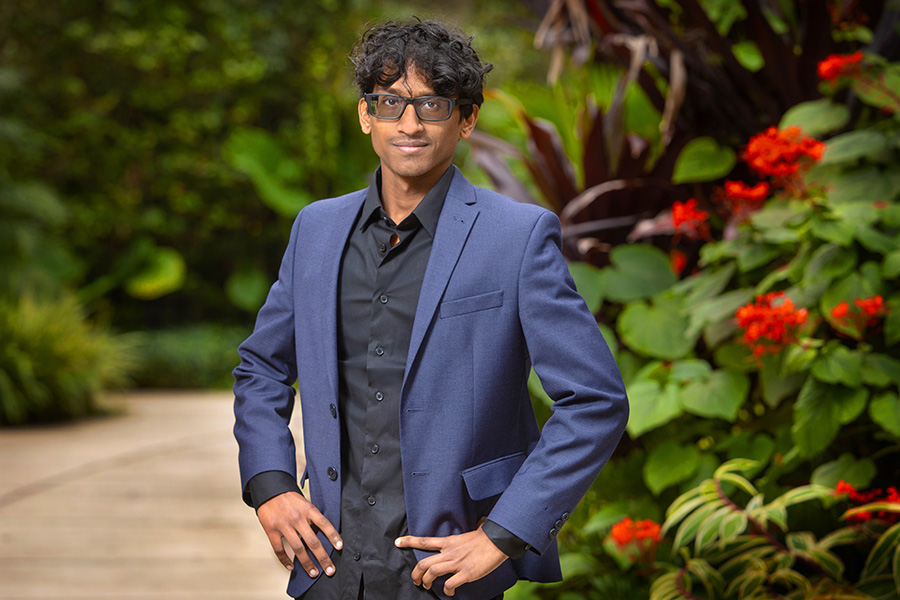 "I hope I have made a lasting impact at FSU by helping the greater community, whether that be through my community service involvement or through my research."
When Florida State University junior Sathvik Bilakanti was 10 years old, he developed an eye condition that impaired his vision. Without an accurate diagnosis, Bilakanti felt isolated and overwhelmed by his new reality. However, amid learning to overcome adversity, a passion for helping others with similar eye conditions grew.
"After developing my eye condition, I struggled to come to terms with who I was," Bilakanti said. "While it took me a long time to cope with what I have, I started to envision the type of person I wanted to be."
In high school, Bilakanti realized his calling was to become an ophthalmologist to help others through his lived experience. That's why he decided to attend FSU and enter its Interdisciplinary Medical Sciences degree program.
"Within the program, I chose to major in Health Management, Policy and Information," Bilakanti said. "Not only is it preparing me for medical school, it is also teaching me about the business side of health care."
Throughout his college career, Bilakanti has remained dedicated to his goal of working in health care by immersing himself in on-campus organizations like WhoWePlayFor and Alpha Epsilon Delta, FSU's pre-health honor society.
"I have been able to participate in many different service opportunities within the FSU and Tallahassee communities," Bilakanti said. "Helping others has reinforced my desire to pursue a life of service."
During his sophomore year, Bilakanti joined the Undergraduate Research Opportunity Program (UROP) where he served as a research assistant at the College of Medicine. Under the mentorship of Associate Professor Robert Tomko, Jr., Bilakanti researched a parasite found in low-income countries called Microsporidia.
"Microsporidia predominantly infects immunocompromised individuals and if spread throughout the body, it can cause debilitating eye infections amongst many other symptoms," Bilakanti said. "This was fascinating to me because of my own condition and is the reason why I chose to research this particular parasite."
There are currently no tools available to study the infection caused by Microsporidia. Bilakanti hopes his research will help find potential nanobodies that can combat the parasite.
With the help of Tomko, Jr., Bilakanti received an IDEA grant to fund a project centered around making tools to manipulate and purify the proteasome of the parasite.
"My proudest accomplishment at FSU so far would be the IDEA Grant," Bilakanti said. "I will always remember the experience because of the amount of knowledge I gained and how much of an impact it made for me and my future."
While Bilakanti's research has given him invaluable experience and insight into health care, his community service involvement has reaffirmed his commitment to helping others.
Because of his own experience with mental illness, Bilakanti was inspired to join the Crisis Text Line, an online platform that offers mental health support via text. Through the platform, Bilakanti counsels and provides guidance to those seeking advice and assistance.
"It is important to understand that you are not alone and that many other people may be going through the same thing as you," Bilakanti said. "As a crisis counselor, I am able to both help people and prepare for my career as a doctor."
Bilakanti also has participated in The Big Event, an organization that promotes community service around Tallahassee, and has volunteered at the Boys and Girls Club, an organization dedicated to helping students reach their full potential.
"I hope I have made a lasting impact at FSU by helping the greater community, whether that be through my community service involvement or through my research," Bilakanti said.
Bilakanti, who expects to graduate in Summer 2023, plans to attend medical school after graduation to pursue a dual degree in Medical Doctor and Master of Business Administration.
"Since I was a little kid, I always wanted to become a doctor, so knowing that I am almost there has motivated me throughout college and has made my experience at FSU even more meaningful," Bilakanti said.