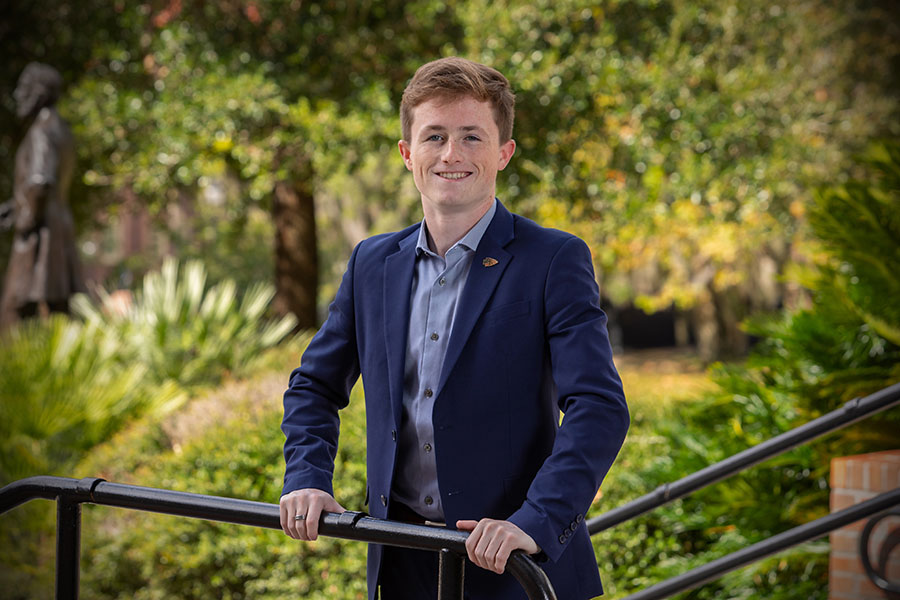 "I have a profound interest in medicine and serving people. I think life is about people, how you can impact them and how you can affect their life in a positive way."
"Integrity first, service before self and excellence in all we do," are the core values of the United States Air Force.
The words also guide Florida State University student veteran Jared Barrett's work as he seeks to serve both the Air Force Reserve and his fellow veterans on campus. For Barrett, that effort starts by ensuring veterans and students alike feel they are part of the campus community.
"There's that unwritten sense of knowing that any veteran will have your back, and that's comforting. That's my community, that's my family," Barrett said. "It's nice to have a community on campus of people that you know will take care of you if you needed it and that you can take care of."
After completing his sophomore year at FSU, Barrett took a year and a half off to enlist in the Air Force Reserve and complete basic training, where he graduated with honors and attended tech school.
"Basic training taught me that you can't complete anything in this life alone, you need to have a team around you," he said. "My experience at basic training made me realize how diverse this country is. People came from all over the country but we all had one common goal. Our diversity didn't matter in getting things done. It couldn't hinder us, it could only help us, it had to help us."
Barrett has received numerous awards throughout his military career, including 44th Maintenance Squadron Airman of the Quarter, 44th Fighter Group Airman of the 2nd Quarter, and a Diamond Sharp Award Winner. He also currently serves as the president of the Rising 6 Committee for his unit.
Since returning to college in 2020, Barrett has succeeded academically, earning President's and Dean's list honors multiple times.
He's also made it a point to be involved in various parts of campus that drive student veteran success. Barrett currently serves as the internal coordinator for the Veterans Student Union and works as a veteran's programs administrative assistant at the Student Veterans Center.
In these roles, he aids veterans making the transition from military service to campus life, by providing them tangible resources and activities designed to enhance their connection to the university while fostering a community of past, present and future veterans.
"Being able to serve the community that I love being a part of is really meaningful to me and it has impacted my life in such a profound way," Barrett said. "It gives me fulfillment and keeps me going; I want everyone to feel at home on this campus."
Barrett also served as a senator in student government as another way to affect change on campus and make a lasting impact. There, he took up the position of Veterans Student Union senate liaison.
"It was another way for me to take the needs of the veteran community and be able to broadcast them to a very diverse group of people who represent the entire campus community to ensure that the voices of veterans are heard," he said.
One of the most recent ways Barrett has honored the veteran community was by placing roses on 13 reserved seats in honor of the 13 service members who died in the Aug. 2021 Kabul attack.
"The way he honored our 13 fallen service members recently with honorary seats at an FSU home game is evidence of his heart and capability," said Billy Francis, director of the Student Veterans Center. "He has my trust, respect and gratitude for his contributions to FSU."
When asked what advice he has for fellow student veterans, Barrett said, "If you need help in any facet of your life, fall back on this community because we are considered one of the most veteran-friendly schools in the nation for a reason. We have an outstanding veteran community here that would love to help you feel welcome."
Following graduation in spring 2022, Barrett plans to commission as an Air Force officer and apply for the interservice physician's assistant program. He will continue serving while going to school to receive his physician assistant certification (PA-C). Upon receiving his PA-C, he plans to serve the Air Force as a physician's assistant.
"I have a profound interest in medicine and serving people," Barrett said. "I think life is about people, how you can impact them and how you can positively affect their life."