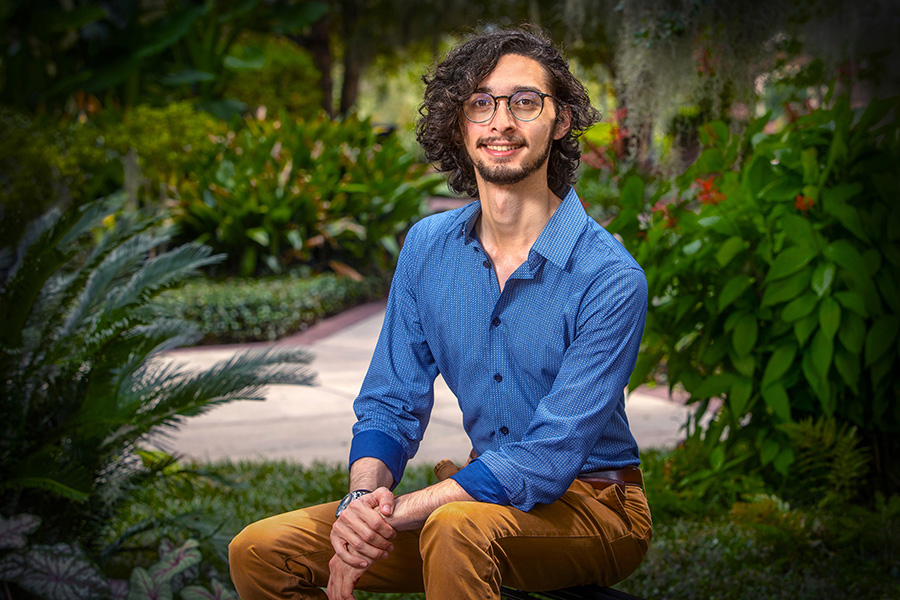 "I want to continue working, researching and adding to the pool of knowledge and answering interesting questions."
When Anthony Ballestas was considering where he wanted to continue his education, he knew that he wanted a place he wasn't familiar with. 
After spending a couple of years at Broward College, the native of Miramar Florida, sought out a university that would offer top-notch academics but also a place where he'd have to step outside of his comfort zone. 

"Out of the places I was looking at, Tallahassee was the one where I had the least number of contacts and acquaintances," he said. "I wanted a place that was far enough away but not too far, so there was just a little risk."
It didn't take Ballestas long to know that he'd made the right choice after he moved to Tallahassee without a car. After catching a few late-night rides home from fellow students — who happened to be total strangers — he said it was clear that Tallahassee was going to be a good fit for him. 
"I kept missing the last bus so I had to ask someone if they would just give me a ride," he said. "People were just so nice. I was greeted with a lot of warm smiles. They gave me their numbers and said, 'If you need anything, or you have any questions, give me a call.'"
With his social life falling into place with relative ease, Ballestas said he was similarly fortunate with his studies. Research is what he wanted to do, and he found it at FSU. His first foray into formal research was with Professor Sam Staley's class.
"I highly recommend his research methods course for anyone looking to start research but not sure how," he said. "I learned that the secret is to just get started somewhere and solve problems as they come up."
In Staley's class, Ballestas explored the effects of financial inclusion on trade openness. 
"I wanted to answer the question: 'If access to banks and credit goes up does the country as a whole trade more on an international level?'" he said. "After applying my first ever linear regression I found that financial inclusion was not a statistically significant variable. Despite my hypothesis being wrong, I feel like I leveled up as a student far more than by just taking tests and reading chapters."
Ballestas also participated in the Undergraduate Research Opportunity Program (UROP), under the mentorship of Postdoctoral Scholar Francesca Bernardi. 
"I was searching for this mythical research experience and I found it in my second semester when I was accepted into UROP and worked alongside Dr. Francesca Bernardi to take on my first ever mathematical modeling project," he said. "We worked on modeling the spread of the flu using the popular epidemiological Susceptible – Infected – Recovered (SIR) model. As a result of the UROP program I was able to demystify the world of applied mathematical research a bit." 
Ballestas said that his first taste of research confirmed his instinct that he would enjoy it and that pushed him to pursue additional opportunities. He applied for and received an IDEA Grant to support his undergraduate research project over the summer. Again working alongside Bernardi, he modeled the spread of panic buying.
"I treated panic buying as a disease and modeled it as one using the epidemiological model that I used in my UROP project. There is some fine–tuning that needs to be done since panic buying does not perfectly behave like a disease, but the project is proving to be very educational so far."
Outside of class and his research activities, Ballestas said he can often be found in an unexpected place.
"I find myself spending the most amount of time with the Asian American Student Union," he said. "I am Latino, not Asian, and I initially started to go because a friend invited me. Before I knew it, I found myself going to a number of their meetings and activities. There were a lot of warm smiles and a lot of welcoming faces there. I'm living with friends I've met there. I don't hold a role in the organization, but I do my best to contribute the same welcoming air I received when I first showed up."
While he's set to graduate in spring 2021 with a double major in economics and statistics, Ballestas said his experience at FSU has inspired him to continue with his education and research. 
"I am really proud of my research here, especially my paper for my IDEA Grant, it's something that I am proud of," he said, before noting his desire to continue research while pursuing a doctoral degree in economics. "I have been looking at finance or stats but a Ph.D. in economics, that's the one I want."