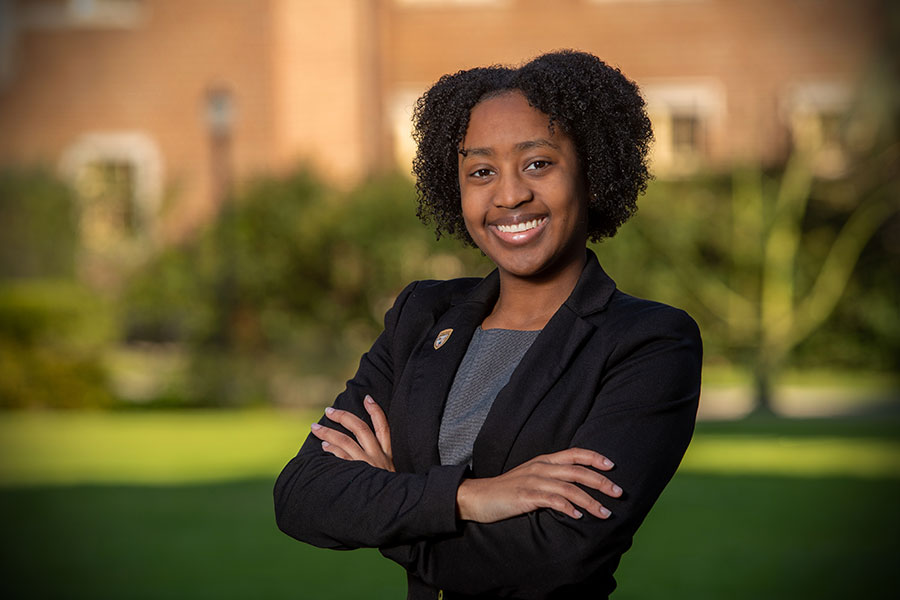 "I got the chance to come to college and become a completely different person. Not everybody gets that. I owe FSU everything."
A first-generation student at Florida State University, Essence Duncan was raised without any expectations of going to college. Now a senior, she couldn't imagine her life without the experience of higher education.
Duncan had plans to follow in the footsteps of her parents and join the military immediately following high school. Then, she discovered Florida State when required to apply to a college as a dual-enrollment class assignment. Upon browsing the FSU website, Duncan fell in love with the campus and Florida State's values.
Deciding to take the risk, Duncan applied and was accepted into FSU and its Air Force ROTC program for the fall of 2016. The next year, she transferred to the Navy ROTC program at Florida A&M. Duncan quickly excelled, receiving both the Florida A&M Midshipman of the Month Award and the Florida A&M Academic Excellence Award. Unfortunately, after two years of dedicating her life to the program, Duncan was disqualified due to a medical complication.
"Once I got disqualified, I was completely lost," Duncan said. "All I knew was the military, and I didn't want to disappoint my parents. I had given so much to the program, and quickly realized I had to find a new path."
Duncan's new path unfolded through a variety leadership positions at FSU.
She got involved with 2-1-1 Big Bend, a human service information and assistance helpline. As a psychology major, Duncan enjoyed providing her callers with emotional support, short-term crisis counseling and suicide prevention, along with information and referrals. She performed above and beyond expectations, reaching the required 200 hours within her first semester and becoming a shift supervisor soon after.
"I loved being there," said Duncan, who volunteered at 2-1-1 until her senior year. "To me, it was more than just a phone call. There's always a reason behind why a person is calling."
As a freshman, Duncan joined the Residential Conduct Board, which inspired her to apply for a Resident Assistant position.
"I passed on my gavel and moved from holding students accountable in housing to captivating students' interest at my Resident Assistant floor meetings," she said.
The new position as an RA boosted her confidence leading Duncan to apply to be a 2018 Orientation Leader, which she described as one of her most impactful experiences at FSU.
"I suddenly had 40 people rooting for me to strive to be a better person," Duncan said. "It was the first time that I had people to lean on."
Duncan recognized the extreme personal growth she underwent as an RA and an Orientation Leader.
"I met all of these new students who were looking up to me," she said. "It made me want to be the person they saw in me."
With this motivation, Duncan took on several leadership positions during her junior year. She became membership chair for the Black Student Union, a peer navigator with New Student & Family Programs, an experimenter in the Plant Lab of the FSU Psychology Department, a mentor with Sisters 2 Service, vice president of the W.E.B. DuBois Honor Society, a class assistant at Hartsfield Elementary and a 2019 CARE Ambassador.
Duncan particularly enjoyed her position with CARE (Center for Academic Retention & Enhancement), where she had the chance to encourage other first-generation students during their transition into college.
As a senior, Duncan has expanded her involvement on campus as a Freshman Interest Group Leader, secretary of Student Engagement for SGA, Vice President of Administrative Affairs for the Garnet & Gold Key Leadership Honoraryand President of the W.E.B. DuBois Honor Society.
Lauren Dimmer, Duncan's adviser, has watched Duncan's growth firsthand.
"The main thing that really makes Essence stand out is her commitment to mentorship, sharing her own expertise and helping the people around her," Dimmer said. "She may be a talented academic in her own right, but she is absolutely committed to making sure the entire campus community is going to succeed right along with her. Essence has always been a great leader and demonstrated maturity that's well beyond her years. Really, give her any opportunity or chance to mentor, lead or serve, and she isn't going to waste a single second of it."
Because of her roles at FSU, Duncan now knows she wants to pursue a law career and work with juveniles who go down a path of crime and delinquency.
"I got the chance to come to college and become a completely different person," she said. "Not everybody gets that. I owe FSU everything."
Immediately following graduation, Duncan plans to attend law school and earn her J.D. to work in juvenile justice defense and reform.