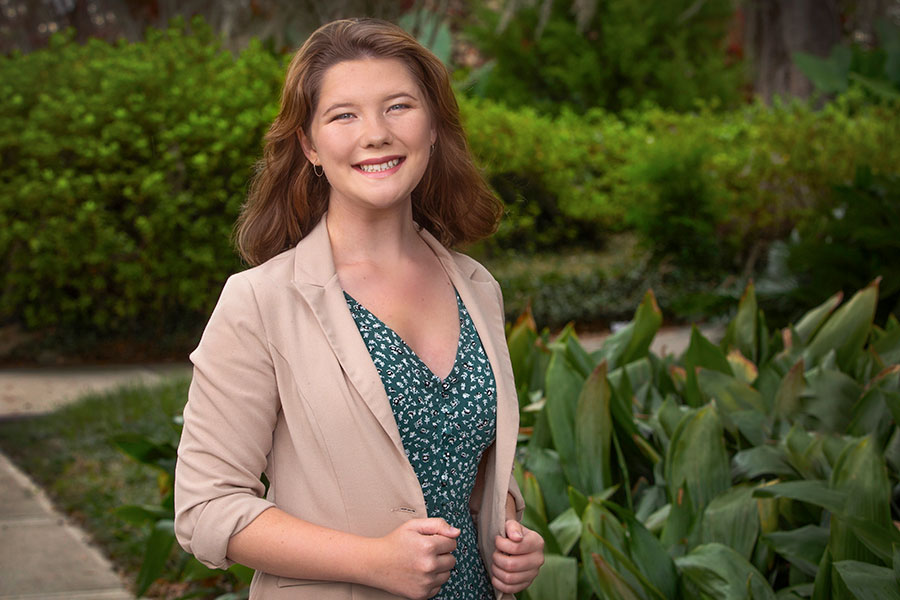 "I love being at this school because every day I feel like I am being challenged to be a better student, a better citizen and an awesome future nurse."
Nursing student Zoë White has made the most out of her undergraduate career at Florida State University through research, service and leadership opportunities.
White, a New Port Richie native, fell in love with the FSU campus and culture during a tour in her junior year of high school.
"I chose to become a part of the Florida State community because of how right it felt to be here," White said. "Since the moment I first toured FSU and walked across its campus, I knew I was meant to be a part of this amazing and supportive community of Noles."
As a freshman, White joined a psychology Freshman Interest Group where she learned about undergraduate research opportunities on campus. The next year, she tested the research waters through FSU's Undergraduate Research Opportunity Program (UROP). As an undergraduate researcher working with Jon Maner and Stacey Makhanova, she looked at the effects of negative social interactions and how they correlate with human biological processes related to stress and the immune system.
Now, White is a volunteer undergraduate research assistant on two different projects within the College of Nursing. She is assisting Assistant Professor Jessica Bahorski with examining factors that influence first-time mothers' decisions regarding infant feeding and how these plans may change for feeding postnatally. White tracks the height, weight and fat percentage in the first four months of life to examine how those factors may affect infant weight gain.
In addition, White is working with Associate Professor Eileen Cormier to conduct a literature review to identify age-appropriate assessment tools and psychiatric/medical comorbidities associated with ADHD diagnosis within the baby boomer population.
White also is an avid volunteer within the FSU and Tallahassee communities. She worked as a peer leader at Strozier Library between her freshman and junior years in the Student Outreach and Engagement Relations department. There, she assisted the library staff and fellow students by giving presentations and helping plan campus events that connected FSU students with Strozier Library resources and opportunities.
White also volunteered at Tallahassee Memorial Hospital in the Clinical Decision Unit, the Outpatient Surgical Unit and the Neuro Intermediate Care Unit. She has more than 200 hours volunteering in different hospitals in Tallahassee, Monticello and Jefferson County.
She currently volunteers at College of Nursing screening clinics, the Archbold Medical Clinic in Thomasville, Georgia, and at Second Harvest of the Big Bend helping to make healthcare, housing and food security more available to her neighbors.
Because of her dedication to the College of Nursing and her fellow students, White has acquired several leadership roles at FSU.
White is a current UROP Leader through the FSU Center for Undergraduate Research and Academic Engagement. She leads a one-credit hour colloquium made up of pre-nursing, neuroscience and pre-med students and teaches them the merits of research, its role in society and how to secure undergraduate research positions.
"I want to make research important to them because it's been so valuable to me," White said. "It's a really rewarding experience as an undergraduate. You can directly give back to the information that is going to get put into your textbooks one day."
White is also the president of the College of Nursing Student Leadership Council, a group of student ambassadors who provide a direct link between the student body and the Tallahassee community. Through that position, she works with the FSU College of Medicine's Chapman Community Health Program to coordinate and provide funding for events within the Maryland Oaks Community in Tallahassee.
In addition, White is a part of the FSU College of Nursing Mentorship Program and assists fellow students to navigate their way through admission into the program and provides them with emotional and academic support. She's also been involved in the Student Nurses Association, Sigma Theta Tau International Honor Society of Nursing and MEDLIFE Medical Missionary Organization.
White describes her proudest academic achievement as the day she was accepted into FSU's rigorous and highly selective nursing program.
"I spent the first two years of my college experience working hard in and out of the classroom so that I would be accepted into this program," White said. "It felt like all of my hard work had been leading up to that moment; and every day since I have been so grateful to be a part of such a welcoming, close-knit community of nursing students and faculty who have helped me to achieve my academic, research and service goals."
White believes that she made the right decision to attend FSU.
"FSU has become my home away from home, and the College of Nursing is like a second family to me," White said. "I love being at this school because every day I feel like I am being challenged to be a better student, a better citizen and an awesome future nurse."
Following graduation in May, White plans to work in a nurse residency position and focus on a career dedicated to women's health. Eventually, White plans to pursue a master's in nursing education followed by a doctorate of nursing practice within the women's health nurse practitioner specialty. She hopes to give back to the field of nursing through women's health research and by educating the next generation.