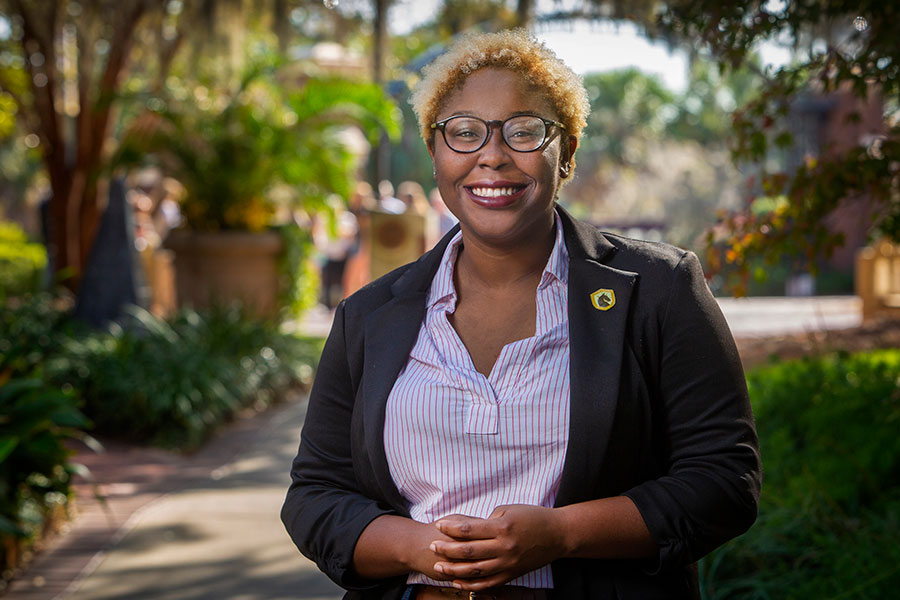 "I think that I am even more ready now and more secure in my identity. I know my strengths and weaknesses and the next steps I need to take to achieve my goals because of Florida State."
When searching for colleges, Aquesha Addison knew she wanted to attend a university that celebrated the diversity of its student body.
Since choosing to attend Florida State University in 2017, Addison has not only appreciated the university's commitment to diversity, she has actively taken part in ensuring all students pursue the opportunities FSU has to offer, regardless of gender or race.
A senior majoring in biological science, Addison was born in Germany and lived there for 10 years during her father's active military service. Growing up with a father who served 20 years with the United States Air Force gave Addison "a different perspective on different cultures and how people interact with one another," and she brought those views with her when she moved back to the United States.
Addison was accepted to FSU as part of the Honors Program and was awarded the University Freshman Scholarship. She arrived as an engineering major, but quickly realized during her first semester that it wasn't what she wanted long-term. She set up an appointment with her pre-engineering adviser, Willy Leparulo, and expressed that she was thinking of switching her major to biology.
"I just wasn't sure if I would be behind or consider transferring," Addison said. "Willy told me to talk to the biology advisers before I switched to learn more about how the program could align with my interests. For a week, he helped me transfer into the biology department and, to this day, he still checks up on me and my involvement even though he's no longer my adviser. To know that people even outside of my discipline still care about and support me as a person is what really made me love Florida State."
During May of her freshman year, she became a research assistant in the lab of Dr. Tim Megraw at the College of Medicine, where she worked on projects focusing on the mechanisms of infection of Flaviviruses in endothelial cells and the effects of Zika Virus on cell division and function.
This research experience led her to the Undergraduate Research Opportunity Program (UROP) as both a student and, later, as a UROP leader. Because of her personal experiences, Addison said she especially wants to help other minority students take advantage of all the research opportunities FSU has to offer.
As a freshman, she became involved with the FL-GA Louis Stokes Alliance for Minority Participation (FGLSAMP) and has served as both treasurer and current president of the organization. FGLSAMP is part of the Center for Undergraduate Research and Academic Engagement (CRE) and their mission is to help minority students on campus get involved in research and support them through the process.
"I really stuck with this group because I feel it is critical to have a group where people can see others that look like them conducting research and receiving funding in areas like computer science, engineering and biology and know that these programs are available to them as well," Addison said. "Both of my leadership experiences with FGLSAMP and UROP have allowed me to push the message that nothing is impossible, no matter your race, gender or age."
Addison has presented research at the Florida Undergraduate Research Conference (FURC), the Undergraduate Research Symposium, and most recently at the 2019 President's Showcase for Undergraduate Research Excellence for research she conducted through an IDEA Grant.
Her coursework, research, and understanding of people's diverse needs came together in her FSUshadow experience. Addison shadowed Dr. Ayesha Mirza, who specializes in pediatric infectious diseases at UF Health Jacksonville, for eight days in December 2018 over winter break.
"She was very open about everything her job entailed, and I was able to see a number of patients with different conditions," Addison said. "What really stuck out to me was the way she interacted with her patients in a way that was inclusive and how she eased any of the child's and their parents' worries."
Last year, she served as a community ambassador for The Center for Leadership and Social Change helping a local nonprofit, Kids Incorporated of the Big Bend, where she helped plan events and aided in data entry.
"I had always been involved in service projects, but I had never done something for that long in that kind of role," Addison said of her year-long involvement with the nonprofit.
At the same time, she also served on the executive board for The Power of WE, an organization on campus that encourages the community to engage in meaningful conversations on relevant societal issues with events like the Longest Table.
"It's really about understanding each other as people and remembering that we're all still people who are only being divided by our opinions," Addison said.
Addison has more than 400 service hours and is on track to graduate as a member of the Garnet and Gold Scholar Society. She's also been involved with the Honors Student Association as fundraising chair and vice president, The Big Event Tallahassee as the outreach committee chair and is currently a peer mentor for the Pre-Med American Medical Student Association. All of her experiences at FSU have allowed her to succeed both inside and outside the classroom.
As for the next step after graduation in Spring 2020, Addison intends to pursue a Master's in Biomedical Sciences or Neuroscience and prepare for medical school.
"I think that I am even more ready now and more secure in my identity. I know my strengths and weaknesses and the next steps I need to take to achieve my goals because of Florida State," she said.
Addison, who hopes to work in pediatrics, has a long-term goal to help bridge the gap between medical research and patient care in the hospital setting to provide a more holistic approach to patient care.