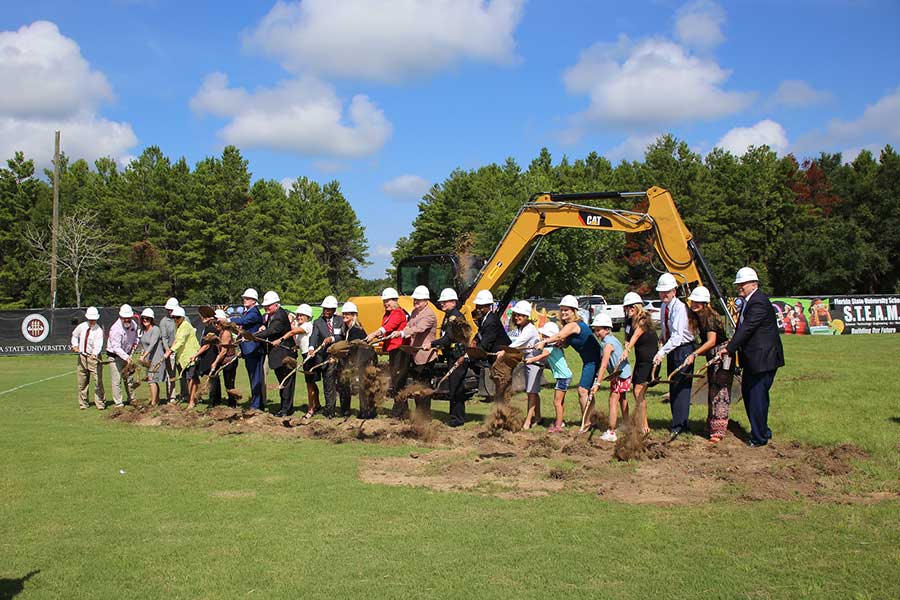 Florida State University Schools broke ground for a new building aimed to educate, engage and inspire their students in the areas of STEAM — science, technology, engineering, arts and math, Thursday, Aug. 15.
The event welcomed dozens of FSUS students, teachers, administrators, parents and other supporters.
"We're beyond excited to be here today to celebrate the beginning of more innovative and educational space," said Stacy Chambers, executive director of Florida State University Schools. "Every day we work with our FSUS students to foster resilience, knowledge and human skills to bring good to the world after they leave us."
It was a festive affair as guests enjoyed the sounds of the FSUS orchestra ensemble, Seminole Singers, Marching Braves and chorus. Placards of the building's design were also on hand to view.
The STEAM building will be located on the FSUS campus and provide a central gathering place for FSUS students, university researchers and the surrounding community.
Florida State University President John Thrasher offered remarks, reminding guests about the importance of STEAM.
"It's not a surprise that this school is on the forefront of the national trend to incorporate the arts into STEM fields," Thrasher said. "FSU and FSUS are committed to this kind of interdisciplinary approach as we invest in more opportunities for collaboration among these disciplines. This is how students learn to engage in critical thinking, embrace collaboration and work through the creative process."
FSUS is the FSU College of Education's developmental research school. The 1,700-student K-12 school is operated under a charter agreement by FSU and provides a venue for educational research, curriculum innovation, educator development and statewide reform efforts.
College of Education Dean Damon Andrew talked about the history of the FSUS and the importance of the bond they share with the university.
"We need teachers who can ignite the imaginations of students through learning, and we are fortunate to have some of the finest teachers around right here at FSUS," Andrew said. "With this new STEAM building, our teachers will have new resources in a fantastic setting that will spawn generations of lifelong learners."
FSUS received $7.5 million from the Florida Legislature to create the new facility. The project was sponsored by state Rep. Loranne Ausley and state Sen. Bill Montford, who both expressed joy in seeing their work come to fruition.
"This new effort will pay dividends not just here in Tallahassee, but throughout the state," Montford said.
Ausley focused her remarks on the other work taking place on the school's campus — the refurbishing of the gym and cafeteria, which also serves as a special-needs shelter. The improved space will accommodate twice as many clients during major storm events.
"That is an incredible resource to our community and our state, just like this STEAM building is going to be," Ausley said.
The STEAM facility, totaling about $15 million, will be equipped with flexible learning spaces, fully integrated technology, small group learning rooms, mobile walls and storage as well as a 750-seat auditorium.
The auditorium will be the school's new home for student performances, celebrations, award ceremonies, community meetings and innovative professional development and conferences.
Other speakers included Cheval Breggins, the chair of the FSUS Board of Directors, FSUS alumna Nicole Lewis; and Megan Crombie, the FSUS Teacher of the Year. Crombie, a long-time educator, also was one of five finalists for Florida Teacher of the Year.
"It only takes one look at the plans for this building to clearly understand that this will be a place where students do more than just learn facts," Crombie said. "They will have the opportunity to be inventors, composers, architects, coders, scientists and most importantly…dreamers and thinkers.
"Now, more than ever, we need our students inspired and empowered to dream because the problems they're going to have to solve don't even exist yet. So, the future belongs to them."