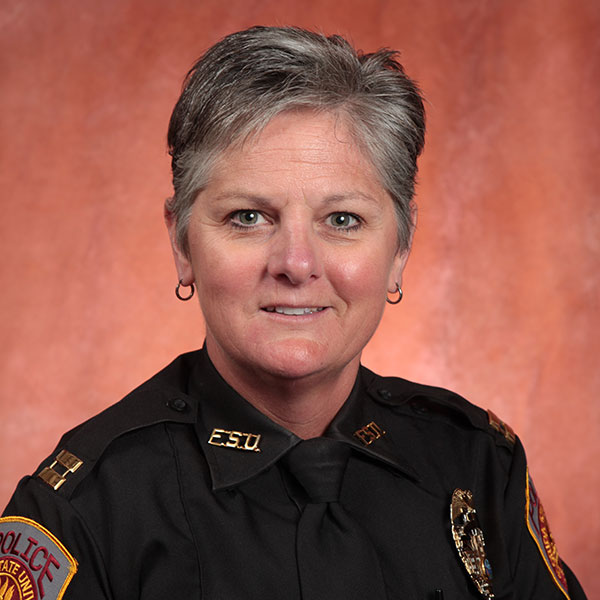 Assistant Vice President for Public Safety and Chief of Police David Perry accepts position at UNC
Florida State University Vice President for Finance and Administration Kyle Clark has appointed Terri Brown to serve as Chief of Police, effective August 31. Brown will become the first woman to serve as chief of police at Florida State.
Brown will succeed Assistant Vice President for Public Safety and Chief of Police David L. Perry, who has resigned to accept a post at the University of North Carolina Chapel Hill. Perry has served as FSU chief of police since 2006, and he was given the additional title of Assistant Vice President in 2014. Perry's final day at FSU will be August 30.
"I want to thank Chief Perry for his outstanding service to Florida State University," said President John Thrasher. "We've been fortunate to have his valuable leadership over the past 13 years. He has given much to this institution."
Brown is a 28-year veteran of the FSU Police Department and has served as Deputy Chief of Police since 2018. She is a 2014 graduate of the FBI National Academy, an intensive, 10-week school focusing on command-level development, senior leadership, cutting-edge law enforcement techniques and the latest response to national criminal trends.
"I look forward to working closely with Chief Brown in the days to come and ensuring a smooth transition," Clark said. "Her almost three decades worth of experience and institutional knowledge, along with her robust training, make her the ideal choice. I know the campus community will enjoy working and collaborating with her."
Brown was honored with the Florida Police Chiefs Association's President's Award earlier this year and was the association's first Outstanding Command Officer of the Year in 2016. She has twice been named FSUPD Officer of the Year.
"FSUPD will continue to provide Florida State University with a safe environment conducive to the goals of education and research," Brown said. "As chief of police, I will make sure we have a seamless transition as FSUPD continues to support the mission of the Florida State University by promoting a safe and secure higher education environment while providing proactive police and customer-related services aimed at reducing crime. I'm very proud to be a part of this incredible institution."
"We are appreciative of Chief Brown's service to Florida State University," Thrasher said. "She is a highly trained and well-respected veteran officer and will continue to build upon the many initiatives currently underway."
Perry will begin his duties at UNC Chapel Hill next month.
"Chief Perry has been a important part of our Florida State family and a tremendous leader nationally and on campus, not only for the men and women of the FSU Police Department but also for the students, faculty, staff, visitors and fans of our great university," Clark said. "I want to thank Chief Perry for the countless hours that he has devoted to Florida State and for all his heroic efforts over the past 13 years. We will miss David but wish him all the best in North Carolina."
The FSU Police Department is a fully accredited law enforcement agency employing approximately 80 sworn officers and is responsible for law enforcement, campus access and security services, and emergency management on campus properties.
"I am extremely proud of all the things we've been able to accomplish at Florida State as a team and how we have persevered through several significant events," Perry said. "I will always consider FSU a home."
For more information about the Florida State University Police Department, visit http://police.fsu.edu.