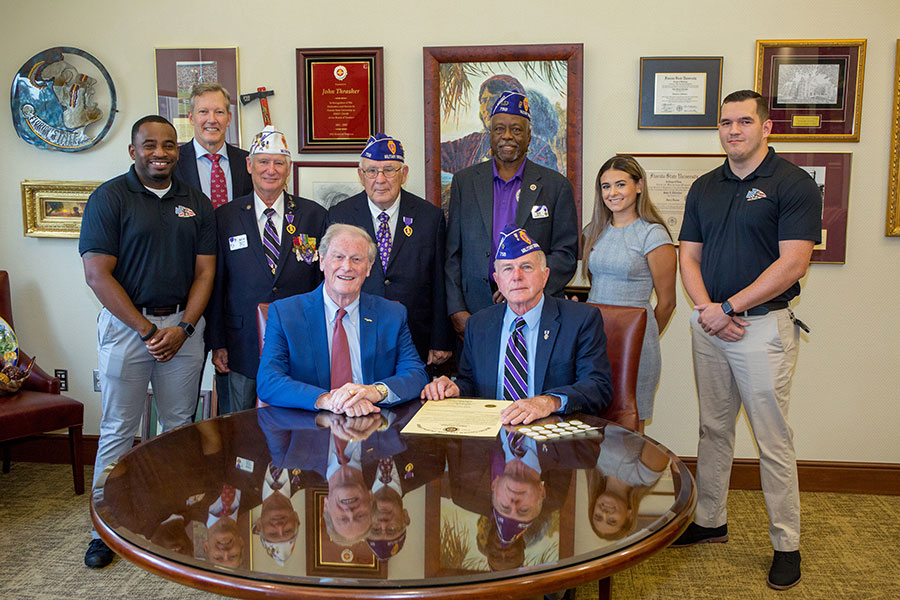 President John Thrasher signed and accepted a proclamation Aug. 15 that designates Florida State University as a Purple Heart University.
The proclamation from the Military Order of the Purple Heart was presented to Thrasher by the commander of its Tallahassee chapter Rick Stanford.
"Florida State's goal is to empower veterans and become a national beacon of veteran support and success, and we are deeply honored to be recognized for our efforts," Thrasher said. "As a veteran myself, I appreciate all that the Purple Heart represents."
The Military Order of the Purple Heart is a national nonprofit organization whose membership consists of veterans awarded the Purple Heart medal for wounds received in combat.
"Florida State appreciates the sacrifices our Purple Heart recipients made in defending our freedoms, and we're privileged to be granted this designation," said Billy Francis, director of the Student Veterans Center.
The proclamation will be framed and displayed at the Student Veterans Center, which is located on the fourth floor of University Center A.
The proclamation states that, as a Purple Heart University, Florida State will "encourage all citizens to show their appreciation for the sacrifices of Purple Hear recipients and all veterans have made in defending our freedoms, to acknowledge their courage and to show them the honor and support they have earned."