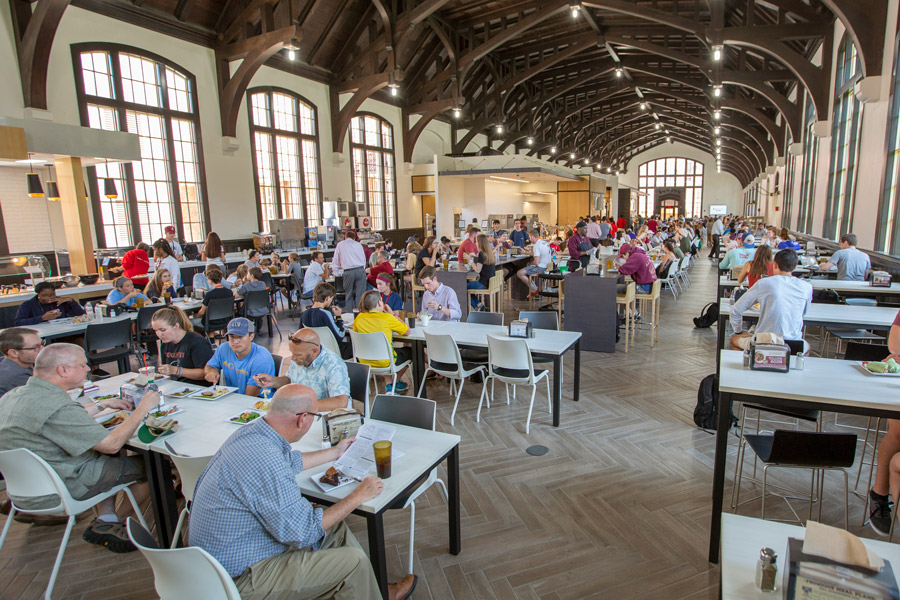 Florida State University's historic and beloved dining hall, Suwannee Room, has reopened with a bright new interior look, expanded menu and open-kitchen atmosphere that together elevate the quality of meals and create a fresh dining experience for the campus community.
"The Suwannee Room is a wonderful gathering place for students, faculty and staff right in the heart of campus — a place where they can enjoy a great meal in a historic setting," said FSU President John Thrasher. "I love the new look and the food!"
The century-old Suwannee Room, located on the east side of the William Johnston Building, has undergone a dramatic renovation over the past six months. The atmosphere pays homage to the old look and feel of the dining hall as architects and designers worked to preserve its essential character.
"Even with all of the changes, we want to make sure our customers have a sense of comfort that reminds them of the old Suwannee Room," said Thomas Gilbert, Seminole Dining's residential executive chef. "Students can still find some of their favorite dishes and enjoy new recipes with a twist."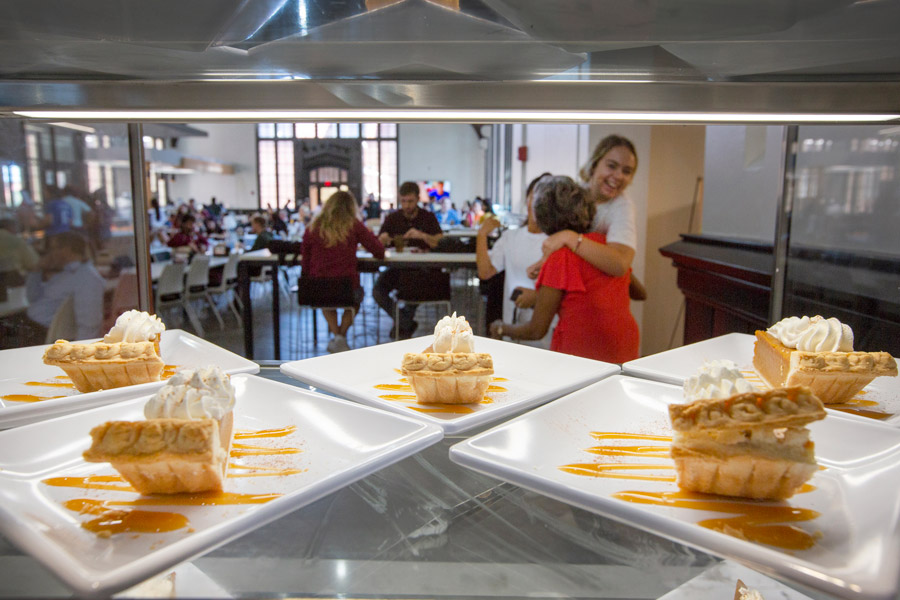 The construction team preserved historical features, such as the vaulted ceilings and intricately carved Gothic arches, and modernized virtually everything else inside. They removed food stations in the center of the room and added state-of-the-art equipment at eight new stations that emphasize nutritious locally grown foods.
"One of our main goals is to utilize as much local produce and products as possible," Gilbert said. "Students get fresh dishes with local ingredients, and they have 'FSUnique' options not available anywhere else."
The renovation of Suwannee is part of FSU's goal to make Seminole Dining, with help from its food-service partner Sodexo, one of the top dining programs in the nation.
"The new Suwannee Room demonstrates our commitment to enhancing overall student success and our drive for the Top 25 by providing students with a quality dining experience that is among the very best in the nation," said Kyle Clark, vice president for Finance and Administration. "We are excited to bring new variety, Fresh from Florida produce, a full-service bakery and other exciting interactive culinary stations."
The renovated dining hall seats about 425 people, and it is designed to offer a comfortable, engaging environment where students can enjoy food and friendships.
"We're excited to see the project elevate the Suwannee Room and make it a world-class facility featuring an exceptional dining experience," said Jim Jenkins, CEO of Sodexo's Universities North America East. "The expanded, healthier menu options, as well as expert advice from our campus dietitian, will benefit students and help FSU continue its steady climb upward in national rankings."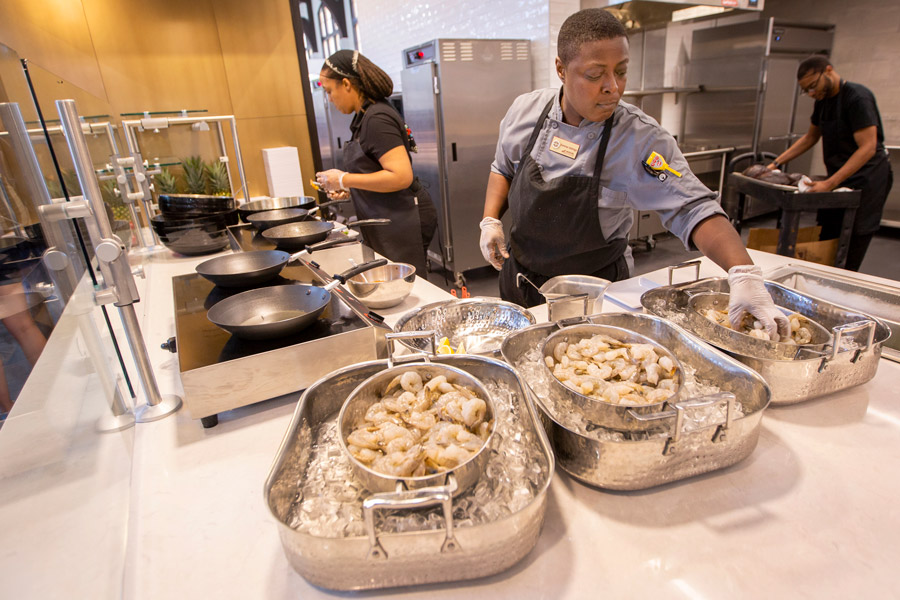 Chefs cook in an open-kitchen layout in the Suwannee Room, which means the sights, sounds and smells of food preparation create an aromatic feast for the senses.
"Students smell the food right away, and that's what we want," said Travis Johnson, Seminole Dining's executive chef. "We built the food stations to engage people's senses. We want a dining experience that takes customers on a food journey, where they can enjoy meals in a great environment. Guests remember experiences, and that's what we want to create here."
Here's a quick tour of the new Suwannee Room, illustrating why it's a smorgasbord for the senses.
Bakery
A new bakery with glass walls greets guests at the entrance. Customers can watch bakers as they prepare cookies, cakes, cobblers, pies and fresh-baked bread. The Suwannee Room has upped its dessert game with mousses, muffins and puddings. Don't forget the ice cream station.
Soup and Salad Bar
The salad bar features four types of greens grown at local farms and includes fresh veggies and fruits, yogurts, granolas, cheeses and proteins.
Diners choose from 10 types of dressings, including a signature flavor created by Seminole Dining chefs as part of the FSUnique program. The new vinaigrette is available only at the Suwannee Room. Chefs also serve homemade soups.
Homestyle
Think comfort food here. Johnson calls it the "hot line," featuring carved items: whole hens, pork loins or sides of fish such as grouper caught in the Gulf of Mexico. The selection includes mashed and sweet potatoes, roasted rice and local vegetables.
Chef's Table
The Chef's Table offers high-quality restaurant samples, such as shrimp creole served on small tasting plates.
"You'll grab a plate with rice, tomato gravy, a beautiful shrimp on top, and it'll be garnished just as you'd see in a fine-dining restaurant," Johnson said. "You can also look for barbecue shrimp and grits or grilled pork belly served over mango slaw. It will definitely be a fun area where chefs explore different recipes."
Pizza and Pasta
The Italian fare at this station goes well beyond pizza and pasta with a variety of flatbreads, calzones and strombolis. All of the items use homemade dough and an FSUnique signature sauce developed by Seminole Dining.
This station features rotating menus. Diners might find omelets here in the morning or sweet desserts like bananas Foster in the afternoon.
Grill
Hungry for a burger? This is the spot to watch a chef take a ball of ground beef and smash it on the cutting board to shape it into a burger. The fresh burger blend is the product of brainstorming among Seminole Dining chefs, and it's different than burgers at all other campus dining facilities. A vegetarian burger is also served here.
Deli
This station serves homemade breads, ready-made salads, coleslaw and sandwiches, including the Veggie Monster. Diners can make their own sandwiches or have a chef prepare it.
My Zone
This is an enclosed pantry catering to students with dietary restrictions, food preferences or allergen restrictions. It is free of gluten, peanut and tree nut allergens, so students have peace of mind they are getting a good, safe and nutritious meal.
Seminole Dining dietitian Jessica Brooks meets with individual students to help them plan healthy meals, whether they have food allergies or not.
"If students have particular allergies, they can set up a meeting with me, and we can come up with a meal plan for them that gives them access to foods they can safely eat," Brooks said. "Sometimes I work with students when they need a religious accommodation, or if they just want ideas on how to eat healthier."
Seminole Dining and Sodexo have created a healthy dining program called "Mindful." It points out lower-calorie food options with an apple icon on menus.
"It's about creating an atmosphere where our students can feel safe when they eat," Johnson said. "We spend a lot of time with students, helping them sort through food options so they get the best, healthiest experience."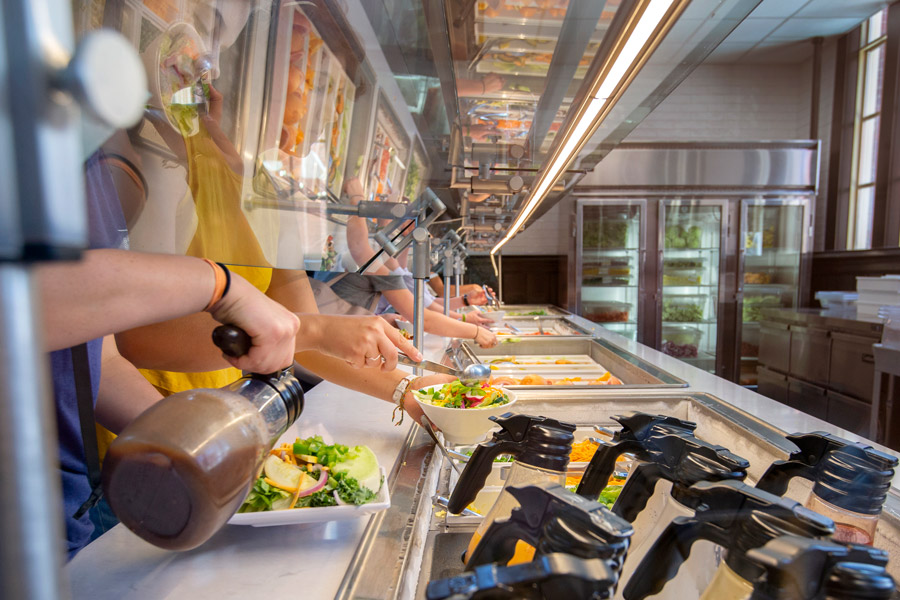 FSU offers meal plans that provide increased value, variety and flexibility. Diners are able to pay with meal swipes, Garnet Bucks, FlexBucks, cash or debit/credit cards.
For more information about meals plans, visit seminoledining.com.
The Suwannee Room, which will employ between 120 and 140 people by fall and expand its hours, welcomes students, faculty, staff and visitors. Summer hours are 7:30 a.m. to 8 p.m. Monday-Thursday, 7:30 a.m. to 7:30 p.m. Friday, and 10:30 a.m. to 7:30 p.m. on weekends.
The Suwannee Room dates back to 1913, when the school existed as Florida State College for Women, and the entire Johnston Building served as a dining hall. The building contained a bakery, creamery, cannery and several dining areas for students and faculty. Suwannee Dining Hall closed in the late 1960s and served as administrative offices until 2006 when it reopened as a dining facility.