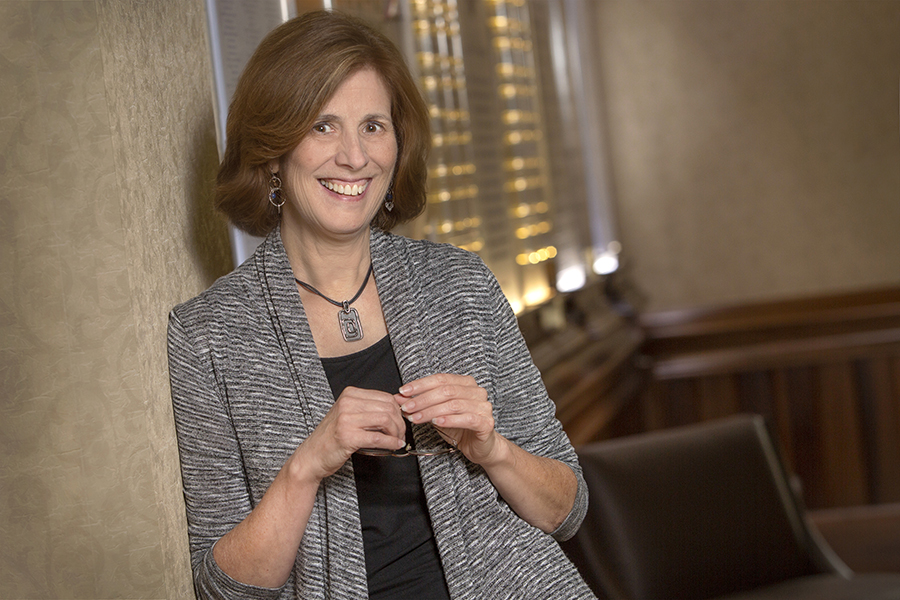 Denise Mercier is an expert problem solver and communicator best known for her compassion, empathy and unparalleled customer service.
Her customer and student focus, passion and commitment to excellence are why Mercier, the coordinator for Living-Learning Communities (LLCs) for University Housing, has been selected to receive Florida State University's 2018 Max Carraway Employee of the Year Award.
"Your colleagues described you as an outstanding ambassador, a vital resource and behind-the-scenes hero — a spectacular firefighter and a tireless advocate for the students you serve," President John Thrasher wrote in a letter congratulating Mercier on the honor.
As the Carraway award recipient, Mercier will receive a $1,000 stipend, a reserved parking space for one year and two tickets to sit in the President's Box during a football game this fall.
The annual award recognizes an employee who exemplifies a caring and sharing attitude and provides consistent service excellence to FSU customers.
"I'm lucky to work with wonderful faculty directors," Mercier said. "The folks who designed our first LLCs created a different collaborative model from what you'll find at most institutions, and it makes my job a joy. It's flexible and it draws from the best of each partner's specialty. We can team up or get out of each other's way, depending on whose expertise is needed in a particular situation. I've worked with some of the same colleagues year after year, and I love knowing they trust me to have their back and knowing they have mine."
Mercier will celebrate 25 years with FSU this fall. She began her FSU career as a production assistant for WFSU-TV, spent 10 years as director of Visitor Services and moved to her current role as LLC coordinator in 2007.
Eight colleagues wrote heartfelt letters nominating Mercier for the Carraway Award.
More than one nominator indicated that Mercier's valuable contributions have led to the success of the Living-Learning Communities at FSU.
"She is always a joy to work with and she might well be responsible for recruiting more students to FSU than any other person on campus," wrote Michael Buchler, faculty director of the Music LLC.
Holly Hunt, associate director of Bryan Hall's LLC, described her as the perfect "middlewoman" and believes that without Mercier, "the enrollment of students in these high-impact retention programs would not be as high."
"Denise embodies the spirit of this award in every way," wrote Michele Garber, associate director of the Health Professions LLC.  "Her caring and sharing attitude is the reason so many future Seminoles apply to Living-Learning Communities, and her approach to working with faculty directors of these communities plays a huge part in the success of the programs."
Mercier has taught customer service courses for FSU's Office of Training and Organizational Development for the past two decades and enjoys meeting other staff members who are as committed to customer service excellence as she is.
"Parents often tell us everyone they've dealt with at FSU has been incredibly helpful and caring. I love hearing that," Mercier said.  "I know it's true because I see it all the time. I love having the chance every day to be part of that."