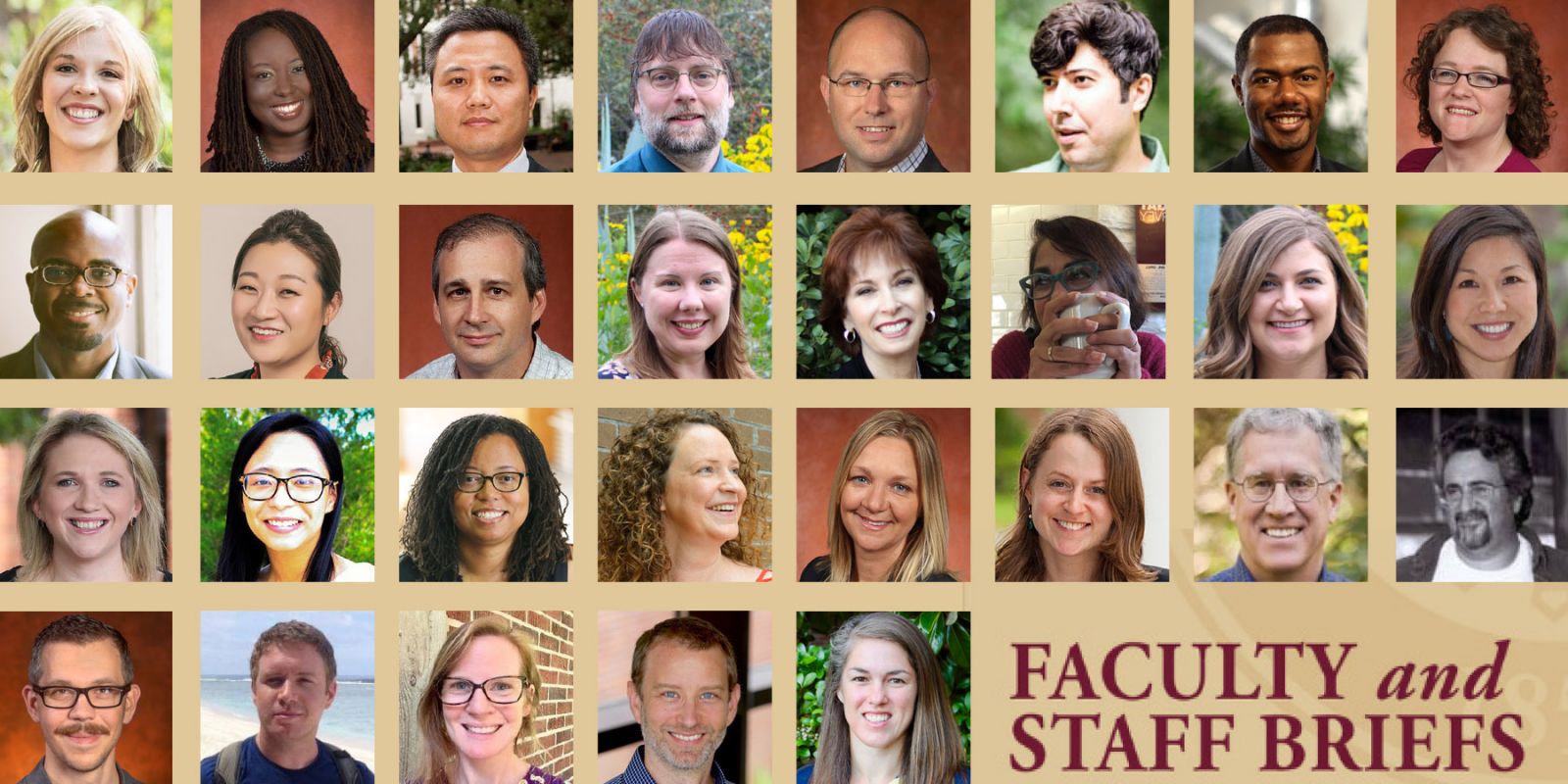 HONORS AND AWARDS
University Communications were recognized with a National CASE award and received Bronze in the category of Advocacy/Issue Campaigns. "FSU Soars to 18th Ranking" was an effort to elevate the academic preeminence of the university, perhaps known more widely for its athletics prowess. The FSU Foundation won a Silver medal in the category of Individual Fundraising Publications for its Fall Direct Mail Appeal, which encouraged donors to support students who spend their summers on various experiential learning initiatives.
Fang Peng, Ph.D. (FAMU-FSU College of Engineering) was selected to receive the 202 Industry Applications Society Outstanding Achievement Award from the Institute of Electrical and Electronics Engineers.
Bayard Stern, (University Communications) and the social media team were recognized with a National CASE Award, bronze, in the category Digital Communications, Social Media — Student Life, for "Nole Talk News," A News Series Powered by Students.
Lisa Spainhour, Ph.D. (FAMU-FSU College of Engineering) was recently named a Fellow of the Executive Leadership in Academic Technology, Engineering, and Science (ELATES) program at Drexel University. Spainhour is one of 30 women faculty from 22 different institutions from the United States and Canada to be chosen in 2020.
Nicole Patton Terry, Ph.D. (College of Education) was elected a Fellow of the American Speech-Language-Hearing Association. Fellowship is one of the highest forms of recognition the association bestows and is a public declaration of outstanding professional achievement.
Ned Stuckey-French, Ph.D. (Department of English), posthumously received the 2020 inaugural AU Presses Stand UP Award from the Association of University Presses. The Stand UP Award was established to honor people who, through their words and actions, have done extraordinary work to support, defend and celebrate the university press community.
Thomas Leppard, Ph.D. (Department of Anthropology) was awarded a research fellowship at the Aarhus Institute of Advanced Studies at Aarhus University in Denmark for 2020-2021. He will conduct research to address the relationship between the transition to complex social organization and decreasing levels of intra-group violence.
---
GRANTS
Zhe He, Ph.D. (College of Communication & Information) is part of a team to receive a $370,841 grant from the National Institutes of Health to develop novel methods to optimize Alzheimer's disease clinical trial generalizability.
Kaitlin Lansford, Ph.D. (School of Communication Science and Disorders) is a principal investigator on a team that received a $233,828 grant from the National Institutes of Health for the project, "Perceptual training for improved intelligibility of dysarthric speech."
Meredith McQuerry, Ph.D. (Jim Moran College of Entrepreneurship) was recently awarded a $21,945 grant from Ascend Performance Materials for the project "Wear Assessment of Novel Mask for COVID-19 and other Illness Prevention."
Pam MacDill, LCSW, DCSW (College of Social Work) received continued funding for the Child Welfare Re-Professionalization Project for the NE Region of Tallahassee. This collaboration between Department of Children and Family's NE Region and the FSU College of Social Work has the primary purpose of strengthening the knowledge and improving the casework skills of staff.
Stephanie Pau, Ph.D. (Department of Geography) has been awarded a National Science Foundation research grant for a project investigating the relationship between leaf phenology – the timing and amount of leaf production – and primary productivity in contrasting wet and dry tropical forest habitats, using geospatial data.
Shamra Boel-Studt, Ph.D., Mike Killian, Ph.D. and Taylor Dowdy-Hazlett, MSW (College of Social Work) are part of a team that received a grant from the Florida Department of Children and Families and the Florida Institute for Child Welfare to conduct a randomized pilot study of outcomes measures for residential group care. The study is part of a larger project aimed at developing a statewide accountability system for children's residential group homes.
Miray Tekkumru-Kisa, Ph.D. (College of Education) is the primary investigator on a National Science Foundation-funded project, "Facilitating Teacher Learning with Video Clips of Instruction in Science." The project aims to build foundational knowledge about teacher learning with and from video clips of science instruction within professional development.
---
BYLINES
Kellen Hoxworth, Ph.D. (School of Theatre) authored the article "Football Fantasies: Neoliberal Habitus, Racial Governmentality, and National Spectacle," published in the journal American Quarterly.
Kris Salata, Ph.D. (School of Theatre) authored the book "Acting after Grotowski: Theatre's Carnal Prayer," published by Routledge, which explores acting as a self-revelatory action, introduces Grotowski's concept of "carnal prayer" and develops an interdisciplinary theory of acting and spectating.
Amy L. Ai, Ph.D. (College of Social Work) co-authored "Depression in Patients with Heart Diseases: Gender Differences and Association of Comorbidities, Optimism, and Spiritual Struggle," recently published online in the International Journal of Behavioral Medicine.
Gregory J. Harris, Ph.D. (College of Human Sciences) wrote a blog post for Kendall Hunt Publishing Company titled "Challenging Ourselves in Challenging Times: Stress, Coping, and Resilience in an Era of Crisis." The article offers advice for staying resilient, handling stress and remaining healthy, physically and mentally, during demanding times brought on by the ongoing COVID-19 pandemic and unrest due to racial and social tensions.
David A. King, Ph.D. (College of Business) co-authored "Communicating Change Following an Acquisition," accepted for publication in the International Journal of Human Resource Management.
Gerald Ferris, Ph.D. (College of Business) and colleagues published "Workplace Accountabilities: Worthy Challenge or Potential Threat?" in the journal Career Development International.
Gang Wang, Ph.D. (College of Business) co-authored and published "How Do Firms Achieve Successful Technology Commercialization? Evidence from Chinese Manufacturing Firms" in IEEE Transactions on Engineering Management.
Cameron Beatty, Ph.D. (College of Education) wrote a Letter from the Editor piece in a special issue of The Journal Committed to Social Change on Race and Ethnicity (JCSCORE) titled "Addressing Anti-Black Racism in Higher Education: Love Letters to Blackness and Recommendations to Those Who Say They Love Us." Beatty also was cited in an article by Good Morning America titled "'Pledge Against Racism': Black Students Talk About Experiencing Racism in College Greek Life," and from a monograph he co-wrote titled, "Critical Considerations for Race, Ethnicity, and Culture in Fraternity and Sorority Life."
Eunhui Yoon, Ph.D. (College of Education) co-contributed to a report on conversion therapy for the Office of the United Nations High Commissioner for Human Rights website. The report examines the umbrella term of conversion therapy and the damaging effects physically, emotionally and mentally. She also published a co-written article "Challenges and Supportive Factors in Counseling for Sexual and Gender Minority/Expansive Clients: Perspectives of Counselors" in the Asian Journal of Education.
Jenny Root, Ph.D. (College of Education) published a chapter titled "Academic Skill Instruction in Adolescent Transition Education" in the Handbook of Adolescent Transition Education for Youth with Disabilities (2nd edition). The handbook serves as a resource to all individuals who assist in helping adolescents with disabilities transition into adulthood.
Timothy Baghurst, Ph.D. (College of Education) published an article in Frontiers in Psychology titled "The Susceptibles, Chancers, Pragmatists, and Fair Players: An Examination of the Sport Drug Control Model for Adolescent Athletes, Cluster Effects, and Norm Values Among Adolescent Athletes." The study explores the relatively unexamined situation of adolescent performance doping in sports and the efficacy of the Sport Drug Control Model for Adolescent Athletes, as well as develop a possible profile of athletes that may be at risk of doping.
John Myers, Ph.D. (College of Education) published an edited book titled "Research on Teaching Global Issues: Pedagogy for Global Citizenship Education." The book features new research on the modern-day problems related to the teaching of global issues, including how to foster interest in students, particularly on the topic of global activism.
Christine Andrews-Larson, Ph.D. (College of Education) authored a paper published in the Journal for Research in Mathematics Education titled "Inquiry and Gender Inequity in the Undergraduate Mathematics Classroom."
Miray Tekkumru-Kisa, Ph.D. (College of Education) published an article titled "Theory and Research on Tasks Revisited: Task as a Context for Students' Thinking in the Era of Ambitious Reforms in Mathematics and Science" in Educational Researcher. The article addresses the growing need for high-quality teaching and learning in mathematics and science classrooms and the close connection to student learning and the tasks assigned to them.
Christianne Beekman, Ph.D. (Department of Physics) was invited by Science magazine to write a perspective on recent publications by others in the field. Her perspective, "Straining Quantum Materials Even Further," was published in April 2020.
Edmund Myers, Ph.D. (Department of Physics) and graduate student David Fink published a paper in Physical Review Letters, "Deuteron-to-Proton Mass Ratio from the Cyclotron Frequency Ratio of H2+ to D+ with H2+ in a Resolved Vibrational State," which was selected as an Editor's Suggestion.
Ravi Howard, MFA (Department of English) authored "The Media and the Message," published by The Article.
Carrie Pettus-Davis, Ph.D. Tanya Renn, Ph.D. and Stephanie Kennedy, Ph.D., (College of Social Work) released a new report, "Trauma and Loss During Reentry," which explores the extremely stressful life events that individuals experienced after releasing from incarceration and returning home. This is the seventh quarterly report from the multistate, multisite randomized controlled trial being conducted in more than 100 prisons and 21 urban and rural counties across the nation.
April Jackson, Ph.D. (College of Social Sciences and Public Policy) co-authored "Like a Fish Out of Water: Black and Latino Student Perspectives in Urban Planning Programs," published in the Journal of the American Planning Association. The article explores the climate for diversity in urban planning programs nationally among Black and Latino students in the U.S.
Mathew Hauer, Ph.D. (Sociology, Center for Demography and Population Health) co-authored the paper "Resilience for Whom? Demographic Change and the Redevelopment of the Built Environment in Puerto Rico," published in the journal Environmental Research Letters.
Delia Poey, Ph.D. and John Ribó, Ph.D. (Department of Modern Languages and Linguistics) co-edited a special issue on "New Approaches to Latinx and the Caribbean" for the June 2020 issue of Studies in American Culture. Virgil Suárez (Department of English) created the cover for the issue.
Shuyuan Mary Ho, Ph.D. (College of Communication & Information) published research about the polarization of political opinion in the media and presented it at iConference in Sweden.
Zhe He, Ph.D. (College of Communication & Information) has published an article titled "Clinical Trial Generalizability Assessment in the Big Data Era: A Review" in the journal, Clinical and Translational Science.
Kaitlin Lansford, Ph.D. (College of Communication & Information) published an article titled "When Additional Training Isn't Enough: Further Evidence That Unpredictable Speech Inhibits Adaptation" in the Journal of Speech, Language, and Hearing Research.
Mary Ziegler, J.D. (College of Law) was featured in a Q&A with The New Yorker, authored an op-ed for The New York Times, CNN and TIME Magazine, and appeared on NPR's "All Things Considered," CNN's "The Lead with Jake Tapper" and "PBS NewsHour." She also recently authored op-eds for The Atlantic and the New York Daily News.
---
PRESENTATIONS, CONFERENCES AND EXHIBITS
Mary Ziegler, J.D. (College of Law) participated in a Zoom panel "Reproductive Rights in 2020: June Medical Serv. v. Russo & COVID-19," hosted by the Petrie-Flom Center for Health Law Policy, Biotechnology, and Bioethics at Harvard Law School on July 16.
Rachel Duke, Rory Grennan and Krystal Thomas (University Libraries) presented a webinar titled "Instruction 180: Moving Special Collections Instruction Online in a Pandemic" for the Association of Southeastern Research Libraries (ASERL) in July.
Carrie Pettus-Davis, Ph.D. (College of Social Work) joined other criminal justice scholars, policymakers and experts for a Congressional Briefing on Social Work and the Future of Policing on June 30. She also delivered the keynote address at the Reconnect2Success Reentry Virtual Event titled, "Early Lessons Gained from a Seven-State Study on the Evidence-Driven 5-Key Model for Reentry."
Amberly Prykhodko, LCSW and Jessica Le, MSW (College of Social Work) presented the talk "Examining and Reforming the Treatment of Criminal Justice-Involved Men who Have Experienced Sexual Violence" at the Texas Association Against Sexual Assault.
---
SERVICE
Christianne Beekman, Ph.D. (Department of Physics) was elected as Member at Large for the American Physical Society's Topical Group on Magnetism and its Applications, or GMAG, and will serve for 3 years. Beekman also will serve as the principal editor of MRS (Materials Research Society) Advances — for manuscript submissions related to Symposium NM07: Two-Dimensional Quantum Materials Out of Equilibrium, which is scheduled this for fall.
Mike Killian, Ph.D. (College of Social Work) was named to serve on the Advisory Committee on Organ Transplantation (ACOT) with the Health Resources and Services Administration, under the U.S. Department of Health and Human Services.
Eliza Ladd Schwarz, MFA (School of Theatre) served on two panels at the 2020 Association for Theatre in Higher Education (ATHE) Conference – "Tools for Creating Site-Specific Theatre: A Dialogue with Space and Substance" and "Human Beings in Motion – Presence, Connection, and Communion."
---
NOTABLE
Carrie Pettus-Davis, Ph.D. (College of Social Work) and the Institute for Justice Research and Development virtually convened the Prosecution Research Network on July 13-14. A co-authored initial draft for the 2020 Framework for Prosecution and Public Health was also developed during the summit.