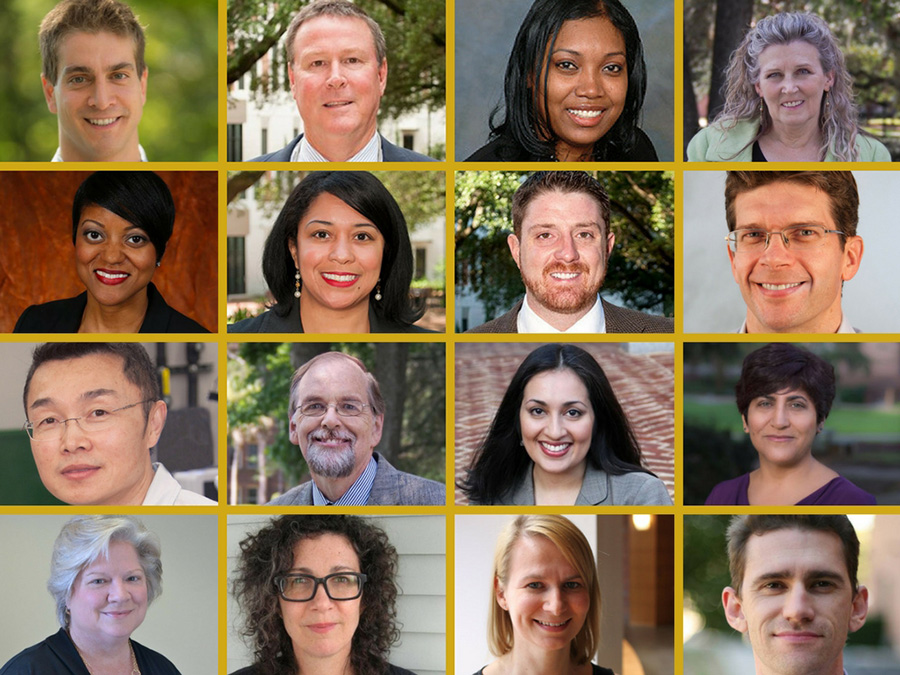 HONORS AND AWARDS
Matthew Goldmark, Ph.D. (Modern Languages and Linguistics) received the "Best Journal Article by a Junior Scholar" award from the Latin American Studies Association's (LASA) Colonial Section for his article "Reading Habits: Catalina de Erauso and the Subjects of Early Modern Spanish Gender and Sexuality," a study of the famed "Lieutenant Nun," Catalina de Erauso, who fled a Spanish convent to fight as a soldier in the 17th century. Goldmark will receive the award at the LASA 36th Annual International Conference in Barcelona, Spain, in May.
Bob Garner, Ph.D. (Entrepreneurship) received the award of "Outstanding Faculty Adviser" from the Society for Advancement of Management for his commitment and dedication as chapter adviser of the Florida State University student chapter. Garner led his chapter during their service in the Disaster Relief Field Day at FSU, is a strong mentor for his chapter and has been a role model for the personal and professional development of collegiate members within the society.
Eugenia Millender, Ph.D. (Nursing) has recently been nominated for a Distinguished Graduate Award at Florida Atlantic University. She also was selected to participate in the Indigenous HIV/AIDS Research Training program (IHART2) 2018 Cohort. The IHART2 fellowship offers up to $20,000 in pilot project development seed funding; funds to attend conferences, workshops and professional training opportunities; connections with mentors experienced in the field of HIV/AIDS research and cultural mentorship; access to editorial, statistical and behavioral science expertise and consultants at the University of Washington. Additionally, Millender has been selected to attend the National Institute of Nursing Research Summer Genetics Institute. It will be held at the National Institutes of Health campus in Bethesda, Maryland, from June 4-29.
Tamara Bertrand Jones, Ph.D. (Education) was recognized as an outstanding alumna and community leader at the Women for FSU Gift of Wisdom Award ceremony. Jones also was recently elected as acting chair for the program. The Women for FSU Gift of Wisdom Award recognizes exceptional women and their contributions to the university, past, present and future.
Laurie Grubbs, Ph.D. (Nursing) has been chosen to receive the Capital Regional Medical Center "Nurse of Excellence Award." She will be presented with the award at a dinner on May 7 at the Goodwood Museum.
Frank Fincham, Ph.D. (Family and Child Sciences) has been selected as the recipient of the 2018 International Association for Relationship Research Distinguished Career Award. The association chooses one person every two years, based on the important and lasting contributions they have made to the field of personal relationships over the course of their career.
SERVICE
Maura Scott, Ph.D. (Business) was recently appointed to the editorial review boards of Journal of Marketing and Journal of Marketing Research. She is on the editorial review boards of five of the six marketing journals on the Financial Times 50 list, including the Journal of the Academy of Marketing Science, where she serves as associate editor.
Nathaniel Line, Ph.D. (Hospitality) has joined the editorial review board of the Journal of Hospitality and Tourism Research, a top-tier journal in the hospitality and tourism field.
NOTABLE
William Oates, Ph.D. (Mechanical Engineering) was recently awarded The Cummins Inc. Professor in Engineering Endowment, appointed through the FAMU-FSU College of Engineering since 2016. The endowment is funded through engine manufacturer and energy powerhouse Cummins Inc., which operates in more than 190 countries worldwide. The endowment recognizes Oates' leadership, research accomplishments in the field of mechanical engineering and the aeropropulsion mechatronics and energy and contributions to engineering education and career development.
GRANTS
Gang Chen, Ph.D. (Engineering) and co-researcher Aavudai Anandhi Swamy, Ph.D. (FAMU) received a $1.18 million grant for a three-year vulnerability analysis. The study, "Land-Use Changes in Response to Climate Change: A Vulnerability Analysis" is funded by the USDA-National Institute of Food and Agriculture. The long-term goal of this project is to enhance the resilience of the food/fiber supply chain while minimizing the negative environmental, social and economic impacts.
Kathy Clark, Ph.D. (Education) received a research grant from the University of Siegen in Siegen, Germany. Clark received this grant through the Senate Commission for Research and Young Investigators. The "Return for Research" grant aims to bring former international guest researchers back to the University of Siegen. Clark will travel to Germany this May.
Sonia Cabell, Ph.D. (Education) received the First Year Assistant Professor award from the Council on Research & Creativity at FSU. The Council on Research & Creativity at FSU awarded Cabell a $20,000 grant, which begins May 2018. She will present her findings at the First Year Assistant Professor Workshop as part of the grant.
Gloria Salazar, Ph.D. (Nutrition, Food and Exercise Sciences) received a $500,000 grant from the National Institute of Food and Agriculture through the USDA to investigate the protective role of blackberries in reducing vascular aging and atherosclerosis.
BYLINES
Jane Boyd Ohlin, J.D. (Hospitality) recently co-authored "Hotel, Restaurant, and Travel Law: A Preventive Approach" (8th edition), a winner of the 2018 Textbook & Academic Authors Association's Textbook Excellence Award. The honor recognizes excellence in current textbooks and learning materials.
Judith Pascoe, Ph.D. (English) recently wrote the book "On the Bullet Train with Emily Brontë: Wuthering Heights in Japan," published by the University of Michigan in 2017. Pascoe's book analyzed the popularization and adaptation of Emily Brontë's novel "Wuthering Heights" in the Japanese culture.
Kathy Clark, Ph.D. (Education) recently worked on a book, "Mathematics, Education and History: Towards a Harmonious Partnership," published by Springer International Publishing. Clark served as one of the book's editors, as well as co-authored two chapters in the book. The book gathers 18 peer-reviewed papers that explore a number of integral research topics in mathematics education.
Vanessa Dennen, Ph.D. (Education) recently published an article in "TechTrends." The article, co-authored with doctoral student Jiyae Bong, explores the interaction between educators and instructional designers during an online development course about using social media in education. Because the course was open to individuals around the country, Dennen analyzed the instances where national and organizational cultural differences arose.
Michael Giardina, Ph.D. (Education) will release his new book, "Qualitative Inquiry in the Public Sphere," published by Routledge, in May. The book explores the relationship between research, scholarship and politics in higher education. In the book, contributors from the United States, Canada, Germany, the United Kingdom and Norway address growing problems in higher education and outline possible changes necessary to rebuke detrimental developments.
Tarez Samra Graban, Ph.D. (English) recently published "Decolonizing the Transnational Archive: Re/writing Rhetorical Histories of How African Women (Can) Govern" in the African Journal of Rhetoric and "Contending with 'Difference': Points of Leverage for Intellectual Administration of the Multilingual FYC Course," published by Utah State University Press. She also co-authored "New Rhetorics of Scholarship: Leveraging Betweenness and Circulation for Feminist Historical Work" with Patricia Sullivan of Purdue University, published by USU Press, and "Resisting the 'Singularly Tellable Space': Re-Seeing Networks in Rhetorical Studies" with John Jones of Ohio State University, Anna Cooke of Carnegie Mellon and Dawn Opel of Michigan State University, published by Parlor Press.
PRESENTATIONS
Tarez Samra Graban, Ph.D. (English) organized and presented a paper on a panel entitled "Laboring toward Global Rhetorical Practices in U.S.-Based Classrooms: Implications for Rhetoric and Composition" at the 69th annual Conference on College Composition and Communication on March 15.
Marilyn McGhee (Nursing) presented "Alumni Outreach 2.0 from a Systems View" at a 2018 Nursing Advancement Professionals Conference in March in Washington, D.C.
Marsha Rehm, Ph.D. (Family and Child Sciences) presented "What My Parents Expect: Why Graduate Students Pursue Postsecondary Education" at the Southeastern Council on Family Relations Conference, alongside doctoral student Ebony Iheanacho-Dike.