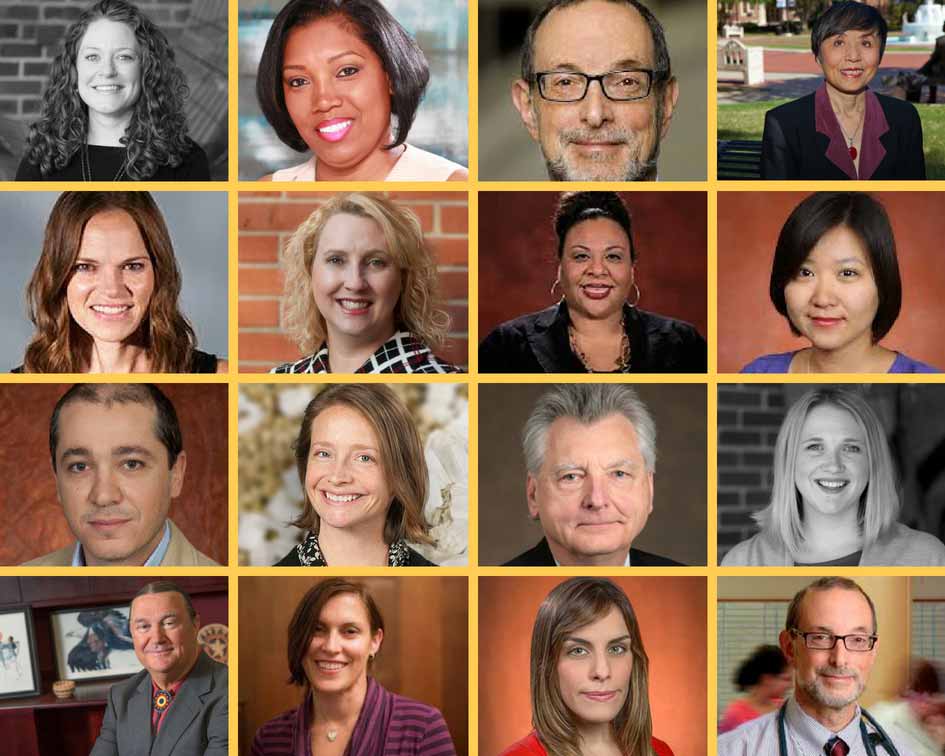 HONORS AND AWARDS
Leigh Edwards, Ph.D. (English) received a Foreword INDIES Book of the Year Award in the category of Performing Arts & Music for her book "Dolly Parton, Gender, and Country Music."
Eugenia Millender, Ph.D. (Nursing) was inducted into the Florida Atlantic University Hall of Fame, where she was recognized as a Distinguished Alumni of the Christine E. Lynn College of Nursing.
Paul Katz, M.D., (Geriatrics) received the William Dodd Founder's Award for Distinguished Service in honor of his contributions to the Society for Post-Acute and Long-Term Care Medicine.
Amy Ai, Ph.D. (Social Work) has been honored by the International Association of Applied Psychology (IAAP) for her long and distinguished history of scientific contributions to health psychology. The IAAP's Division 8: Health Psychology gave Ai its Distinguished Health Psychology Contribution Award for 2018.
Andrea Meltzer, Ph.D. and Jessica Ribeiro, Ph.D. (Psychology) were recognized as Rising Stars by the Association for Psychological Science, a designation presented to outstanding psychological scientists in the earliest stages of their postdoctoral research careers.
Marcy Driscoll, PhD. (Education) was named the 2018 recipient of the Russell P. Kropp Award by the Florida Educational Research Association. The award recognizes a policymaker or administrator engaged in education in the State of Florida who has demonstrated in an exemplary fashion the use of educational research or evaluation in educational decision making. Driscoll was chosen by the FERA board and nominated by the educational research community. She will be officially honored at the annual meeting, which takes place in November.
Allen D. Blay, Ph.D. and M.G. Fennema, Ph.D. (Business) received the 2018 Best Paper Award from the Issues in Accounting Education for their paper, "Are Accountants Made or Born? An Analysis of Self-Selection into the Accounting Major and Performance in Accounting Courses and on the CPA Exam." The AAA award will be presented to the authors in the form of unique glass art pieces and a $2,500 prize Aug. 7, 2018, at the AAA Annual Meeting in Washington, D.C.
John Hamman, Ph.D. (Economics) has been awarded a fellowship to spend a year at the Université de Lyon in France on sabbatical at the school's prestigious Collegium de Lyon. Hamman's research will focus on the concept of influence in organizations. He also will share a $20,000 award from the Thomas Jefferson Fund to augment his studies.
SERVICE
Lucinda Graven, Ph.D. (Nursing) has been invited to serve as vice chair of the Complex Cardiovascular Patient and Family Care Committee of the American Heart Association Council on Cardiovascular and Stroke Nursing for the term beginning July 1, 2018, and ending June 30, 2020.
Kema Gadson, Ed.D. (Medicine) has been named assistant dean for Student Affairs and Diversity at the FSU College of Medicine. She also has been appointed assistant professor in the Department of Family Medicine and Rural Health.
GRANTS
Eugenia Millender, Ph.D. (Nursing) received $20,000 through an R25 grant from the National Institutes of Health to fund an Indigenous HIV/AIDS Research Training program.
So Hyun Park, Ph.D. (Nursing) received $10,000 from the Global Korean Nursing Foundation to fund the project "A Mentoring Program Using College Students to Increase Physical Activity Among Preschoolers Living with Their Grandparents."
Raed Rizkallah, Ph.D. (Biomedical Sciences) received a $384,028 award from the National Institutes of Health and National Institute of General Medical Sciences to better understand an enzyme that may be a viable target for cancer therapy.
Yi Ren, M.D. (Medicine) received a $292,000 sub-award from Princeton University to serve as a sub-recipient principal investigator on the project "Statistical Methods for Ultrahigh-Dimensional Biomedical Data."
Devon Graham, Ph.D. (Medicine) received a $153,334 grant from the National Institutes of Health/National Institute of Mental Health to explore the cognitive impairment that often accompanies depression. She and her team are studying a potential therapeutic target to treat depression-induced cognitive decline.
Liz Hammock, Ph.D. (Neuroscience) received a $1.88 million R01 grant from the National Institute of Mental Health for her work on "Neural Mechanisms of Infant Attachment."
BYLINES
Stan Gontarski, Ph.D. (English) authored the book "Revisioning Beckett: Samuel Beckett's Decadent Turn," published by Bloomsbury Literary Studies.
Robert Stilling, Ph.D. (English) authored the book "Beginning at the End: Decadence, Modernism, and Postcolonial Poetry," published by the Harvard University Press.
Lucinda Graven, Ph.D. (Nursing) co-authored the article "Problems Experienced by Individuals with Heart Failure the Second and Third Month after Discharge from a Heart Failure Related Hospitalization," in press with the Journal of Patient Centered Research and Reviews.
James D. Klein, Ph.D. (Education) co-authored the paper "Applying the First Principles of Instruction in a Short-Term, High Volume, Rapid Production of Online Professional Development Modules," published in the Journal of Computing in Higher Education.
Christine Andrews-Larson, Ph.D. (Education) co-edited the book "Challenges and Strategies in Teaching Linear Algebra," published by Springer, that explores current efforts regarding research and instruction on teaching and learning linear algebra from around the world.
Glenna Schluck, Ph.D., James Whyte IV, Ph.D., and Laurie Abbott, Ph.D. (Nursing) co-authored "Emergency Department Arrival Times in Florida Heart Failure Patients Utilizing Fisher-Rao Curve Registration: A Population-Based Study" in the journal Heart & Lung.
Douglas Schrock, Ph.D. (Sociology) co-authored Chapter 4, "Refl exive Transembodiment," published in the book "Body/Embodiment: Symbolic Interaction and the Sociology of the Body."
Jenny Root, Ph.D. (Education) authored the article, "Embedding Literacy in Mathematics Problem solving Instruction for Leaners with Intellectual and Developmental Disability," published in a special issue of the American Association on Intellectual and Developmental Disability (AAIDD) journal, Inclusion.
Laura Steacy, Ph.D. (Education) authored "Development and Prediction of Context-Dependent Vowel Pronunciation in Elementary Readers," published in the journal Scientific Studies of Reading. The article explores research into vowel pronunciation and development.
PRESENTATIONS
Laurie Abbott, Ph.D. (Nursing) presented "Advancing Health Equity through Primary Prevention in Community Settings" at the Nursing 3.0: Time for an Upgrade Conference: Association of Public Health Nursing in Little Rock, Arkansas.
John Lowe, Ph.D. (Nursing) presented "Development of a Program of Research for the Prevention of Substance Use among Native American Youth" at the 31st Annual Research and Policy Conference on Child, Adolescent, and Young Adult Behavioral Health in Tampa.
Eugenia Millender, Ph.D. (Nursing) was invited to speak at the "State of Mental Health at Leon County: A Preliminary Report to the Community," presented by Mental Health Council of the Big Bend in Tallahassee.
So Hyun Park, Ph.D. (Nursing) presented "Promoting a Healthy Childcare Environment: A Focus Group Study of Childcare Providers' Perspectives" at the 16th Qualitative Methods Conference hosted by the University of Alberta International Institute for Qualitative Methodology in Alberta, Canada.