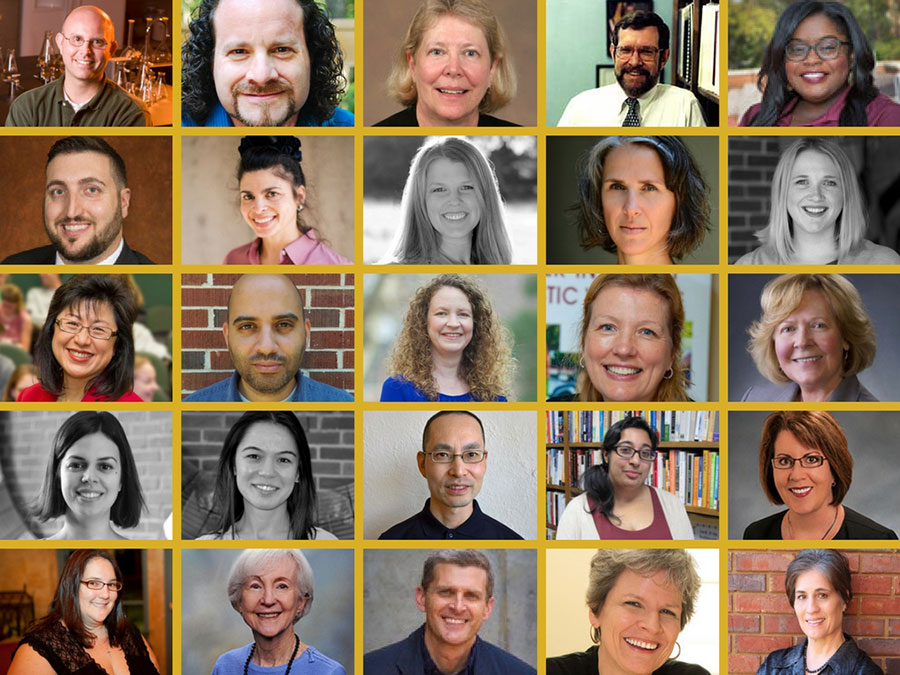 HONORS AND AWARDS 
Mike Roper, Ph.D. (Chemistry) will receive the 2018 Mid-career Achievement Award of the American Electrophoresis Society for his contributions to the field of Electrophoresis and Electrokinetics.
David Gussak, Ph.D. (Art Education) received the 2017 Distinguished Service Award from the American Art Therapy Association in recognition of his significant contribution to the literature in art therapy, his advocacy and leadership in pro-art therapy legislative efforts, his service to the profession and the countless students and peers he has mentored and inspired.
Kathleen Yancey, Ph.D. (English) received the Conference on College Composition and Communication's 2018 Exemplar Award, the most prestigious honor offered by the field of composition studies. The award recognizes contributions in service, scholarship and teaching that reflect disciplinary excellence.
James Bowman, Ph.D. (Public Administration and Policy) is the fifth active Florida State University faculty member to be elected into the National Academy of Public Administration. 
Courtney Pearson (Dean of Students Staff) was selected as the New Professional of the Year by the Florida chapter of Student Affairs Administrators in Higher Education (NASPA Florida) for her transformation of higher education through outstanding programs, innovative services and effective administration.  Pearson is program coordinator for New Student and Family Programs.
Josh Kinchen (Student Government Association Staff) was honored with the Outstanding Service to Students Award by the Florida chapter of Student Affairs Administrators in Higher Education (NASPA Florida) for his commitment to student success. The award recognizes a professionals' commitment to personalized student experiences, successful efforts in humanizing the campus community and consistently giving time and effort counseling, advising and supporting students.
RECOGNITION
Lilian Garcia-Roig (Fine Arts) had a multi-panel onsite painting "Fluid Perceptions: Banyan as Metaphor" featured in a review by Carol Damian of the "Relational Undercurrents: Contemporary Art of the Caribbean Archipelago" show at the Museum of Latin American Art in Long Beach, California, in the new Art Nexus issue No. 107.
Lyndsay Jenkins, Ph.D. (Education) was recently featured in CQ Researcher in the article "Bullying and Cyber bullying: Are schools doing enough to protect victims?" Jenkins is the director of FSU's Bullying Prevention Research Group, whose overarching goal is to reduce bullying in K-12 schools.
Tiffany Rhynard, M.F.A. (Dance) and FSU School of Dance alumnus, Trent Williams Jr. premiered their film "Black Stains," which addresses a perceived systemic pattern of racial profiling by the police, at ScreenDance Miami on Jan. 20. They were honored with the Jury Award.
PRESENTATIONS
Jenny Root, Ph.D. (Education) gave an invited presentation on teaching mathematics and science to students with intellectual disability at the 19th International Conference on Autism, Intellectual Disability, and Developmental Disabilities in Clearwater, Florida, Jan. 19.
Ying Mai Kung, Ph.D. (Nursing) and colleagues presented "A Health Policy Faculty Survey: Forks and Detours on the Road to Competency: The AACN 2015 Faculty Policy Intensive Fellowship Project" at American Association of Colleges of Nursing's 2018 Doctoral Education Conference in Naples, Florida.
Rob Duarte, M.F.A. (Art) was one of 14 artists selected to participate in Florida Atlantic University's gallery at the Dorothy F. Schmidt College of Arts' fifth iteration of "southeast: Contemporary Southeastern Art." He also presented an artist talk on Jan. 31.
GRANTS
Carrie Pettus-Davis, Ph.D. (Social Work) will lead an initiative focusing on the re-entry of incarcerated persons into communities funded by the Charles Koch Foundation with a $1 million grant.
Karen Oehme (Social Work) is working via a $25,000 grant from the Office of the Florida Attorney General to help stem the tide of human trafficking in the state through the development of human trafficking training for Emergency Medical Services personnel. Oehme is the director of the Institute for Family Violence Studies.
Judith McFetridge-Durdle, Ph.D. (Nursing) and colleagues received a grant of $566,099 from the Canadian Institutes of Health for their research "Development and usability testing of HEARTPAIN: An integrated smartphone and web-based intervention for women with cardiac pain."
BYLINES
Lara Perez-Felkner, Ph.D. (Education) authored a study on linking gender gaps in the STEM fields and math self-confidence to Frontiers in Psychology last April and gained international attention. The study found that girls regularly mark their abilities lower than boys, even when there is no observable difference between the two.
Miray Tekkumru-Kisa, Ph.D. (Education) co-edited a special issue in the International Journal of STEM Education on the Design and Facilitation of Video-Based Professional Development Programs.
Koji Ueno, Ph.D. and Preeti Vaghela, Ph.D. (Sociology) co-authored the article "Racial-ethnic Identity Pairings and Mental Health of Second-generation Asian Adolescents" in the journal Sociological Perspectives.
Ali Craig-Rodriguez, D.N.P. Glenna Gordon, M.S. Laurie Grubbs, Ph.D. (Nursing) and colleagues co-authored "Transitioning Florida's NPs to opioid Prescribing" published by The Nurse Practitioner.
Judith McFetridge-Durdle, Ph.D. (Nursing) and colleagues' article "Self-management interventions for women with cardiac pain: A systematic review and meta-analysis" was published by the Canadian Journal of Cardiology and "The self-management of cardiac pain in women: An evidence map" to the British Medical Journal.
Jim Dawkins and Jill Pable, Ph.D. (Interior Architecture and Design) published the book "Sketching Interiors at the Speed of Thought, Edition 2," through Fairchild Books/Bloomsbury. Their book strives to enable designers to discover their own sketching style.
SERVICE
Ellen Piekalkiewicz (Social Work) has been selected as the new director for the Center for the Study and Promotion of Communities, Families, and Children. Piekalkiewicz has more than 30 years of experience in public policy, legislative and governmental affairs, disability rights and grants writing.