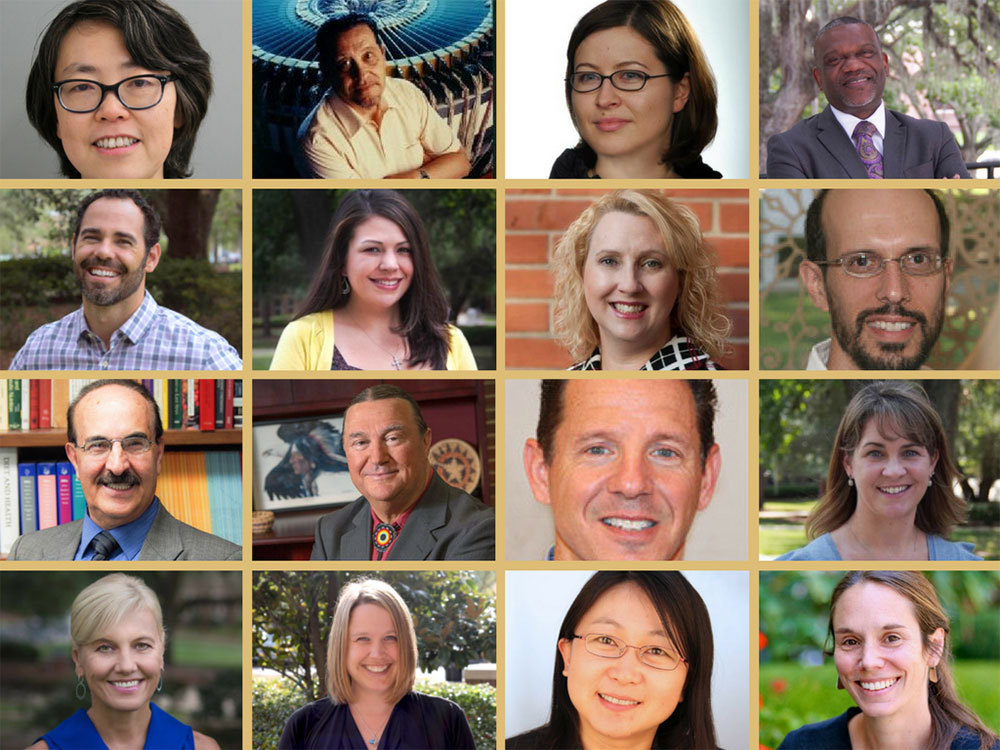 HONORS AND AWARDS
Steven Pfeiffer, Ph.D. (Education) was honored with the 2017 National Research Award from the Research Council of Oman for his article "Identification of Gifted Students in Oman: Gender and Grade Differences on the Gifted Rating Scales–School Form," on Dec. 10 in Muscat, Oman.
Helen Li, Ph.D. (Electrical and Computer Engineering) has been elevated to the highest grade of membership in the Institute of Electrical and Electronics Engineers for her contributions to bidirectional converters for utility applications and high efficiency PV converters.
Richard Pfeffer, Ph.D. (Earth, Ocean and Atmospheric Sciences) has been named the Albert Nelson Marquis Lifetime Achievement Awardee for his achievements, leadership qualities and the credentials and successes in the field of dynamic meteorology.
Kasia Bugaj, Ph.D. (Music Education) has been named Collegiate Music Educator of the Year by the Florida Music Educators Association for her contributions to the local string community. Bugaj developed a teaching and research based string education curriculum for the Leon County School system. She received the award, which recognizes merit in the higher education of music, on Jan.12 during the FMEA Professional Development Conference in Tampa, Florida.
BYLINES
Gregory Harris, Ph.D. (Family and Child Sciences) published an edited textbook reader "A Handbook on Aging: A Multidisciplinary Perspective with Critical Readings," which serves as a supplemental tool for students to explore the complexities of today's aging population.
Mike Ormsbee, Ph.D. (Exercise Physiology) co-authored the paper "Resistance Training During a 12-week Protein Supplemented VLCD Treatment Enhances Weight-Loss Outcomes in Obese Patients," published in the Journal of Clinical Nutrition, which examines a concept of maximizing fat loss while preserving or improving lean mass.
Melinda Gonzales-Backen, Ph.D. (Family and Child Sciences) co-authored the research article "Examining the Temporal Order of Ethnic Identity and Perceived Discrimination Among Hispanic Immigrant Adolescents," published in the Journal of Developmental Psychology. The article focuses on the formation of ethnic identity as a central developmental task and its alignment with ethnic discrimination experiences.
Lucinda Graven, Ph.D. (Nursing) co-authored the study "Problems Experienced by Informal Caregivers of Individuals with Heart Failure," an integrative review in the International Journal of Nursing Studies.
Dan Mears, Ph.D. (Criminology) wrote the essay "How Big Data Can Save America's Out of Control Criminal Justice Policies," in which he elaborates on a strategy he proposed in his book "Out-of-Control Criminal Justice: The Systems Improvement Solution for More Safety, Justice, Accountability, and Efficiency." The article discusses how bringing systems under control would result in the reduction of crime and improve justice and accountability. The essay is currently being featured by The London School of Economics and Newsweek.
PRESENTATIONS
Kevin Jones, D.M.A. (Music) presented "Finding the Balance Between Modern and Traditional Jazz Ensemble Repertoire" at the 2018 Jazz Educator's Network Convention held Jan. 3-6 in Dallas, Texas. Jones also presented "A Document Study of College Jazz Ensemble Repertoires" at the 2017 International Society of Jazz Arrangers & Composers Symposium in Tampa, Florida.
Bahram Arjmandi, Ph.D. (Nutrition and Food Science) recently appeared on the UK television series "Super Foods: The Real Story" to discuss his extensive dried plum study. The segment focused on the importance of prunes and their nutritional benefits, most notably Arjmandi's research on prunes' ability to improve bone density.
John Lowe, Ph.D. (Nursing) co-presented "Evaluating an After-School Intervention for the Prevention of Substance Use, Targeting 10 to 12-year-old Native American Youth in Three Tribal Communities" at the Australian National University in Canberra, Australia.
SERVICE
Louis Cattafesta, Ph.D. (Mechanical Engineering) has been elected fellow of the American Physical Society for seminal contributions in active flow control and aeroacoustics.
Kristen Greene, Ph.D. (Human Sciences) has been appointed as the assistant chair for the Department of Family and Child Sciences.
Michele Garber, M.S., A.T.C., L.A.T. (Human Sciences) has been appointed as the assistant chair for the Department of Nutrition, Food and Exercise Sciences.
Jennifer Proffitt, Ph.D. (Communication) has been appointed as director of the School of Communication.
GRANTS
Cheryl Xu, Ph.D. (Mechanical Engineering), through her work with Tallahassee-based Sensatek Propulsion Technology Inc., received a $225,000 grant from the National Science Foundation to develop wireless sensors for the real-time measurement of high temperatures in gas turbines.
Sarah Lester, Ph.D. (Geography) received a grant of $365,699 from the National Academies of Sciences, Engineering and Medicine through their Gulf Research Program for her research project "Developing an Integrated Monitoring and Assessment Framework for Evaluation Ecosystem Service Outcomes from Seagrass Restoration in the Gulf of Mexico."