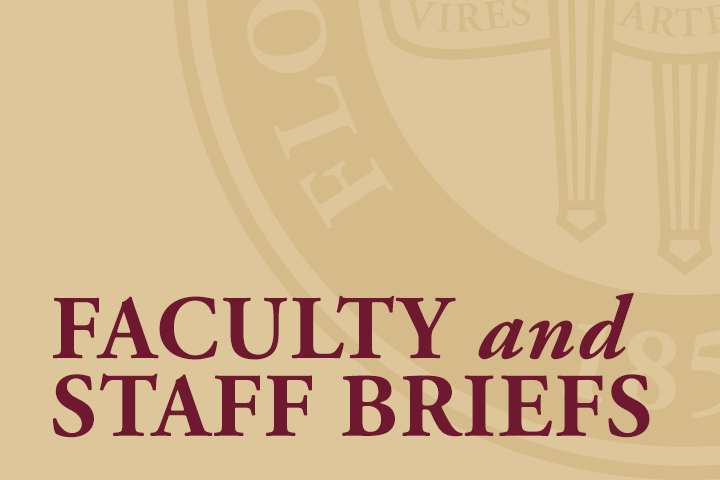 HONORABLE AND NOTABLE
Neil Abell, Ph.D., (Social Work) will be honored at the Council on Social Work Education's 2016 Annual Program Meeting in Atlanta, Ga., Nov. 3-6, 2016. Abell's article, written along with two FSU doctoral program alumnae, was published in in Volume 51, Issue 2 of the Journal of Social Work Education. The article, "Development and Validation of the Social Workers Attitude Toward Disability Scale," focuses on the scale created by researchers to assess how social workers view their roles related to promoting the interests of people with disabilities. The article earned an honorable mention award among all articles published in the Journal of Social Work Education in 2015.
Meredith McQuerry, Ph.D., (Retail, Merchandising and Product Development) received a third-place award in the 2016 Rutherford Teaching Challenge, which challenged applicants to develop new ways of incorporating social media technology into classrooms. McQuerry's submission, "PINTEREST: The Fashionista's Study Tool," will be published online and featured at an international conference in Vancouver, Canada, later this year. The Rutherford Teaching Challenge, sponsored by the International Textile and Apparel Association, is designed to encourage the development and dissemination of innovative teaching strategies that focus on emerging issues in the textile and apparel industry.
Ewa Bienkiewicz, Ph.D., (Medicine) conducted research that resulted in a product license deal between Transdermal Delivery Solutions Corp. (TDSC) and ALZYN, LLC of St. Petersburg, Fla.  ALZYN is a development-stage company working to slow the progression of Alzheimer's disease using compounds from the Florida State Research Foundation. Bienkiewicz and her team evaluated levels of several biomarkers associated with Alzheimer's disease (AD). The changes documented in AD pathology biomarkers reflect a promising therapeutic breakthrough and preventive strategy for the disease.
Michael Brady, Ph.D., (Business) received the American Marketing Association's 2016 SERVSIG Christopher Lovelock Career Contributions Award at the Frontiers in Service Conference in Bergen, Norway, in June. SERVSIG is an American Marketing Association special-interest group for those interested in services research. Its Christopher Lovelock Award goes to the individual whose teaching, research and service have created the greatest long-term impact on the development of the services discipline. Brady also won the AMA's 2016 SERVSIG Best Services Article Award and the Robert Johnston Outstanding Paper Award from the Journal of Service Management.
Wayne Hochwarter, Ph.D., (Business) received the 2016 Distinguished Doctoral Alumni Award from the FSU College of Business. The award was established in 2007 to recognize high-performing doctoral graduates and their professional achievements. It recognizes alumni who have utilized their education and experience to achieve significant levels of success and distinction. FSU's College of Business selects recipients from a group of accomplished, senior scholars, who earned a doctoral degree from the school.
Michael Holmes, Jr., Ph.D., (Business) won an Emerald Publishing Citation of Excellence Award for a paper published in 2013, recognizing highly cited and influential articles. The article, "The Interrelationships Among Informal Institutions, Formal Institutions, and Inward Foreign Direct Investment," was published in the Journal of Management. The results of the research suggest a country's informal institutions shape its formal institutions and consequently affect inward foreign direct investment.
David Orozco, J.D., (Business) received a 2017-2018 Thomas Edison Innovation Research Fellowship by the Center for the Protection of Intellectual Property (CPIP) at the Antonin Scalia Law School of George Mason University. The Thomas Edison Innovation Fellowship Program is an invitation-only, non-resident fellowship program that meets several times a year and helps scholars develop their research in the area of patents.
PRESENTATIONS
Renisha Gibbs, (Human Resources) and Rebecca Peterson, (Human Resources) presented a session called "Transformational Faculty Salary Increases: Balancing Equity with Performance" at the annual conference of the College and University Professional Association for Human Resources in Washington, D.C. The presentation focused on the challenges of retaining the best faculty members as salaries escalate around the country, while also offering competitive pay for new faculty.
Phaedra Harris, (Human Resources) and Christine Conley, (Human Resources) presented "The Electronic Employee Blueprint" at the same conference for HR professionals in Washington, D.C. They offered practical advice on how to modernize business practices and turn paper-heavy practices into electronic processes.
Inken von Borzyskowski, Ph.D., (Political Science) spoke at the United Nations in August during a special seminar sponsored by the UN Policy and Mediation Division of the Department of Political Affairs. Borzyskowski's presentation, "Trust Us: Election Assistance and Post-Election Violence," examined whether technical electoral assistance reduces post-election violence. Borzyskowski found technical election assistance improves the credibility of election commissions and election results among citizens. When results are perceived as fair, the threat of post-election violence is reduced.
GRANTS
Brad Cox, Ph.D., (Education) received a three-year, $300,000 award from the National Science Foundation to study autism among college students in science, technology, engineering and math (STEM) majors. The study will be the largest ever to focus on autism-related characteristics among college students in the United States. More than 16,000 students with autism enter college every year, and one-third major in science, technology, engineering and math.
Gregory Riccardi, Ph.D., (Communication & Information), Austin Mast, Ph.D., (Biological Science), and colleagues, received a $2,988,788 award from the University of Florida for the digitization efforts of Integrated Digitized Biocollections. iDigBio, which operates at the University of Florida and Florida State University, is the National Science Foundation's national resource for the digitization of Biodiversity Research Collections and aims to digitize the roughly 1 billion natural specimens in U.S. collections and put the data online.
Robert Schoen, Ph.D., (Florida Center for Research in Science, Technology, Engineering and Mathematics — FCR-STEM) received a $1.5 million award from the Florida Department of Education for the "Foundations for Success in STEM" program, which is designed to help Florida educators teach these subjects more effectively.
Theo Siegrist, Ph.D., (Engineering), and colleagues, received $1,233,597 from the National Science Foundation for the development of X-ray diffraction in high magnetic fields at the Tallahassee-headquartered National High Magnetic Field Laboratory.
Michael Zinszer, (Advanced Science Diving Program) received $1 million from the Florida Department of Law Enforcement for the Joint Agency in-Water strike (JAWS) team, which specializes in conducting underwater criminal investigations.
SERVICE
David Orozco, J.D., (Business) joined the editorial board of the double-blind, peer-reviewed American Business Law Journal (ABLJ), a highly regarded Wiley publication that has a 3 percent acceptance rate and is widely considered the premier journal for legal studies in business research.