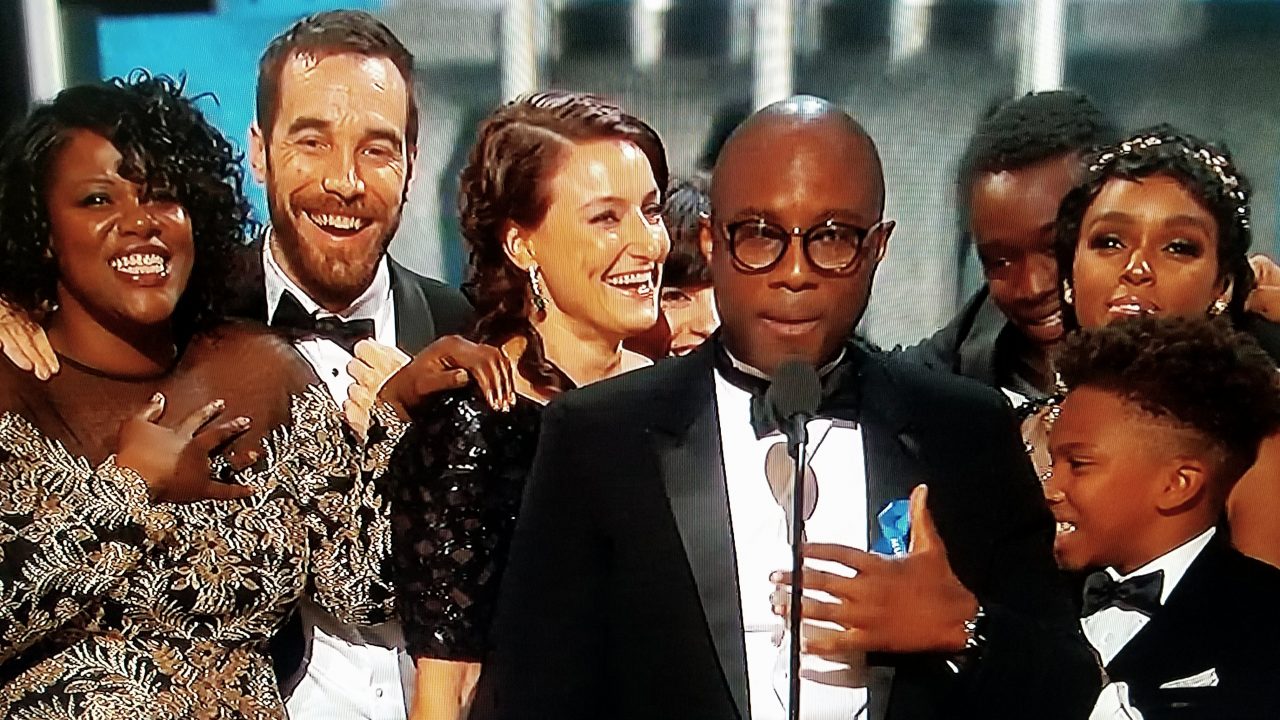 ** FEB. 26 UPDATE: In a very confusing and crazy conclusion to the 89th annual Academy Awards, "La La Land" was initially named Best Picture. But after members of that film came onstage and delivered speeches, they were told the announcement was a mistake and the real winner of the top award at the Oscars 2017 was actually "Moonlight" — written and directed by FSU alumnus Barry Jenkins. A total of seven Florida State graduates worked together on the project to make the best movie of the year. "Moonlight" won three Oscars: Best Picture, FSU alumna Adele Romanski, producer; Best Adapted Screenplay, Jenkins and writer Tarell McCrany; and Best Supporting Actor, Mahershala Ali. ** 
It's a rare rainy, gray day in Los Angeles, home of film director Barry Jenkins, who finds himself in the middle of another kind of storm — an unexpected but sweet storm of cinematic praise showering over his personal labor of love "Moonlight."
Jenkins, a 2003 alumnus of the Florida State University College of Motion Picture Arts, is the writer-director of the breakout film nominated for eight Academy Awards and already selected as Best Picture (Drama) at the Golden Globe Awards.
He is sharing the spotlight with some of his best friends from Florida State. Seven FSU film school graduates worked on "Moonlight." Five earned Oscar nominations: Jenkins, Best Director and Best Adapted Screenplay; Adele Romanski, Best Picture; James Laxton, Best Cinematographer; Joi McMillon and Nat Sanders, Best Film Editing. Actor André Holland and co-producer Andrew Hevia completed the Florida State squad.
For Jenkins, the chance to navigate this whirlwind journey with some of the people he loves and respects most has made the adventure even sweeter.
"We spend holidays together," Jenkins said from Los Angeles. "It's been a continuous sort of family affair."
This FSU family has supported one another since graduation. They've shared successes, as well as struggles.
"They can tell you there have been years where I was so broke," Jenkins said. "But I needed to be in L.A., so I'd live on somebody's couch for a couple of months or live in somebody's spare bedroom for a couple of months.
"This is my second family, my 1-A kind of family. It's meant everything, even more than just filmmaking. I think the people who know me the best are these people I went to film school with. That's why so much of what's happened with the film is truly special."
Jenkins understands the truly special recognition for "Moonlight" is about as good as it gets. He appreciates this unique moment and savors the chance to experience it with his Florida State family.
"I'm 37 and some of these friendships I've had for 15-17 years," Jenkins said. "It's extraordinary to be sharing these things now, Academy Award nominations, with these people."
A Fantastical Place
Fourteen years have passed since Jenkins graduated from FSU with two bachelor's degrees, one in film and a second in creative writing. His old college memories remain crystal clear. They are every bit as special in their own way as the exhilarating emotions of the present.
"Other than the last six months," Jenkins said, "Florida State is probably one of the two or three best experiences of my life, going to that school."
Going to FSU was life-changing for Jenkins. He arrived on campus with scholarships, raw writing talent and a will to succeed. He got to work pursuing an English degree and, perhaps more important, writing a new chapter for his life.
As a child in Liberty City, a dangerous Miami neighborhood, Jenkins was forced to confront loss, violence, racial tension, drugs and his mother's desperate struggle with addiction. He was raised by a family friend.
Florida State was a 7 1/2-hour drive from Liberty City but in many ways, the university was an utterly different universe with its stately, ornate brick buildings; gorgeously manicured grounds; and plentiful opportunities to think, talk and learn. It looked and felt like an ethereal Land of Oz. That's about how Jenkins remembers the house near campus that he shared with his buddy James Laxton and two others.
"It was just a fantastical place," Jenkins recalled. "It was otherworldly, and it's where we did a lot of good work. We'd watch films and listen to music all the time. It was a cool little place."
Cinematographer Laxton shares those special feelings for the quaint house near campus that became the setting for a singular, unrepeatable moment in their lives. Laxton describes the place as a sort of "artists' commune," where four guys learning to make films set up an inimitable space where thought-provoking discussions flourished and creativity thrived.
"We surrounded ourselves with inspiring moments," Laxton remembered. "We would leave DVDs of classic films on repeat on television and have these things running constantly in the background of conversations, always immersing ourselves in some sort of craft concept.
"It was a physical space where we all connected with each other in a very inspirational way that, from second to second, provided an atmosphere of creativity that felt special. We wanted to keep going with that energy because it felt so right for us."
Jenkins and Laxton first developed that chemistry on student film projects, including an eight-minute short "My Josephine." The film demonstrated Jenkins' ability to write from his heart and tell a story with authenticity.
Five years later, the two friends collaborated again on Jenkins' other feature-length film, "Medicine for Melancholy." Finding traditional financing turned into a futile effort, but an FSU friend stepped up with financial assistance and they were able to make the movie for just $13,000.
A Telepathic Connection
Laxton's wife and former FSU classmate, Adele Romanski, who became the driving force behind "Moonlight," has joked that her husband and Jenkins share an almost telepathic connection when they work together. Jenkins agrees and adds he shares that connection with all of his Florida State filmmaking friends.
"We all have a shorthand, for sure," Jenkins said. "I think when you're making a film you want to operate with as much trust as possible. There are few people in filmmaking who I can trust as much as these people, who were with me when I learned my first baby steps in the craft. They all know why I'm doing certain things. There isn't a lot of explaining that has to occur because they've seen my voice develop over all these years."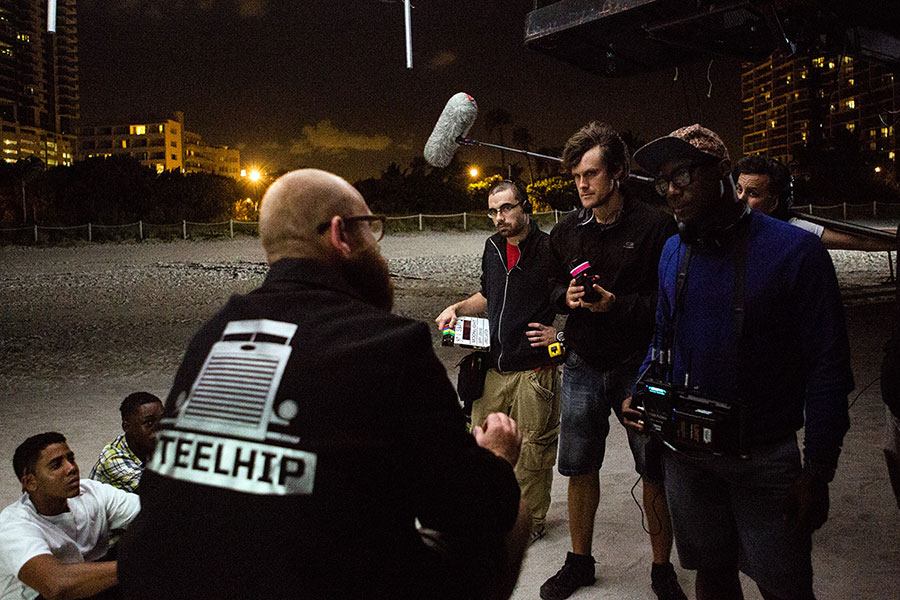 Jenkins and Laxton have never talked about their enigmatic connection, but Laxton knows it's there.
"There is something about our rapport that goes back to the trust concept," Laxton said. "I think from the very beginning, because of our shared visual vocabulary, we didn't ever second guess one another. If he had an idea, I don't think I ever had a reaction thinking, 'That's a strange idea. We shouldn't do that.' It was always thinking more like, 'OK, maybe I don't exactly know what he's getting at, but let's try that idea.' Then five minutes later, I understood what he was getting at. We allow one another to freely express oneself and then we support that vision."
The bonds of trust between FSU's "Moonlight" crew were encouraged and prophetically predicted by two of Jenkins' professors: Richard Portman and Andy Ruben, both of whom recently died.
"They emphasized to us that the most talented people you would ever work with were probably sitting in that classroom right then, and the only people who would never tell you 'no' were also probably sitting in that room," Jenkins said. "(For me), it's remained true."
Freedom to Create
Jenkins credits Florida State's film school with creating an environment where students could form reassuring relationships with each other, as well as professors.
"There was great nurturing and feedback between students and faculty," Jenkins said. "Before I went into the film school, I was also in the English department and there were professors on that side, such as Elizabeth Stuckey-French, who were instrumental in my development. There wasn't a barrier between students and teachers where you couldn't communicate."
And, film students did not face barriers in their creative process. Jenkins said they were given camera gear and the freedom to build films in whatever ways they could imagine. That unconventional approach provided a lasting lesson.
"'Moonlight' is not a conventional narrative," Jenkins noted. "It's told in a very interesting way and that approach to storytelling was instilled in me from the very beginning at FSU. They didn't try to put us in a box. They gave us the freedom to create whatever box we thought was most appropriate for our voice."
Developing a voice for his work was a key component of Jenkins' film school experience. At graduation in 2003, he ran into Frank Patterson — the dean of the film school at that time — who slipped off his Skagen watch and gave it to Jenkins along with a bit of advice.
"Make a movie with your voice," Patterson told Jenkins, as recounted later to Tallahassee Democrat writer Mark Hinson, "and you'll be OK."
It remains an indelible moment in Jenkins' mind and a continuing guide in his work.
"I do remember that moment," Jenkins said. "He also said he gave me the watch because he wanted me to remember that I should dictate when the time was right to make that film and not to be in a rush. That's a true story. I still have the watch, too."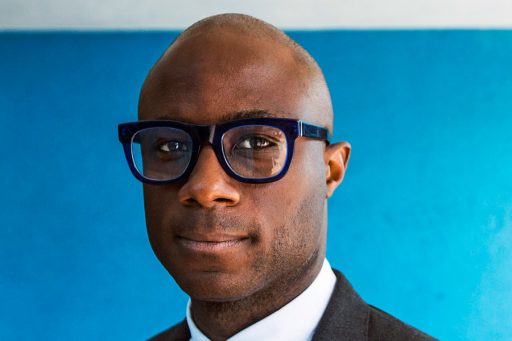 Now, 14 years later, on this gray day in L.A., Jenkins pauses to consider the clarity of that tip amid the cinematic storm swirling around his life. Patterson was right. Everything has turned out OK — and then some. And that simple truth, "make a movie with your voice," shines through in "Moonlight."
"FSU changed me. Literally. It completely changed who I was as a human being," Jenkins said. "I think if you go to film school with that kind of openness, you'll get the world out of it."
More on "Moonlight":