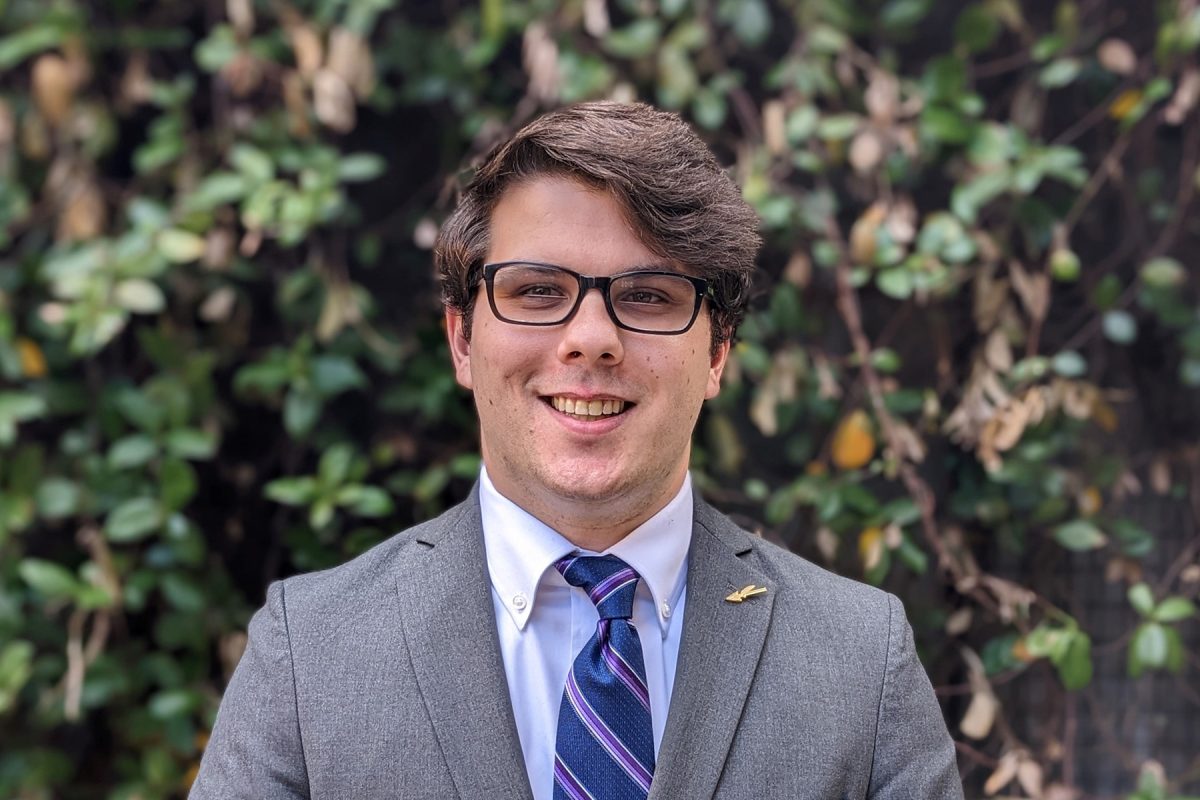 "FSU means community to me. Everyone I have met has been incredibly inviting. No matter what path I elected to take in terms of my education, every group at FSU has accepted me with open arms."
Fast Facts
Talent: Can solve a Rubik's Cube and play trumpet at the same time
Accolades: Won the Barry Goldwater Scholarship in addition to placing third in the National Trumpet Competition and top 15 in the International Trumpet Guild Solo Competition
Internship: Quantum computing with a focus in ion trapping
Favorite FSU course: Analyzing video game music
Favorite Pokémon: Bewear
As a high school student with a passion for music, Jack Lyons decided to take a lesson with Florida State University's College of Music trumpet professor, Christopher Moore. That experience helped persuade him to enroll at FSU.
Once at Florida State, Lyons discovered condensed-matter physics, inspiring him to pursue a dual major in brass performance and physics. Now a fourth-year student, he not only excels in both of his majors but also beyond the classroom.
One way Lyons combined his interests was by designing lessons and demos to connect music with mathematics and physics at Tallahassee's Challenger Learning Center. During one notable lesson, Lyons used his knowledge of Pythagorean ratios to create a makeshift instrument out of straws, allowing students to perform on their instruments while he played the trumpet.
"Essentially, the instrument I made was a variation on the panpipe," he said. "By measuring and cutting straws to a specific interval ratio, a musical scale is produced. Students can blow across the opening to make music. With five straws, it is possible to play simple tunes such as 'Jingle Bells.'"
Within the College of Music, he serves on The Music Board of Advisors, a leadership program where he advises and interacts with students as a representative for the university.
Lyons' musical exploits have earned him national recognition, including recently winning third place at the National Trumpet Competition in the Undergraduate Solo Division. He was also named as a semifinalist in the International Trumpet Guild Solo Competition.
Throughout his time at FSU, Lyons advocated for STEAM, which is the inclusion of arts, such as music, into STEM. He has given multiple presentations and demos for the FSU Trumpet Studio and Department of Physics demonstrating the intersection of physics and trumpet.
Recently, Lyons was awarded the Barry Goldwater Scholarship, a nationally coveted award that goes to outstanding science, mathematics and engineering students for their research experience and potential.
"It's a bit of a shock because I came in as a music major and am earning my degree in brass performance, but I also became fascinated by physics," Lyons said. "From the technology in our phones and laptops to solar cells and gaming consoles, condensed-matter physics really drives our society."
Additionally, Lyons has conducted research at Associate Professor Hanwei Gao's Condensed Matter Physics Lab and is conducting an Honors in the Major project in light-emitting materials under Gao's supervision.
"I want to encourage people to set their dreams as high as they can," he said. "I think it is important to have confidence in your abilities and resist the urge to let imposter syndrome sink in. I believe everyone has something to contribute regardless of the magnitude."
---
What does FSU mean to you?
FSU means community to me. Everyone I have met has been incredibly inviting. No matter what path I elected to take in terms of my education, every group like the College of Music and Department of Physics accepted me with open arms. It means so much that both sides greatly respect the opposing discipline and encourage my broad pursuit of knowledge. 
What inspired you to get a dual degree in Brass Performance and Physics?
I have always been passionate about trumpet. When I first came to FSU, I was a full-fledged music major who had an interest in higher mathematics and science. My music adviser told me to challenge myself by pursuing something that I was absolutely scared of. Being a complete novice at physics, I signed up for an introductory course and haven't looked back! 
Why do you think music is connected with STEM?
From a technical standpoint, my trumpet is a direct consequence of physics. Every piece of my instrument was constructed with precise measurements so it can produce a lovely sound and play in tune. We can mathematically model sound waves through a differential equation or pinpoint specific frequencies (pitches) through a Fourier transform. Musicians use physics every day when listening for beats. If the waves produced by various instruments are not in sync, they must make adjustments accordingly. Conversely, to be an effective researcher, one needs to have an element of creativity. 
As a student selected for the Goldwater Scholarship, what advice do you have for undergraduate students in STEM on campus?
The biggest advice I can give is to participate in research as early as you can! Participating in research can take a variety of forms, such as the FSU Undergraduate Research Opportunity Program, a Research Experience for Undergraduates or an internship with a national lab. Alternatively, you can directly email professors whose research interests you. I began my research career by emailing my current adviser, Dr. Gao, which ultimately led me to the Goldwater.  
How has your experience on the board of advisers helped shape your leadership skills?
Being on the board of advisers has directly contributed to valuable soft skills needed in both fields of physics and music. I have had the pleasure of meeting hundreds of students from various backgrounds. Being an adviser has directly improved my communication and intrapersonal skills through many interactions, while broadening my perspective on the many victories and challenges students face when traversing a collegiate environment. I find this perspective particularly important when considering leadership, as there is only so much one can learn from a textbook.   
Who at FSU has made the biggest impact on you?
My biggest influences are Dr. Moore and Dr. Gao. Dr. Moore has significantly contributed to my development as a trumpeter and musician, and Dr. Gao taught me what it means to be an effective researcher and scholar.