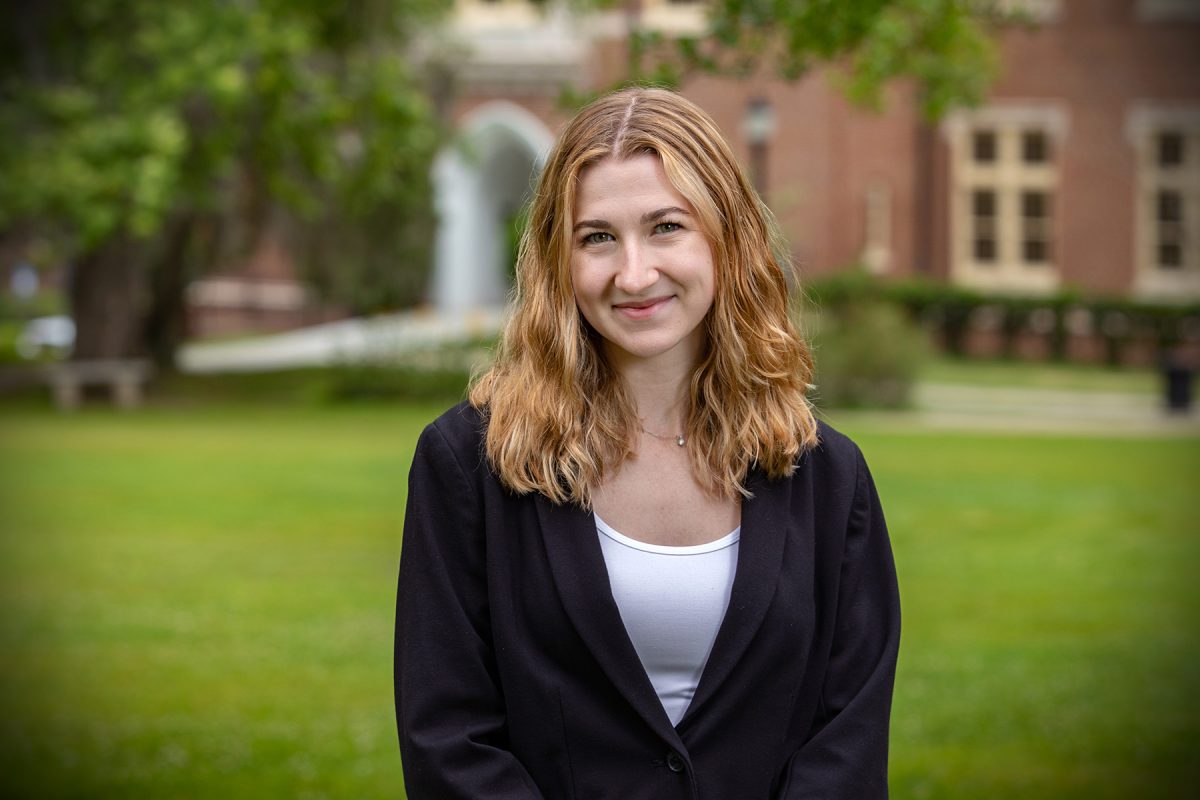 "Florida State University has provided numerous opportunities to make an impact, socialize and engage with my fellow students."
Fast Facts
Instrument: Plays the drums
Gymnast: For nine years, and three years competitively
Travel: Has been to 22 U.S. states
Favorite Campus Activity: Loved walking around campus with friends
Favorite Study Spot: Anywhere outside with a bench (honorable mention: outside of Seminole Café)
Rose Schuhmann has always been interested in the field of psychology. After taking a few college-level classes in high school, she knew she wanted to pursue a psychology degree when she came to Florida State University.
"As if the academics of the institution weren't impressive enough, the Spanish moss, brick buildings and beautiful sunshine certified my choice to attend FSU," Schuhmann said. "After discovering the impressive number of opportunities that were offered in my major, I was ecstatic to be attending such a welcoming and exciting university."
During Schuhmann's freshman year, students were sent home in the middle of the 2020 spring semester due to the COVID-19 pandemic. She was motivated to maintain her academic performance and continued working hard throughout that unusual semester. Her efforts paid off, and she earned her spot on the Dean's List, marking one of her proudest moments at FSU.
"Honestly, I think the challenge was what motivated me," she said. "I was determined to do better than my previous semester, and I was fortunate enough to be able to put all my time and attention into my schoolwork."
Schuhmann has been involved in research as a member of the Plant Research Lab, a social psychology laboratory directed by Professor Ashby Plant. She helped study the relationship between personality and political views, specifically related to the idea of American exceptionalism and its implications.
"Being able to see how a study I was involved in could have such a large impact within the political sphere in the future was so inspiring," Schuhmann said.
While at FSU, Schuhmann also served as vice president of the Phi Eta Sigma Honor Society, one of the 12 officially recognized honor societies on campus with a mission to encourage and reward scholastic achievement among members of the freshman class.
In her role as vice president, she organized Phi Eta Sigma's involvement in community service projects across campus and the Tallahassee community. She is most proud of the group's involvement with Relay for Life and winning best theme at this year's event.
"My role as vice president helped me improve skills like juggling my own responsibilities and communicating with others to accomplish our shared goals," Schuhmann said.
Schuhmann is thankful that Florida State offers so many different groups, activities, jobs, organizations, teams and schools. She hopes her involvement has made a positive impact on those at the university and within the community.
Following her spring 2023 graduation, Schuhmann plans to work in the communications field for a few years before pursuing a master's degree in London.
"What I love about FSU is that even though it is a large university, it is designed in a way where you can find your people," Schuhmann said. "It may take some exploration, but in the end, it is so rewarding to be able to go to club meetings or football games with the people who help make FSU feel like home."
---
What study are you most proud of during your time at the Plant Research Lab?
The study I enjoyed the most was called "Personality and Opinions." We studied the relationship between personality and political views, specifically American exceptionalism. We found that based on the wording of proposed fabricated policies, those who are more conservative will support more liberal bills if they're worded a specific way targeting American exceptionalism. Being able to see how a study I was involved in could have such a large impact within the political sphere in the future was so inspiring.
Which resources at FSU have supported your career goals?
I was originally going to study abroad in London, but due to COVID-19 that unfortunately wasn't feasible. Instead, I used FSU's academic advisers and career liaisons to get a better understanding of my future. I also could not recommend joining a Freshman Interest Group enough! That semester was made so much better knowing that I would know someone in my major for the next four years. I keep in touch with a few of my fellow interest group members, and it really is a great way to begin college classes.
How has your time at FSU shaped your plans for after graduation?
Originally, I was planning on using my psychology degree to become a researcher and continue within the psychology path. However, my academic adviser suggested I consider a minor in communications, and I ended up becoming more engaged in my coursework than I thought I would. Even after taking the four required courses for my minor, I continued to take any communications classes I was able to schedule. I have really been inspired by the amazing professors within the College of Communication and Information.
What advice would you give to other FSU students?
My advice would be to try everything you can! Even if you're on the fence, you never know who you'll meet, the fun you'll have or even the lessons you'll learn from any experience offered at Florida State. And if you don't like it, that just means you're closer to narrowing down what you really want to do. If there's one thing I could've told myself my junior year, it would've been to try out for the circus. Who knows, I might've actually been in it if I just bit the bullet and went!